*articles contain affiliate links*
Do you work at a hospital or physician's office that is part of a clinical integration network?
Do you know what a clinical integration network is?
There are many definitions, but one of the best comes from the American Hospital Association:
"In essence, clinical integration involves providers working together in an interdependent fashion so that they can pool infrastructure and resources,
and develop, implement and monitor protocols, "best practices," and various other organized processes that can enable them to furnish higher quality care in a more efficient manner than they likely could achieve working independently. Such programs can enable primary care physicians and specialists of all kinds to work more closely with each other in a coordinated fashion."
Clinical integration is pretty amazing. It's not quite an ACO, yet allows a healthcare organization within a community to loosely associate in order to provide better care for their patients. These hospitals and private practices agree to share data about the patients they care for with one another and agree to practice by defined health initiatives. It's a way to provide better care across the continuum and also allows for providers to increase their reimbursement.
This means more money coming into hospitals and physician's offices, which means they can hire more nurses!
This community is for nurses, doctors, consultants, private practices, health IT professionals, hospitals, and others involved or interested in clinical integration. Unlike like other social platforms that you are likely already using, Next Wave Connect is just for healthcare. It's a platform to discuss topics you are passionate about and interested in without the possibility of cat videos or a row ice bucket challenge distracting you.
I know that many of you are passionate about healthcare and the topics associated with it, and I would appreciate if you would take a few moments to visit the Clinical Integration community and add your thoughts to the conversation.
Instead of just reading this and moving on with your day, I want to talk to you. So let's do it. Let's talk about clinical integration.
Download Nurse Bingo Today!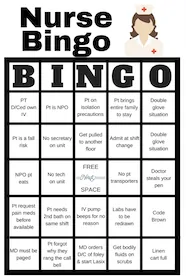 Liven up any shift with a fun game of bingo. See who can fill a row first!
Fill a whole card and lose grip with reality.
Your privacy is protected. We will never spam you.