*articles contain affiliate links*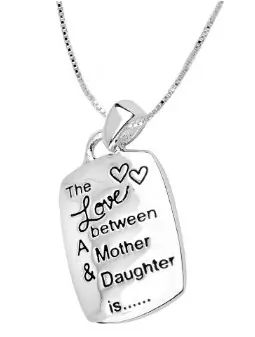 As I was preparing my speech for the MEDITECH conference, I realized it was Mother's Day.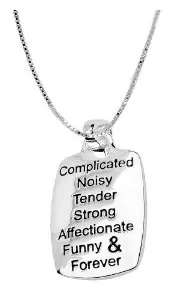 Unfortunately I will not be able to celebrate this Mother's Day with my mother. But I can celebrate the many gifts she blessed me with. I can celebrate how incredibly proud she would be is of me.
I miss her.
Had I known when I was younger that she would die so young I would have been much more aware of how precious the time was with her.
But isn't hindsight always 20/20?
My mother taught me many lessons in life, but most of them I didn't even realize I had learned until after she passed aware. I'm going to talk about just a few of these lessons. If she were sitting right next to me now, I would love to hear the words "I told you so," come out of her mouth. She's earned it.
Lessons Learned From my Mother
My mother taught me to read. That may seem insignificant to many. Most parents teach their children to read, after all. But then again, most parents can read themselves. My mother was functionally illiterate. She couldn't follow a recipe. She couldn't read a book. She couldn't use the internet. But from a very small age my mother put a strong emphasis on the value of education and the importance of being able to read. And now not only do I read, but I write a blog read by others. Not only that but my 3 year old can read. I'm not talking knowing "bat" "cat", I'm taking reads phonetically. Now that would totally make her smile.
My mother taught me to stand up for what is right. She instilled in me the importance of being true to yourself and standing up for the things you believe in and know to be right. Some call this bullheadedness. I call it integrity. I have a firm believe that we are not given a challenge that we cannot overcome. If you do the right thing, ultimately good will prevail and you will be rewarded, if not in this life, then the next.
My mother taught me that you get more flies with honey than you do with vinegar. If you approach all situations with positivity and put positive things in you will get get positive things in return. This lesson is one that has helped me in my situations that I can even think of. The power of positivity multiples and sharing it with others will not only yield a positive return for you, it will also start a chain of positivity that will positively impact the the lives of others.
My mother taught me perception is reality. Now this lesson was a particularly hard one for me. I tend to be a bit mouthy and outspoken and many interpret this as being rude or hateful. My tone of voice alone often has me interpreted as being in a bad mood. I have to be keenly aware of my presentation when I'm speaking in order to make sure I am perceived appropriately. In short this lesson encouraged me to mindful of how others might interpret me because even though I may mean well, I have to be ensure I am interpreted positively.
My mother taught me to always wear clean underwear. This lesson was one of preparation. You never know what might happen so you must always be prepared for the best and worse. I can't even count the number of times she would say "What if you were in a car wreck and you didn't have on clean underwear?"
Since they cut them off from you in an emergency, I doubt the EMTs have the time to judge me based upon the cleanliness of my underwear.
But the lesson she taught me with this one was a big one.
Plan for a goal but expect the unexpected.
While this by no means encompasses all the lessons my mother taught me, these were some of the more impactful ones.
What lessons did you learn from your mother?
PS: To you nurses working on Mother's Day, Thank you.
Download Nurse Bingo Today!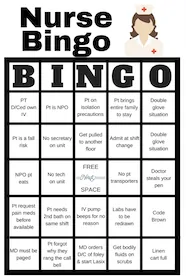 Liven up any shift with a fun game of bingo. See who can fill a row first!
Fill a whole card and lose grip with reality.
Your privacy is protected. We will never spam you.