*articles contain affiliate links*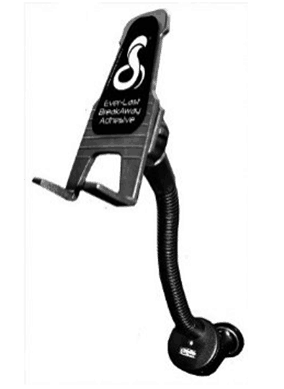 Cobra Universal Vehicle Flex Mount with USB Charging Port for GPS, iPhones, and More
The Cobra universal vehicle flex mount (model CB-MNT-CIGUSB) is the first smartphone mount I've used that worked with the iPhone in an Otterbox case. This is fairly significant since I've been searching for a practical one for quite some time. I've used a few other universal mounts and they were always lacking in one way or another.
Cool Features of the USB Device Mount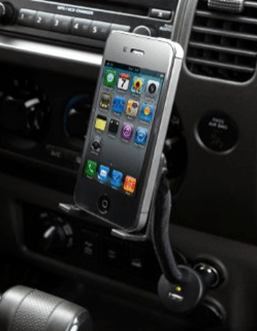 Some of the great features about this vehicle mount are it's built in USB cigarette lighter adapter which will allow you to charge most of your portable electronics. Because of it's unique design and "forever sticky" mounting system, you can use it on a variety of consumer electronics and portable devices (such as GPS, portable satellite radios, and so on), but where it really shines is with a smartphone.
I found the mounting arm to be very rugged and of a much higher quality than the others I have tried. It stays in the position when adjusted and did now bow under the weight of my iPhone like the others I have used.
This thing that really sets this amount apart from the others that I've used is the cigarette lighter adapter itself. It has an extra plastic ring around it that improves the stability of the mouth. Originally this looked like a piece that wasn't supposed to be there, but it's actually what make the mount stand up tall and maintain it's form.
I've thought about a while and tried to find a flaw to this mount, and other than the fact that I'd like it to be cheaper (but I'd like everything to be cheaper) I can't find any. At first I thought I might want the mount arm longer, and depending on the location of your cigarette lighter, this may be a valid want or need for your, but any long and it would make it awkward and probably limit it's ability to stand up.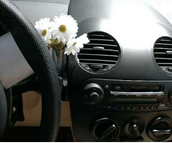 The funny thing about this mount is that I actually use mine in a completely different way than intended. I drive a VW beetle and I used the flower vase to "plug" the cigarette lighter. It works awesomely and puts my phone exactly where I want it to utilize the GPS Navigon App (which is a HUGE step up from any of the free apps available). It works beautifully and I've been looking for a to mount my phone in my bug's vase for months!
Ever-Last Breakaway Adhesive
The clever design allows you charge your device while mounted as well. The Ever-Last Breakaway adhesive is easy to take off in a hurry, and does not require any real effort to remove your device, but despites it's quick release, it secures your iPhone (or other device, but what else is there besides an iPhone though, really) perfectly.
Product Features

12 V Mount with Extra USB Port for charging and will not overcharge your portable electronics when used with USB cord (Cord Not Included)
Features include large button contacts, power light indicator, and 2amp output.
Has 6″ flexible neck, with swivel and lock ball-n-socket joint for custom viewing and full access to all controls and ports.
Ever-Last Breakaway Adhesive Device Mount included can be sprayed with simple glass cleaner to revive stickiness.
Works with most portable electronic devices, including GPS, iPhones, PDA's , etc.
Great Gift Idea

If you're looking for a great gift for that gadget lover that has everything, then you look no further. If they have a device mount, they certainly don't have one as practical and convenient as this one, and for $24.95 you're had pressed to fine a better value with the same quality. Heck a USB charger alone can be nearly that much. Nerds and nurses both would totally enjoy this gadget. The coolest thing about this mount is that it you don't have to take off your iphone's (or your Android device's) case to use it.
The Cobra Universal Vehicle Flex Mount with USB Charging Port for GPS and Portable Electronic can be purchased on Amazon for $24.95 with Free Super Saver Shipping.
Disclosure: I was provided with the with the Cobra Universal Vehicle Flex Mount with USB Charging Port for GPS and Portable Electronic free of charge. I was not required to write a review. Opinions stated are my own. Links within this post as well as others on this website may be affiliate links.
Download Nurse Bingo Today!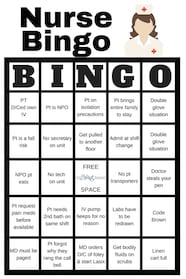 Liven up any shift with a fun game of bingo. See who can fill a row first!
Fill a whole card and lose grip with reality.
Your privacy is protected. We will never spam you.