*articles contain affiliate links*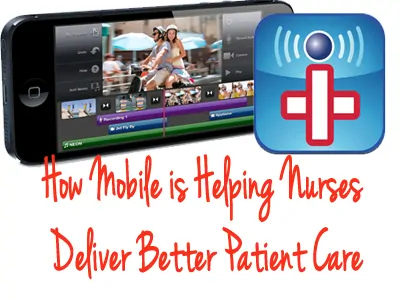 As a nurse, long hours are all too common. With sometimes-mandatory overtime and staff shortages, nurses make up some of the hardest working professionals in the world. Being largely responsible for patient education, engagement, and satisfaction, many nurses are left to wonder how they can accomplish all that is expected of them. With mobile health, and applications on their phones and tablets, iTriage helps to ease nurses' workflow.
"Being on the frontlines of healthcare gives [nurses] the opportunity to see a broader picture of [the] patient populations we serve," said Kevin Ross, RN. "…We have to triage our patients to determine the level of acute need and we also provide extensive education once the patient is diagnosed." If this sounds similar to your day-to-day activities, Ross recommends iTriage, a must-have nurse resource he describes as intuitive. "This tool is also valuable to aid in discussions about safe medication administration and side effects to monitor for and report back to [nurse/facility?] healthcare providers."

iTriage is available to Android and iPhone users as a free medical health app that engages healthcare consumers and encourages appropriate healthcare decisions. The online and mobile platform guides consumers through the healthcare process, from checking symptoms to choosing providers. iTriage also provides a hub to store and access personal health information.
Jen Endressen, RN, refers to iTriage at least 5 times a week on the job. "It's a very handy application, literally at our fingertips for information. It is readily available, easy to access, easy to use and the information is reliable," said Endressen.
Created by two Denver-based emergency medicine physicians with content approved by Harvard Medical School, iTriage is one of the most downloaded healthcare apps on the market.
iTriage also receives constant positive feedback from healthcare professionals who have used the app at work and at home. Want to learn more about one of the top healthcare apps on the market? You can visit their nursing homepage to hear why other nurses like yourself are so intrigued by this free app.
How iTriage is Helping Nurses
Great patient education tool
Review patients' personal medical history and medications the patient is taking
Use the app as a quick, on-the-go reference to look up:
Conditions
Procedures
Medications
Kevin Ross, RN, offers a quick demo of iTriage and how its functionality is beneficial for nursing professionals and other healthcare providers.
* Please note, iTriage now offers its free app on iPad.
Download Nurse Bingo Today!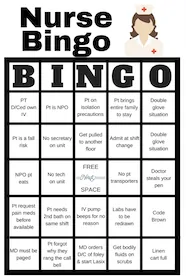 Liven up any shift with a fun game of bingo. See who can fill a row first!
Fill a whole card and lose grip with reality.
Your privacy is protected. We will never spam you.