*articles contain affiliate links*
The mammoth advancements in the health industry have made it possible for today's seniors to lead active lifestyles and continue living in the comfort of their homes. Seniors, nowadays, enjoy their independence and peace of mind with state-of-the-art medical alert systems that help in providing immediate assistance in the event of a medical emergency thanks in part to medical alert systems.
The market has been flooded with a plethora of medical alert systems, and to choose one from the lot may seem as difficult as finding a needle in a haystack. Hence, it is essential to have a thorough understanding of how medical alert systems work before picking one for yourself or a loved one.
The manufacturers of different medical alert systems might bombard you with the different specifications of their devices, ranging from diverse models, features, and attractive service plans, but the end goal remains the same – to get immediate help whenever required. All you need to do is press a button, and the medical alert provider's customer support team will arrange immediate medical assistance. 
Although this might seem simple on the surface, you may ask yourself how do those alert systems work, specifically the numerous components involved to connect you with medical support seamlessly. Read on to find out the specifications, which will help you to make an informed decision before choosing a medical alert system for yourself or a loved one.
Types of Medical Alert Systems
There are a plethora of different systems available in the market. Based on their functionality, they can be broadly classified into two categories: Mobile and Landline systems. Let us have a fundamental overview of how these two types of medical alert systems work.
Mobile systems
The mobile systems offer a massive advantage of mobility and flexibility by working on cellular networks. A wearable call button and a single mobile device are the two types of mobile systems. These portable systems offer diverse medical alert plans to suit the requirements of their subscribers.
It would be best if you are within the cellular signal's range to connect immediately with your medical alert provider's monitoring center. Whether you are indoors or on the go, you can get in touch with your medical provider from almost anywhere.
Landline systems
Unlike mobile systems, the landline system uses landline telephone lines to work. These were the 1st Gen medical alert systems, which created a sensation in the market during its inception. The main system-hub is placed strategically in the center of your home, which then seamlessly connects with your wearable medical alert pendant. If you do not travel much outside, then the landline system would be a preferable choice.
Components of a medical alert system
Different alert systems continuously evolve with the advancements made in the healthcare industry. Primarily there are 3 major components of every medical alert system that form the fundamental structure. They are – base units, remote transmitters, and medical monitoring alert centers.
Base units
The key component of every in-home medical alert system is the console (base unit). This console helps in connecting you to the medical provider's monitoring center, which is open 24/7. The base unit comes in 2 variants depending on the type of system that you choose (either mobile or landline).
Some of the higher-end consoles come equipped with a sensitive microphone and a decent loudspeaker that allows 2-way voice communication between the senior (user) and the medical alert center staff.
Remote transmitters
The remote transmitters come with easy-to-activate call buttons, which allows the senior individual to know that medical help is just a push-of-a-button away. This brings in their peace of mind even when they are living alone.
Two types of transmitters are used in medical alert systems based on their portability. The remote transmitters either fit in the landline system or the mobile system based on the type of medical alert system you choose. Depending on the model that you use in a landline system, the transmitter is capable of sending a digital wireless signal to the base unit located at the center of your home from a maximum distance of 1,300 feet.
On the other hand, if you choose the mobile alert system, then the remote transmitter itself becomes the portable base unit and works indoors as well as outdoors, as long as you have cellular connectivity.
Medical monitoring alert centers
The 2 most crucial parts of any medical alert system are the base (console) and the monitoring alert centers (call centers). The whole foundation of this system is based on these two prime pillars.
Medical alert companies make sure that their trained executives are available 24/7, 365 days a year, so they can be of immediate assistance whenever they need them. These staffs are fully-trained operators with CSAA- and UL-certification, who also make communication easier for non-English speakers by translation.
Some crucial features of an alert system
To reap all the benefits of using a medical alert system, it is important that you look for all the fundamental features before purchasing one. Among the myriad of diverse features, the GPS, Environmental monitoring, and the Fall-detection sensor are an absolute necessity.
GPS
GPS locating feature is of utmost importance since it helps the medical alert system to track your location and direct the medical help to your location as soon as possible.
Environmental monitoring
Some of the alert system devices come equipped with special sensors that detect life-threatening situations in the senior subscriber's environment, such as a fire or carbon monoxide leak. An automatic alert signal is sent immediately to the medical monitoring call center when these sensors detect such an anomaly.
Fall detection sensor
With the aid of gyroscopes and accelerometers, the fall-detection sensors automatically detect when an individual senior slips and falls and sends an alert signal to the control center. Thus, in such cases, even if the call button isn't pressed, help will arrive at your doorstep in no time.
Final verdict
Whether you choose a basic or a premium plan while subscribing to a medical alert system, you must keep the components and features mentioned above in mind. Even though every alert system has its advantages and disadvantages, the discussed fundamentals remain the same in all of them.
We hope that with this article, your query of "How do medical alert systems work," is finally resolved. You will now be able to make an informed decision to choose the medical alert system that suits you or your loved one perfectly. We hope you have a long and healthy life ahead.
Get an Alert System You Can Trust
MobileHelp provides state of the alert medical alerts systems to help keep you or your loved ones safe. Whether you're looking for a mobile (cellular) alert system a landline (often called wired) home solution, they have many medical alert products to meet your needs.
Mobile Duo
For busy seniors on the go, the Mobile Duo is a great choice for a Cellular in-home and on-the-go emergency medical system. This is a perfect solution if there isn't a landline phone in the house. It's the only system that combines both GPS and medical alert system in one affordable package. GPS is an often overlooked feature, but is critical for seniors who have dementia or other ailments that make them prone to wonder.
This system includes:
Two Help Buttons
Water Repellent Technology
24/7 Emergency Monitoring Service
Two-way communication in your home and away-from-home
FREE ground shipping on most plans ($15 value)
Patented GPS technology
No long-term contracts, no activation fee
You can also find more details about the landline alert systems.
Download Nurse Bingo Today!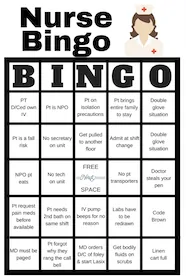 Liven up any shift with a fun game of bingo. See who can fill a row first!
Fill a whole card and lose grip with reality.
Your privacy is protected. We will never spam you.