*articles contain affiliate links*
I've always been perplexed by the concept hospital policy. I mean, I get their purpose and understand the reasoning for them. They are needed, because unfortunately, many people require things to be spelled out and written in stone, in order for them to abide by rules of common-sence and decency. I even support having them readily available to all staff, with a quick easy way for any member of a healthcare organization to have access. Unfortunately, however, concepts like policy management often elude many healthcare organizations. It is not easy to find the information you want, nor is it understandable once you find it.
How Can Employees View the Hospital's Policies?
What employees have to face is thick printed 3 ring binders with a difficult to navigate, often out-dated collection of policies that are daunting and difficult to tackle. If the policies are online, many of them are unorganized and unsearchable masses of the policies.
Unclear Clarity in Hospital Policies
The complexity and the convolution of the language and the often unclear clarity they offer can be a great frustration to a staff level employee. Hospital policies are created in order to provide instruction and clarification for issues and questions that often arise. Create a policy so that there is no reason for confusion. Easy access to hospital policies can enable and empower staff-level employees (nurses, aids, and so on) to feel a greater understanding of their job roles, the goals of the organization, and the standards that are expected to be met.
Empowering Nurses Through Hospital Policy
I've written before about Rosabeth M. Kanter, and her Theory of Organizational Empowerment. I think that hospital policy, and the easy and convenient access to them, are a fantastic example how giving nurses the access to information and tools and they will feel a greater respect for their role and a greater commitment to the healthcare organization. I am a big believer in transparency within a healthcare organization. A business, your customers (patients) and your employees alike will have to develop a greater trust in you and the care you can provide.
Honesty is the BEST Policy
Honesty is always the best policy. Transparency is the only way you can have honesty in a healthcare organization. The omission of the truth is lying. And poor organization and poorly written hospital policy might as well have strings, a wooden nose, and be called Pinocchio's Policy.
In short, clarity, accessibility, and transparency are needed in hospital policy in order for the healthcare organization to be efficient and productive.
Download Nurse Bingo Today!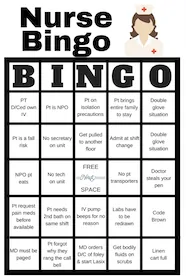 Liven up any shift with a fun game of bingo. See who can fill a row first!
Fill a whole card and lose grip with reality.
Your privacy is protected. We will never spam you.