*articles contain affiliate links*
When a hospital is in low census, there are less patients that usual. This means there are more staff scheduled to work that are needed to care ofr the patients that are prsence. This can happen for a variety of reasons that we will outline below.
image source:
nursetoon.com

Low Census Meaning
A "low census" in the healthcare setting refers to a situation where there's a lower-than-usual number of patients requiring care in a hospital or medical facility. This scenario often leads to a reduced need for staffing, which can affect the working hours and schedules of healthcare professionals such as nurses. The reasons behind a low census could range from seasonal fluctuations, where certain times of the year have fewer admissions, to broader issues like a public health crisis, which might lead to the postponement of elective procedures. During low census periods, healthcare institutions might implement certain strategies to manage staffing levels, such as offering voluntary time off, mandating time off, or reassigning staff to other needy areas.
Reasons Why Low Census Occurs in Hospitals
Seasonal Fluctuations: Certain times of the year may lead to fewer admissions, for example, hospitals in locations like Florida experience higher traffic in winter due to snowbirds traveling seasonally, but in spring, the traffic reduces significantly leading to a low census.
Decline in Preventive Care Visits: A decline in preventive care or primary care visits could lead to a lower census in hospitals that primarily provide such services.
Increase in Urgent Care Visits: Conversely, an increase in urgent care visits could lead to a lower census in hospitals if patients are opting for urgent care facilities instead of hospital admissions.
Public Health Crisis: A public health crisis such as a pandemic may lead to postponement of elective procedures, resulting in a lower census.
Increased Medical Acuity: During low-census periods, nursing homes might admit residents with increased medical acuity which may not be familiar to most staff, leading to a lower census in traditional hospital settings.
Unpredictable Patient Flow: The unpredictability in patient flow, especially during peak times like winter, can lead to staffing challenges and low census situations.
Overstaffing: If a healthcare facility is overstaffed for a period due to miscalculations in patient population predictions, it can lead to a low census situation.
Community Health Trends: Rapidly changing healthcare needs in the community may lead to a low census, especially in areas with fluctuating populations.
Economic Factors: Economic downturns may lead to fewer elective procedures and preventive care visits, thus reducing the census.
Competing Healthcare Facilities: The presence of competing healthcare facilities or newly opened urgent care centers may draw patients away, leading to a lower census.
Each of these scenarios presents its own set of challenges for healthcare facilities, and understanding them can help in better management and planning for patient care and staffing requirements.
A Nurse's Thoughts About Working During Low Census
Well, not if she gets the privilege to work. If the privilege to work is granted, you are to do so with no tech, a bigger patient load with higher acuity patients and often are pulled to other departments.

Being pulled to me is often a nice change of pace, so I do not mind. What I do mind is being pulled to another floor (or part of the float pool) and yet still having an understaffed department that is unfamiliar to you. I've been lucky in that the nurses are almost always very friendly and do their best to be helpful but often are so wrapped up in their own patients and tasks that they often do not have the time to offer assistance.
Unfortunately, with the terrible economy, our unusually low census, and budget concerns it seems that the nurses are facing the brunt of the burden. I am sure that I do not understand all the details, but in my humble opinion, the decisions they may make to cut costs concerning staffing are often absurd and end up costing them much more than they are attempting to save. Unfortunately, it seems more often than not, we are being called off at least once a week. That's a big hit to the pocketbook, especially with taxes coming due, a toddler to buy Christmas for, and a pile of debt competing for Everest status.
I have contemplated attempting to work PRN somewhere, but it makes me very anxious to consider starting over somewhere. With my less-than-stellar experience as a newbie nurse, I am fearful that I may encounter similar treatment even though I am much less green these days. I also do not want to give up the time with my family if I can help it, but it would be nice to eliminate some of the monthly reminders of my prior frivolous spending.
What are your opinions on working PRN? Specifically, if you do it/have done it at a completely different facility or specialty, I would like to know what it was like for you starting and how the other nurses and staff accept you.
This is something I have pondered for quite some time, and I would like to know how easy it is to dive into a completely new environment now and then. How long does it take before you catch your breath? Is it worth it? Do you feel you can safely practice as a nurse? Do you think you have the help you need?
Download Nurse Bingo Today!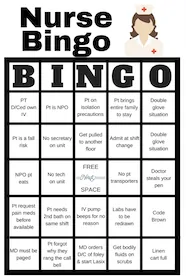 Liven up any shift with a fun game of bingo. See who can fill a row first!
Fill a whole card and lose grip with reality.
Your privacy is protected. We will never spam you.