*articles contain affiliate links*
Every single home should have a first aid kit. Let's look at what you need in yours!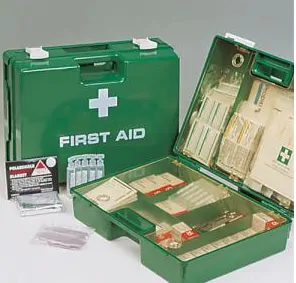 Health and safety around the home are of paramount importance – especially if you have little ones who don't understand about hazards or danger. According to The Royal Society for the Prevention of Accidents, more than 5,000 people die each year and 2.7 million people receive medical treatment due to domestic accidents, so what can you do to make your living environment secure?
What You Need In Your First Aid Kit
Well, aside from using tools and machinery carefully, securing all loose wires and using the back rings of the hob to prevent your children from getting burnt, you should also think about putting together a well-stocked first aid box which might include:
Individually wrapped sterile plasters
Accidents can occur at any time, so it's a good idea to have individually wrapped sterile plasters of all shapes and sizes. These can be used to protect a wide range of cuts and grazes and will help keep the blood flow under control. If the wound is significantly larger than the pad of the plaster or is deep, use a sterile dressing instead and seek medical assistance if necessary.
Eyewash and eye pads
If something lands in your eye unexpectedly, an approved solution (usually saline) can be used to rinse out the foreign object. It helps wash away particles of dust and dirt and can come in handy if you're doing sawing, sanding, painting or any other type of DIY. Sterile eye pads are also useful to have around as they cover minor injuries and prevent further irritation from occurring.
Antiseptics and antihistamines
Broken skin can become easily infected, so get hold of some antiseptic cream or spray. This will help keep cuts, grazes and minor burns clean and soothe the infected area. As children are always hurting themselves in one way or another, this product is a must-have for parents as it will help keep infants and toddlers safe. While you're in the lotions and potions aisle of the shop, it's also worth buying some antihistamine cream as this will take the sting out of bites and allergies.
A thermometer
If your baby is running a fever, it's essential to keep an eye on their temperature. Anything above 38 degrees C (for children under three months) or 39 degrees C (for children under six months) can indicate a problem so keep a thermometer to hand. While there are many ways to take your baby's temperature, a digital device can be placed under the arm and is a simple, hassle-free option for both parent and child.
DIY First Aid Kit Checklist
If you are putting together your own first aid kit, make sure you don't forget anything. There are lots of printable first aid kit checklists online. One of my favorites is from Simply Family Preparedness. It was created by a mom and RN.
Buy Pre-Made First Aid Kits
Of course, you can save yourself a lot of time and just buy a pre-made first aid kit. While it will save you money to build your own, these are so convenient!
The safety of your loved ones should be your number one concern, so try to make your home as secure as possible. Make sure you have a first aid kit in your home.
More Home & Family Articles
Now that you know how to create a stellar first aid kit, here are more articles to help you and your family.
Download Nurse Bingo Today!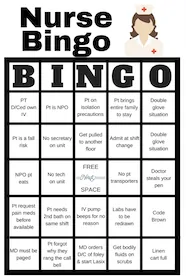 Liven up any shift with a fun game of bingo. See who can fill a row first!
Fill a whole card and lose grip with reality.
Your privacy is protected. We will never spam you.