*articles contain affiliate links*

Widi is Intel's innovative wireless display technology brought to you by Intel. It allows you to use a WiDi capable computer and device to stream content effortlessly to a TV screen. While this certainly isn't new technology, being able to do it quickly and easily with integrated technology is something relatively new in the Windows world.

You may not quite get what the big deal is? I mean, why on earth would you want to be able to stream your laptop screen to your TV? But just think about it for a moment. Aren't there times where you'd like to share a funny Youtube video with everyone. Or how about a family photo album. Maybe you'd like to share a home movie without going to the trouble of burning it to a DVD. There hasn't always been an easy way to do this with Windows products, until now.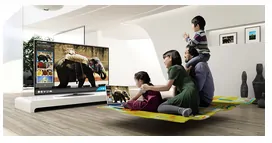 Apple, on the other hand, has been ahead of the game in screen streaming technology. One of the coolest little perks of apple products is their ability stream on Apple TV. Now, if you don't own an Apple TV then you probably don't know what you're missing. But if you own Apple TV, and use Airplay, you know how awesome it is to be looking at something on your phone and instantly be able to see it on your TV screen. It takes the who "Smart TV" concept to another level and really increases the social aspect of technology and Apple devices.
Can I Use WiDi?
You first need to make sure you have a Widi compatible computer and an Intel WiDi-ready streaming device. OH and a TV, HDMI compatible is pretty much a must.
Computers with WiDi
How to Know if Your PC Has Intel WiDi
Type "WiDi" in your search bar. If your PC has built-in Intel WiDi, you will see the ''Intel WiDi'' application in your search results.
If you're in the market for you then you can check the following models:
WiDi-ready Streaming Devices
There are many streaming boxes and other devices that are WiDi-ready. These include adapters, HDTVs, and standalone streaming devices. You may even already have one at home.
Widi-ready Devices and Adapters
Netgear NeoTV Max Streaming Player NTV300SL
WiDi-ready TVs
What would you stream using WiDi technology?
Find out more about more about Intel Wireless Display (Widi) via Intel.com.