*articles contain affiliate links*

We do not set aside nearly enough time to express thanks for the many blessings that we have in our lives. I am glad that we have a day dedicated to be thankful and embracing family. Sometimes we forget just how fortunate we are and Thanksgiving is wonderful reminder to take a moment to count your many blessings.
In no particular order, and in no way encompassing the entirety of all things I am thankful for, I present to you some of my blog-worthy blessings:
I am thankful for my family.
I am thankful for my job, my home, and the ability to provide for my family.
I am thankful for technology, the internet, twitter, the blogosphere, and all that other fun stuff that allows me to get online and express my opinion to the world any time I like. Social media really is a beautiful thing and has done wonderful things for me and my family.
I am thankful for all the great friends that social media has brought me.
I am thankful for all the great friends my loud mouth has somehow helped me to acquire.
I am thankful for my quirky, hilarious, loving, energetic, talented, creative, witty, charismatic, beautiful, smart, and mischievous son.
I am thankful for my funny, caring, considerate, odd, entertaining, heart-warming, and thoughtful husband who supports me in every decision I make.
I am thankful for my gadgets and gizmos and the ability to share my love for them with others.
I am thankful to be a nurse and to have the ability to work as a clinical informatics specials and combine my love for nursing and technology all in one fantastic career. I am eager to get up to go to work in the morning and help to make a difference in the lives of patients through technology and innovation. So thankful that I'm actually paid to do what I love.
I am thankful for my integrity and my commitment to do the right thing. It's certainly made the road a little rockier. Falling in line is the easier choice, but I am proud that I stood my ground, like my mother always taught me and have been true to myself. You were right mom. I am thankful for all the lessons and values you have instilled in me
What are you thankful for?
Download Nurse Bingo Today!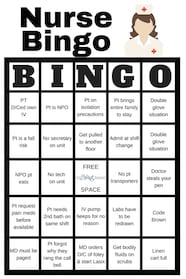 Liven up any shift with a fun game of bingo. See who can fill a row first!
Fill a whole card and lose grip with reality.
Your privacy is protected. We will never spam you.