*articles contain affiliate links*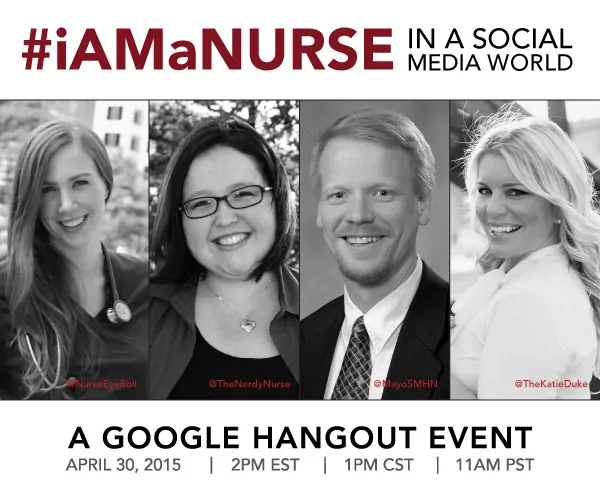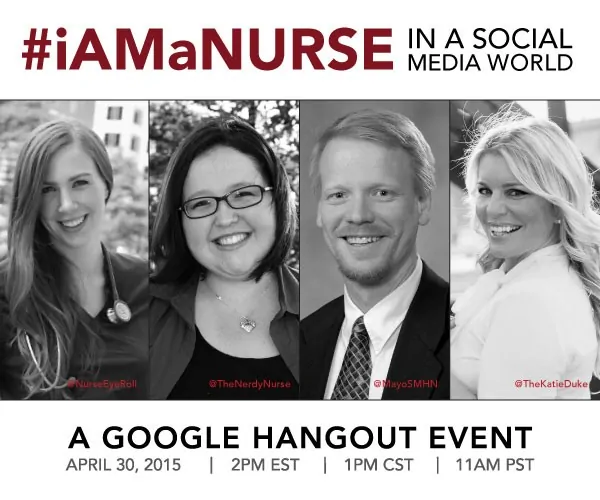 Capella University has organized an incredible LIVE Google Hangout where social media's top nurse contributors, as well as Mayo Clinic's Center of Social Media director will come together to talk about social media and what it means for nurses. The live event, which will take place on April 30th, 2015 at 2pm ET, will give nurses practical advice for living in a world saturated with social media.
I am very excited about being a part of this event because I know first hand that nurses benefit from social media and  how it can improve their personal and professional lives when they use it properly. There are so many talented nurse bloggers and social media personalities that provide a complex and needed support system for nurses online. Social media can help nurses grow in the nursing profession by leaps and bounds and I thrilled to have an opportunity to talk about this with the top nurses on social media.
Benefits of Attending the iAMaNURSE LIVE Google Hangout
You'll get real world advice from social media's top nurses
Successful completion of this CNE activity is worth 1.o contact hour
You'll have an opportunity to ask your questions to the panel of experts live
It will be fun and totally awesome
Katie Duke, Nurse Eye Roll, and The Nerdy Nurse all in one place? It's like NursaPalooza2015
What are you waiting for? Sign up now
Meet Nursing's Social Media Super Stars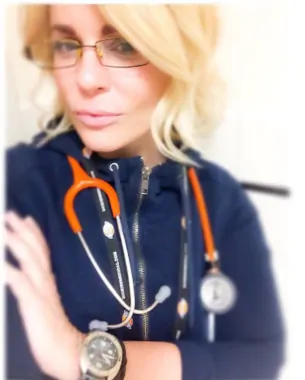 Katie Duke, MSN RN AGACNP-BC was born and raised in St. Louis, MO, and lives and works in NYC. An RN for over 12 years, she recently completed her MSN at Columbia University in the City of New York, and is on a mission to become THE public figure for nursing. Duke values the imperative role nurses play in healthcare delivery and recognized a void within the industry for an intelligent, relatable, and real healthcare personality representing nurses. Nurses have long been portrayed in the media and on television as docile, unintelligent, unprofessional, sexual objects often trailing behind physicians, and Duke has set out to change this perspective. As a main cast member on the the award winning NY MED on ABC, and NY ER on the Oprah Winfrey Network and Discovery Health Channels, Duke is able to reach millions every week with her powerful and knowledgeable skill and work ethic, and very interactive and positive presence on social media. She has a weekly YouTube series, "the Katie Duke Show" that is on one of the fastest growing youTube channels; ScrubsBeat. The Duke serves as a public speaker, traveling the US and speaking at nursing schools, commencements, pinnings, conferences, and conventions. She is a brand spokesperson, resource, and role model for not only the nursing profession, but also for healthcare and lifestyle enthusiasts throughout the nation. As an experienced and practicing ER Nurse in NYC, she encourages others to be their best, and her motto is to "deal with it".
Stay Connected with Katie Duke: Twitter, Pinterest, Facebook, Google Plus, Instagram , Scrubs Beat, Scrubs Magazine, KatieDukeOnline.com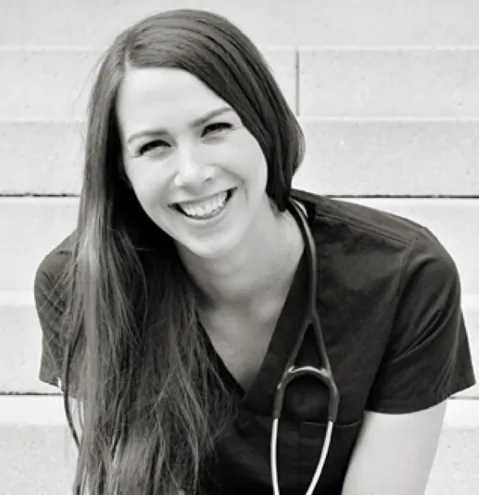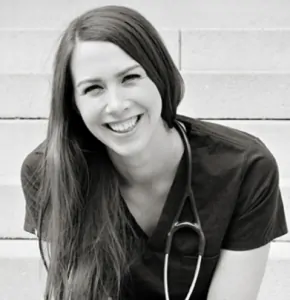 Kati Kleber: I have worked as a bedside nurse for 4.5 years; two of which in a cardiac stepdown unit and 2.5 years in a neurosciences intensive care unit. I am the chair of the shared governance coordinating council. I am also a heavily involved nurse on social media across various social media outlets, including my own blog. I have published a book, Becoming Nursey, which has been positively reviewed by the American Association of Critical Care Nurses.
Stay Connected with Kati Kleber (AKA Nurse Eye Roll): NurseEyeRoll.com, Twitter, Pinterest, Instagram, Scrubs Magazine
Read her blog post on the event: #iAMaNURSE in a social media world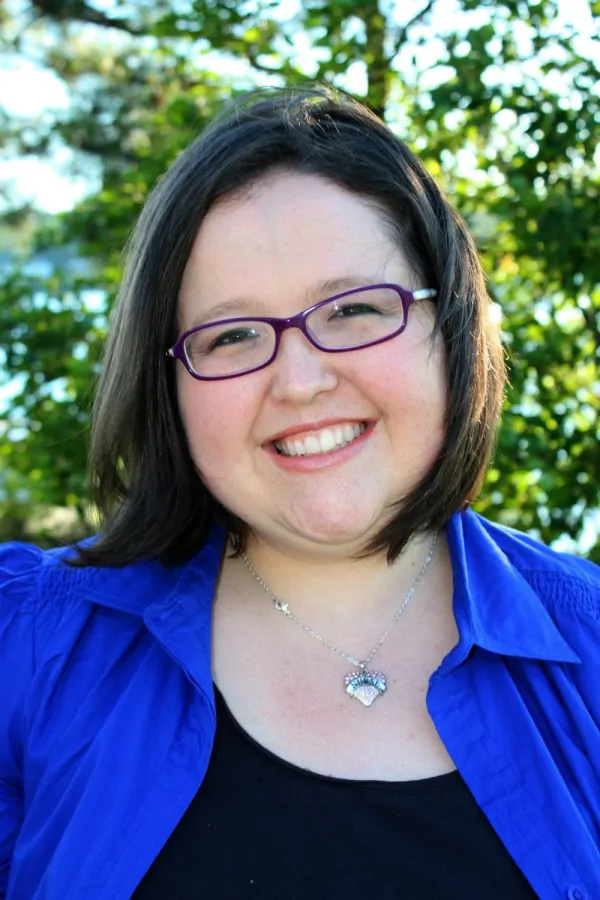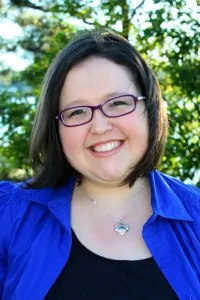 Brittney Wilson, BSN, RN, also known as The Nerdy Nurse, is a highly influential social media personality in the nursing and technology space. She works in the healthcare social collaboration arena as a community manager for Next Wave Connect and has a background in clinical informatics. Brittney gets to do what she loves every day: Combine technology and healthcare to improve lives. She can best be described as a patient, nurse and technology advocate, and has a passion for using technology to innovate, improve and simplify lives, especially in the healthcare arena. Brittney is the author of The Nerdy Nurse's Guide to Technology and she blogs about nursing, technology, healthcare, and various lifestyle topics on thenerdynurse.com.
Stay Connected with Brittney Wilson (AKA The Nerdy Nurse): TheNerdyNurse.com, Twitter, Facebook, Pinterest, Google Plus, and  Next Wave Connect
Director of the Mayo Clinic's Center of Social Media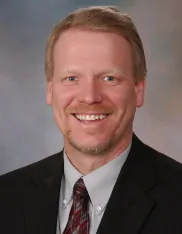 Lee Aase: Since 2010, Lee Aase has been director of the Mayo Clinic Center for Social Media, which builds on Mayo Clinic's leadership among health care providers in adopting social media tools. Mayo Clinic is a pioneer in hospital blogging and has the most popular medical provider channel on YouTube as well as active, popular outposts on Twitter and Facebook. Lee has led social media efforts at Mayo Clinic since 2005.
Stay Connected with Lee Aase: Mayo Clinic Center for Social Media, Social Media University Global
Capella University's Director of Nursing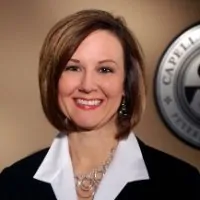 Christy Davidson: has been a nursing professional for nearly 20 years beginning as a staff nurse in Labor and Delivery, then growing in leadership as a Women's Health Clinical Nurse Specialist, nurse manager of a Pediatric/Medical Surgical Unit, and as nursing faculty. Christy received her BSN and MSN from the University of Mobile, in Mobile, Alabama. She received her DNP from the University of South Alabama in Mobile, Alabama. After several years as a core nursing faculty member, Christy is currently the Director of Nursing and Interim Dean for the School of Nursing and Health Sciences and Capella University. Christy holds several scholarly presentations to her credit, is a member of STTI (Sigma Theta Tau International), was a 2012 DAISY Faculty Award winner, and currently serves as a CCNE (Commission on Collegiate Nursing Education) site evaluator.
Learn More about Capella University's Nursing Programs: Capella Online Nursing Degrees
Don't miss your chance to hangout live with social media's top nurses.
This live event took place April 30th, 2015 at 2pm ET, but you can still view the recording.