*articles contain affiliate links*
There is a grave need for nurses in nursing homes. According to the New York Times, 90 percent of U.S. nursing homes do not have adequate staff. A 2002 Health and Human Services (HHS) report found that 86 percent of 43 states reported inadequate staff numbers.
In 2004, there were 917,400 nurse related staff members in the U.S. nursing homes. These nursing staff members provided care to 1.5 million residents in all of the United States. Here are the numbers and the ratios in relation to nursing home residents:
Staff to Resident Ratio (2004)

Staff Type

Count

Staff to Resident Ratio

All

936,000

1 for every 1.64 residents

Registered Nurses

119,500 1

1 for every 12.6 residents

Practical Nurses

184,600

1 for every 8.15 residents

Nursing Assistants

600,800

1 for every 2.5 residents

Nursing Aides & Orderlies

12,500

1 for every 120 residents
So what does this mean in terms of patient care? A 2002 HHS study found that the, "Thresholds at which the quality of care [in nursing homes] is maximized range between 2.4 and 2.8 hprd for CNAs, 1.15 to 1.40 hprd for RNs and Licensed Practical Nurses (LPNs) combined, and 0.55 to 0.75 for RNs, depending on the resident population. Significant quality improvement is seen with incremental staffing increases up to these ratios…." So, put more simply, if:
· Certified Nursing Assistants spent between 2 hours and 25 minutes and 2 hours and 50 minutes,
· Registered Nurses and Licensed Practical Nurses combined spent between 1 hour and 15 minutes and 1 hour and 25 minutes,
· Registered Nurses spent between 35 minutes and 45 minutes,
Every day with each patient, the optimum quality for nursing home care would be met. However, the study also found that, "If the maximum thresholds are implemented, 97% of all nursing home facilities would fail to meet one or more of the standards. A different methodology estimates that 91% of nursing homes have nursing assistant (NA) staffing levels below the minimal levels identified to provide necessary care."
The problem of understaffing in nursing homes is so serious that the Obama Administration has implemented staff retention and attraction plans into its Affordable Care Act (ACA). Illinois Health Matters explains, "According to Families USA, the ACA will establish important programs, committees, and grants that will increase the effectiveness of the long-term care workforce and care. These numerous establishments aim to…improve the long-term facility workforce through:
· Increasing the size of the long-term care workforce to meet the needs of long-term care residents.
· Understanding and analyzing workforce supply and demand.
· Encouraging people to enter the long-term care workforce.
· Curbing the long-term care workforce's staff turnover rate through retention efforts.
· [Improvement of staff quality]…by educating staff about demanding resident conditions, such as dementia; proper ethics; the importance of reporting staff abuses of residents identifying signs of elder abuse and identifying administrative abuse."
You can learn more about nursing home abuse at NursingHomeAbuse.net
Download Nurse Bingo Today!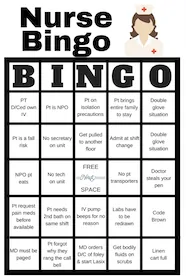 Liven up any shift with a fun game of bingo. See who can fill a row first!
Fill a whole card and lose grip with reality.
Your privacy is protected. We will never spam you.