*articles contain affiliate links*
My friend John Lynn (who is the guy behind the Healthcare Scene Health IT blog network) is really excited that he can finally help those who are interested in jobs in healthcare IT and informatics.
Now HealthcareITCentral.com and HealthcareITToday.com will help connect qualified healthcare IT candidates with employers and of course healthcare IT employers with candidates.
It can be challenging to transition into healthcare IT and informatics, but one piece of advice I often give nurses and others looking to make the change is to learn about the career and what job responsibly it has. One great way to do this is to look at job listings, job requirements, and networking with recruiters and hiring managers to determine the skills and training you need to be a viable candidate.
If you're interested in learning more about the acquisition, or what sort of information you can find on the websites, check on the article John recently posted on his EMR and HIPAA site.
To all of those interested in nursing informatics and healthcare IT I wish you the best of luck. If you're in the process of seeking a job in this arena please comment below with any of your questions or stories. We'd love to hear them!
Download Nurse Bingo Today!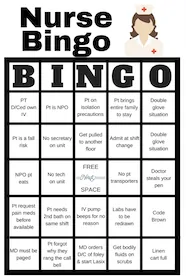 Liven up any shift with a fun game of bingo. See who can fill a row first!
Fill a whole card and lose grip with reality.
Your privacy is protected. We will never spam you.