*articles contain affiliate links*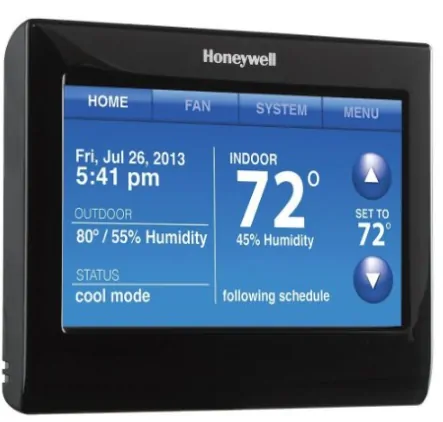 When I attended CES I had the privilege to meet up with the Honeywell folks. They make some amazing products, one of which I was ask to review: The Honeywell Wi-Fi Smart Thermostat with Voice Control. I've had the amazing little thermostat for a few weeks and have had a great time with it so far. 
Product Description
Per Amazon:
Wi-Fi Thermostat allows for remote access via smartphone or computer: Free smartphone app for iPhone, iPad and Android operating systems; Voice Control allows you to adjust the temperature setting by talking to the thermostat; Universal compatibility – Works with most system types; Contemporary design with customizable color touchscreen; Can be configured to meet almost any scheduling requirement; Selectable 7-Day programmable thermostat with option to select option to select multiple days allowing the user to customize programming to their unique schedule; 4 Programmable periods per day; Pre-programmed with energy savings schedule; Control the system and fan; Smart Response Technology – Continually learns to pre-heat/cool your home so you are comfortable at your pre-programmed times; Auto change from heating to cooling; Filter change reminder; Multiple hold options; Automatically downloads software updates; Online and toll-free support available;.
The Good
The Honeywell Wi-Fi Smart Thermostat with Voice Control is impressive piece of home technology that I can honestly say has improved our lives. The theme of CES is always innovation, and although it's not ground breaking, it definitely make heating and cooling my home a little easier and a lot more fun all for a reasonable price. It does all the basics that any good smart thermostat would, but with a few extra bonuses. First of all it has voice controls. It displays the local weather right on the screen of the device. It also comes preloaded with energy saving programmed settings which can easily be adjusted for your heating and cooling needs. I also found the fact that is displays the local weather right on the touch screen to be a nice added feature that you don't see in many smart thermostats.
Voice Controls
Without a doubt the most feature my family has found most entertaining, and far more useful than you might imagine, are the integrated voice controls.You can use any of the following phrases to control your thermostat from across the room. It even does a great job of drowning out ambient nose and can even decipher the phrases my 4 year old mutters (which may or may not be a good thing).
"Make it warmer / cooler"
Changes the temperature setting 1 degree F.

"Make it much warmer / cooler"
Changes the temperature setting 4 degrees F.

"Make it (1-10) degrees warmer / cooler"
Allows you to select temperature setting change between 1 and 10 degrees F.

"I'm feeling hot / cold"
Changes the temperature setting 1 degree F.

"Help"
Provides a list of available commands.
Pre-Configured with Energy Saving Settings
Everyone in the house has found most of these features helpful. Or well, I have. My husband thought that the pre-configured coolness setting was too cold and has consequently placed the thermostat in a manual hold position while he heats the house to sauna-level temperatures. Luckily, when I get close to passing out from heat overload I can pick up my iPhone and tap on the app to adjust the temperature back down to reasonable levels. You can also adjust these settings to fit your personal schedule so you are only heating and cooling the house when it is occupied.
Simple Set Up
I really loved the fact that the set up on the Honeywell Wi-Fi Thermostat was so simple and that it's also easy to customize. The color of the touch display can be adjusted to match your decor and even your mood. And set up couldn't be easier. The are videos online are super helpful in doing the actual wiring and household set up. You also have access to a 1-800 with free technical and installation support before 8:30pm. I, however, decided to install this around 9pm and  was unclear on whether my heat was a heat pump or forced air and consequently spent the first night after it was installed in a 50 degree house. Once I straightened that out, it has worked beautifully. But that was my fault, not the thermostats.
Smartphone Access
My personal favorite feature is the ability to adjust the temperature in my home from anywhere. I will frequently tap on the app while I am at work at bump the thermostat down a few degrees. Just a few days after I started doing this trick my husband told me that I needed to "Remember with great power comes great responsibility."
The Bad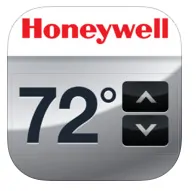 There are a couple of things about the Honeywell Wi-Fi thermostat that could be improved. First of all, the URL in the installation and quick set up guide for the accompanying smartphone app is incorrect. It brought me to a search engine page with various URLs that were similar to those in the manual, however none of them matched it exactly. This sort of thing makes me nervous because companies and spammy websites will often try to buy out competitors keywords making you think you're going to the manufacture's website when you are not. This made me apprehensive about the whole sign up process.
When I finally did find the correct site it state it was for home security, so I was very confused because I wasn't trying to set up home security I just wanted adjust my thermostat with my smartphone. I finally just did some googling to find the needed smartphone app and place to register for my account. This is a big oversight on Honeywell part and the manuals to need to be corrected with the correct URL as well as include images of the App icons. I would also suggest including a QR code to scan and take you directly to the site to sign up for an account and download the appropriate smartphone apps.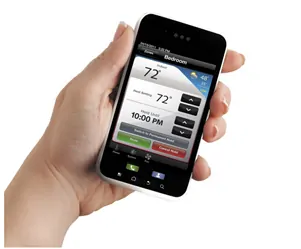 If you are interested, and you have the Honeywell Wi-Fi thermostat this is the correct URL to register for an account to access your Wi-Fi thermostat: https://rs.alarmnet.com/totalconnectcomfort. The App is available for free on both iPhone an Android.
The Big Picture
At $299 I really like the fact that the Honeywell Wi-Fi Smart Thermostat with Voice Control can operate independently without the need to purchase an expensive, contract-based security system. I get the luxury of being able to operate my thermostat remotely and the joy of irritating my husband by changing the temperate in my home whenever I want from where ever I want. It is definitely the type of nerdy home improvement product that I love. Other than the fact that finding the smartphone app and website to set up access were a little more trouble than I would have liked, my only real complaint is that now I want other things in my home to be "Smart."
While I've not test the Honeywell Wi-Fi Smart Thermostat with Voice Control side-by-side with competitors like the Nest Learning Thermostat ($249), I have watch multiple videos and even had a hands on at CES. I think that the Honeywell Smart thermostat actually has a few more bells and whistled and the touch screen input makes the Honeywell a bit more user-friendly.
Do you have a smart thermostat? I'd love to hear your thoughts on them in the comments below.
Disclosure: I received the Honeywell Wi-Fi Smart Thermostat with Voice Control for free to review. Opinions stated are my own. No further compensation has been provided.
[AMAZONPRODUCTS asin="B00EJIYUUU"]