*articles contain affiliate links*
We have a team of hospitalists at the job I am leaving that are a dynamic bunch. Most of them are very approachable, have interesting life stories, and enjoy a little chit-chat every now and then. They are certainly a far cry from the specialists who respond to you with annoyance at your inquiries or concerns. This is likely because we spend so much more time together, and they are stuck in the same building as us. Regardless, the hospitalists are nice to the nurses and we are nice to the hospitalist.
A Certain Hospitalist
One hospitalist in particular is quite funny sometimes even quirky. We learned the he was actually a nurse before he because a doctor and before that had a career managing a Starbucks. 
I asked him about the transition from nurse to doctor, why, and if he thought it made a difference in his practice. The response I got was much more comical and entertaining than I ever imagine. Why? Well, he's Asian, and apparently that defines your career to some extent.
Bring Shame on Your Family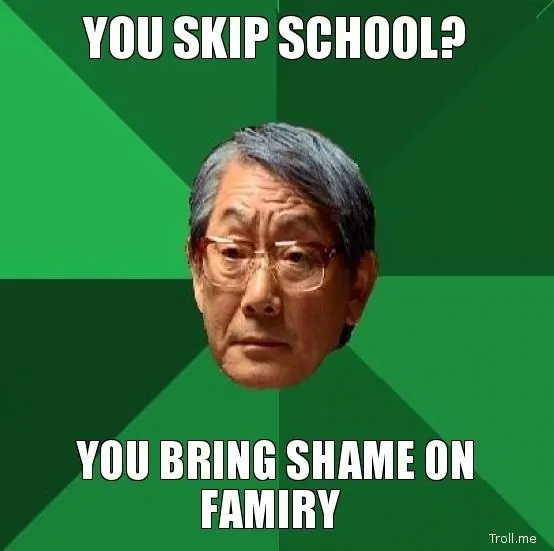 Before going to medical school, he worked in Starbucks and had a promising career as a manager laid in front of him. He was good at it, loved it, and would have done it forever. But then, heritage and ancestry apparently had a greater say on his future than he. Dad chimed in with "You can't work at Starbucks forever. You're Asian. You'll bring shame to your family." – At that point, I have to admit, I lost it in a fit of laughter. All the cinema classics discussing brining dishonor to Asian families, and I had never had someone tell me that they were actually potential responsible for such a scenario. I had never had an person telling me they would potentially bring shame to their family specifically because they were Asian.
I had to ask, because I needed a good mental picture of this scenario, if his parents were immigrants with heavy accents. YES. The fits of laughter on my behalf ensued, and after he repeated he phrase in a pronounced dialect, everyone was rolling.
He Became a Nurse
The next part of the story involved how he told his parents he was going to nursing school, and even though they were thrilled with the prospect of having a male nurse Asian son, they were more pleased with it an than having a barista in the family. But the doc was up front and honest when he said he was just not a good nurse. "I was a nurse for a few year and I was so bad at it. I was just not very nurturing. Being a nurse is harder for men. It's difficult to overcome some parts of our nature. So I decided I had to do something else."
CRNA or Doctor?
He applied to two schools: one for medicine and the other for CRNA (Certified Registered Nurse Anesthetist) and was accepted to both. He choose to become a physician, in particular a D.O. (doctor of osteopathic medicine) in an effort to hopefully alleviate the potential for shame he had already brought his Asian family.
I asked him if he was glad he did it. He responded that he felt he was much better doctor than a he was a nurse. He also said that he thinks he would have made just as much money a a CRNA and likely be just as satisfied. But when all is said and done, and even though he was working 70 hours a week slinging coffee, and made pennies, he could still be doing that and likely be just as happy. Maybe even more so. He spends upwards of 70 hours a week on the hospital, and even though the income in markedly higher, the stress and heaviness of the decisions he makes daily are trying at best of times.
Live Like a Resident
"I've was told to live like I was a resident forever. Live like you only made pennies as a doctor, but it's hard to do that."
I can understand completely. I never can figure out where all my money goes, and as a nurse I feel I make a decent living wage. The more you make the more it takes.
But it was food for thought to me about what constitutes happiness and success. While most would feel that he worked hard and climbed the educational ladder to a successful career as a physician, he would be just as content to make coffee all day if it weren't for the potential shame it would have brought his Asian ancestry.
Interesting.
image of CRNA via http://www.crnaworld.com/