*articles contain affiliate links*
The New York Times has has an article about Epic's EMR system titled  Digitizing Health Records, Before It Was Cool. Epic is only one of many large EMR vendors who produce software to manage patient medical records and other data related to the overall business and function of healthcare organizations. A few others worth mentioning are  Allscripts, Meditech, Cerner, I.B.M., McKesson, Siemens and GE Healthcare. They all have their benefits and drawbacks. Most of them have similar challenges when it comes to overall function and impact on patient care. But most of them are also diligently working to correct their shortcomings.
One of the biggest hurdles I've encountered is the difficulty in getting printed records out of the electronic system. Then again, getting something onto a page is not the primary focus of a digital EMR system to begin with, but tell that to the legal system who haven't quite caught up with the same digital standards that the government is requesting of hospitals. Perhaps the government needs to get those standards in line before it starts making requirements of others.
Epic: The Cadillac of Electronic Medical Records
Epic is considered by many to be Cadillac of EMR systems. When I was searching for a role in nursing informatics there were many opportunities which involved the Epic software. Epic Certification is a hugely desirable resume builder that many in HIT would love to have, myself included. This is paid for my health organizations an individuals and is rumored to be over $10,000 for a 3 days training stent. I have been told that they are a great system, but just like all the other EMR vendors on the market, often they promise more than they are currently capable of delivering.
The one thing I do know that Epic offers that many fall short on is it's functionality of healthcare systems. They have a system that works well in both the acute and ambulatory systems. And rather than having to finagle to make these pieces talk to each other, they are built to be integrated. So if you are a large health system, Epic's design can reduce some of the headaches involved with sharing data and PHI across your health network.
EMR Vendors Rolling in the Dough
These HIT software vendors are booming right now. The description of the Epic facilities brings to mind images of the eBay and Google campuses which appear to be fun and almost whimsical places to work. I suppose that you can afford to 2 feet tall spiral slides for your employees when nearly every healthcare organization in the country is scrambling to buy products that you products because of government incentives and eventual requirements.
I share the same concern that many in the HIT world share in my skepticism that these software vendors are going to shake hands and play well together as we progress in the meaningful use initiative. Right now the requirement is that we have the data available in our own systems. Fairly soon the requirement is going to be the sharing of the data with other healthcare organizations and eventually leading to a national EMR. It's a beautiful dream, but making it a reality will not be without it's challenges.
There is Big Money in EMR Interfaces
Since all these vendors write their own code, have their own language, and support their own bottom lines, they don't always play well on one another's playground. One of the biggest challenges we face in HIT is making products talk to one another. This often involves tedious labor, hoping, crossing fingers, and shelling out funds for 'custom interfaces' just to make the simplest processes work. Then it's a matter of saying a prayer and hoping that everything just works, because fixing it if it breaks can be just as much of a challenge as it was to get it working to begin with.
Regulations Needed?
As much as I hate any additional regulations, I'm fearful that forcing these software vendors to make compatible code is going to be the only cost-effective method for meaningful use to actually be meaningful and not bankrupt healthcare facilities. HL7 and continuity of care documents are a start, but the EMR software vendors need to be in the business of patient care and not just in the business being profitable.
images: This Makes Me Sick, and GiggleMed
Download Nurse Bingo Today!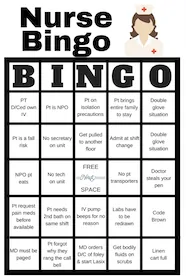 Liven up any shift with a fun game of bingo. See who can fill a row first!
Fill a whole card and lose grip with reality.
Your privacy is protected. We will never spam you.