*articles contain affiliate links*
There are certainly some downfalls to being constantly connected. Distracted driving is one of the deadliest. There is a generation who thinks that texting while driving should be ok and that they are perfectly capable of doing so without error.
That is just simply not the case.
If you've seen the recent AT&T public service ads about texting and driving, then you've hopefully been awaken to the very real and possible tragic risk associated with texting while driving. And there are staggering statistics that back this us.
Research says that upwards of 20% of car accidents are related to cell phone use. Roughly a million automobile accidents a year could be avoided if we eliminated the cellphone while driving. Studies also suggest that texting while driving can make a car crash 23 times more likely than those who are completely focused on driving.
Although there are many laws that prohibit texting while driving, many people ignore them and continue to text while driving despite the potential harm of themselves and others. This is similar to how many will still drink and drive even though it is both illegal and incredibly dangerous.
The following infographic gives statistics and details about the dangers of texting while driving.

Sources: mashable and Online Schools
Reading a Text is Dangerous Too
Just because you are not composing a text message does not mean your are not distracted. Even so, 1 in 5 admit to browsing the web while driving, stating that reading text is safer than writing it, that they increase following distance, and hold the phone at closer to the dash for better visibility. What we need to communicate is that distracted driving of any sort is dangerous.
So What can be Done About it?
Adults: set the example!
48% of teens age 12-17 have been in a car while the driver was texting.

48% of young drivers have seen their parents talk on the phone while driving.

15% of young drivers have seen their parents TEXT while driving

27% of adults have sent or received a text message while driving.
If we want teens and young adults to refrain from texting while driving, we must set the example and do the same. No life is worth whatever information may be contained in a text message.
Don't Text and Drive!
How do you talk to your kids about not texting while driving? Do you text while you drive? Do you speak up when you're riding with people who do?
Download Nurse Bingo Today!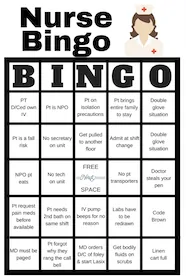 Liven up any shift with a fun game of bingo. See who can fill a row first!
Fill a whole card and lose grip with reality.
Your privacy is protected. We will never spam you.