*articles contain affiliate links*
With St Patrick's Day on the horizon, and visions green beer dancing in the heads of many, it is important that you don't forget yourself in the heat of the moment. Be smart and don't drive drunk or buzzed. Have a designated driver or stay where you are at. If saving lives and being an responsible adults isn't enough reason for you to avoid buzzed or drunk driving, the following infographic shows how it can cost you a pot gold. Well… maybe not a pot. Gold is pretty expensive these day, but surely it'd be several ounces.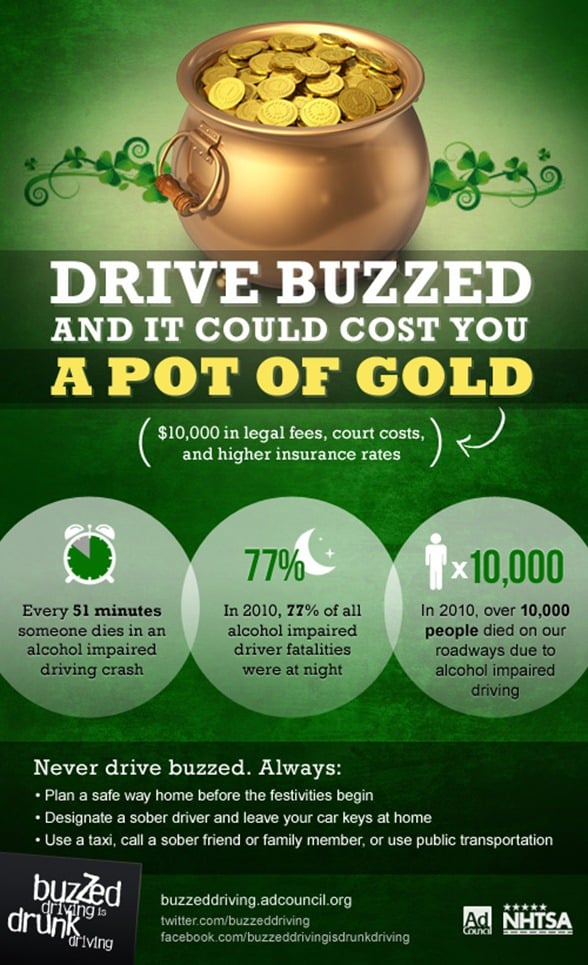 The following information from NHTSA will let you know how you can spread this message and hopefully reduce the amount of buzzed driving this holiday weekend.
Buzzed Driving Could Cost You $10,000
Six Tips to Prevent Driving Buzzed on St. Patrick's Day
St. Patrick's Day is right around the corner, and driving buzzed on the holiday could cost you a pot of leprechaun's gold – like up to $10,000 in legal fees, court costs, and increased insurance rates.
For many Americans, St. Patrick's Day has become a popular night out to celebrate with friends and family. Unfortunately, due to the large number of drunk drivers, the night out has also become very dangerous.
Here are six ways to help prevent buzzed driving in your community this St. Patrick's Day:
Post our new St. Patrick's infographic (attached) on your blog or Facebook page
Before drinking, plan ahead and designate a sober driver
If you're impaired, call a taxi, sober friend or family member, or use public transportation so you are sure to get home safely
Use your community's sober ride program
If you happen to see a drunk driver on the road, don't hesitate, contact local law enforcement
Remember, Buzzed Driving is Drunk Driving. If you know people who are about to drive or ride with someone who is impaired, take the driver's keys and help them make other arrangements to get to their destination safely
NHTSA needs your help in keeping the roads safe for everyone this St. Patrick's Day by spreading the word that Buzzed Driving IS Drunk Driving.
Follow us on Facebook and Twitter to learn more about the financial and life threatening implications of buzzed driving.
Remember: Buzzed Driving is Drunk Driving. Don't rely on dumb luck this St. Patrick's Day. Plan ahead and designate a sober driver and ask your loved ones to do the same.
Download Nurse Bingo Today!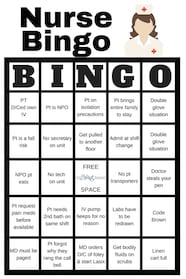 Liven up any shift with a fun game of bingo. See who can fill a row first!
Fill a whole card and lose grip with reality.
Your privacy is protected. We will never spam you.