*articles contain affiliate links*
In 2011, a certified nurse-midwife assisted 7.8% of all births in the United States. Women are choosing midwives over traditional birthing options because of the individualized care they receive, a greater incidence of full-term births, and lower rates of Caesarean sections. Birthing a child in the U.S. can feel sterile, and impersonal; midwives break that barrier by providing compassionate expertise in reproductive health for women. Nurse-midwife assisted births take place in hospitals, private practice clinics, birthing centers, academic institutions, and even in homes, providing for wide range of options for both the midwife, and the patient.
Certified nurse midwives provide prenatal care, counsel and education, and of course, deliver babies. In addition to the academics required for certification, these individuals must have innate critical-thinking and problem solving skills, as well as compassion. As with most segments in the healthcare industry, the projected rate of job growth is high throughout this decade, and beyond. Even within the healthcare industry, nursing is one of the fastest growing segments of our economy. The number of jobs for Registered Nurses is expected to increase 26% between 2010 and 2020.
To become a certified nurse-midwife, you need to start by earning a Bachelor of Science in Nursing (BSN) degree, and pass the NCLEX examination required to become a Registered Nurse. Once complete, the next step is to complete either a Master of Science in Nursing or a Doctorate of Nursing, specializing in midwifery. Coursework and areas of study for a nurse-midwifery degree focus on physiology, pharmacology, health assessment, reproductive healthcare for women, labor and birth, and newborn care. This combination helps to prepare you to pass the American Midwifery Certification Board (AMCB) examination.
The AMCB certification is not a life-long certification; certified nurse midwives must renew their certification every five years. There are two options for renewing. You can retake (and pass) the AMCB Certification examination, or you can elect to further your education by completing three Certificate Maintenance Modules and 20 contact hours, or successfully complete two Continuing Education Courses. This helps to ensure that you stay abreast of the current research and best practices in midwifery.
Once the education requirements and the examination has been passed, you are a certified nurse-midwife, enjoying an average annual salary of $114,152. More importantly, you can start making an immediate impact on the lives of women, and their unborn babies. Every day in the life of a midwife is different; each patient and each birth are unique. If you long for a career that encourages close interaction with your patients, midwifery is for you.

Infographic via http://nursingonline.uc.edu
Download Nurse Bingo Today!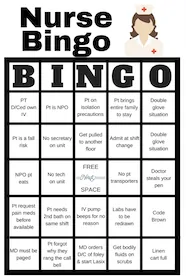 Liven up any shift with a fun game of bingo. See who can fill a row first!
Fill a whole card and lose grip with reality.
Your privacy is protected. We will never spam you.