*articles contain affiliate links*
With cigarettes and other tobacco products accounting for 443,000 deaths annually, you would think that parents would be more proactive to prevent their children and teens from smoking. But sadly many are not.
An estimated 19.5% of high school students report current use of cigarettes. If you combine that with the 8.9% of high school students who you smokeless tobacco that means that 28.4% of high school students are consuming tobacco products.
The following infographic gives a few frightening statistics about teenagers and tobacco use.

There are many health risks that people will face when they choose to be smokers. The following are just a few examples from Smoking-Cessation.org of what smoking does to your body.
Smoking Risks—Rules of Thumb

Lung cancer risk—increases roughly 50 to 100 percent for each cigarette you smoke per day.

Heart disease risks—increases roughly 100 percent for each pack of cigarettes you smoke per day.

Switching to filter-tip cigarettes reduces the risk of lung cancer roughly 20 percent, but does not affect the risk of heart disease.

Smokers spend 27 percent more time in the hospital and more than twice as much time in intensive care units as nonsmokers.

Each cigarette costs the smoker five to twenty minutes of life.

A smoker is at twice the risk of dying before age sixty-five as a nonsmoker.
Smoking Parents Increase Risks of Smoking Teens
Parents please talk to your kids early and often about the dangers of cigarette smoking and other tobacco use. If you are a smoker yourself, quit and set a good example for your children. If you are a parent and smoker your child's risk to become a smoker increase dramatically. Some studies state that children of smokers are twice as likely to smoke themselves.
Please talk to your children about the dangers of smoking and the many harmful things it does to your body and your wallet.
For more information on how to talk to your teen about tobacco and other issues, this book may be of some help: Saying No Is Not Enough Second Edition: Helping Your Kids Make Wise Decisions About Alcohol, Tobacco, and Other Drugs-A Guide for Parents of Children Ages 3 Through 19
Infographic courtesy of FDA.gov
Download Nurse Bingo Today!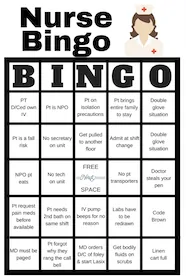 Liven up any shift with a fun game of bingo. See who can fill a row first!
Fill a whole card and lose grip with reality.
Your privacy is protected. We will never spam you.