*articles contain affiliate links*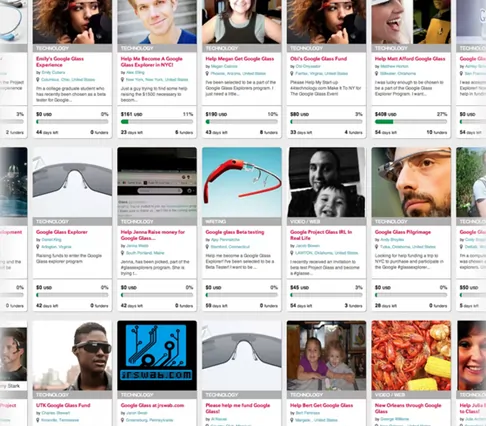 As you may already know, Google had a recent campaign to select the initial purchases of Google Glass. Interested parties could tweet or compose a Google + message indicating what they would do #IfIHadGlass. If they were selected as a "winner" they would have the opportunity to purchase Google Glass at $1,500, and agree to pick them up in New York, Sacramento, or Los Angeles a year before the public.
While many may feel  like "winning" a prize you have to pay for is really a joke to begin with, Google made the terms of the contest clear and those who made entries were agreeing to these terms when they completed their entry. And to be honest, there are people with disposable income who crave new technology and this might have made sense to them. There are also bloggers and technology enthusiasts who can work with sponsors to get the funds to make the purchase.
Although I can understand the attraction of simply asking for funding from others it just strikes me as inappropriate.
Here are some examples of individuals seeking crowd funding for their Google Glass purchase.
Google Glass Crowdfunding Campaigns
$3,500: Get Becca Glass! by Rebecca Elliott
$3,000: Google Glass Pilgrimage by Andy Broyles
$3,000: Glass to Remember by Trudy Schuett
$3,000: Google Glass Explorer Documentary by Kir Jarchow
$2,500: New Orleans through Google Glass by George Williams
$2,500: Obi's Google Glass Fund by Obi Onyeador
$2,250: Please help me fund Google Glass! by Al Navas
$2,200: Google Glass at jrswab.com by Jaron Swab
$2,140:  Google Glass for Development Fund by Reese Chappuis
$2,000: Help Bert Get Google Glass by Bert Fentress
$2,000: Emily's Google Glass Experience by Emily Cubera
$2,000: Help Megan Get Google Glass by Megan Calcote
$2,000: Google Glass Explorer by Cody Engel
$1,995: Keith's Google Glass Project by Keith Barrett
$1,925: Project Glass Explorer Tyler Brainerd
$1,900: Help Fund My Google Glass by Henry DeBardeleben
$1,700: Google glass Beta testing by Ajay Penmatcha
$1,700: Project Get Glass by Timothy Graham
$1,600: Chosen For Glass, Chosen For Greatness by Amy Simons
$1,500: Project Glass Art Installment by Shauna Mork
$1,500: GLASS: A Love Story by Michael Durwin
$1,500: Project Glass Public Art Installment by Shauna Mork
$1,500: Help Matt Afford Google Glass by Matthew Horton
$1,500: Google Project Glass IRL In Real Life by Jacob Bowen
$1,500: Help Me Become A Google Glass Explorer in NYC! by Alex Etling
$1,500: Google Glass Explorer Fund by Ashley Schoenknecht
$1,500: Google Glass Explorer by Daniel King
$1,500: Help Jenna Raise money for Google Glass… by Jenna Webb
$1,500: UTK Google Glass Fund by Charles Stewart
$1,500: Project Glass by Lauren Maldonado 
$1,500: Get Mandi Google Glass by Amanda Michelle
$1,500: Help me get Google Glasses! by Megu Kobayashi
$1,500: Documenting my son's experiences by Jason Law
$500: Help Me Get Glass, I'll Make You Art by Christina Loo
via Quora  What do you think of this phenomena?