*articles contain affiliate links*
Every year we round up discounts and freebies for nurses week, but this is a unique year. Ironic that 2020 is the year of the nurse, it's also the year of Coronavirus. With nurses being on the frontline battling this deadly disease, it's no surprise that many businesses have stepped up to the plate the honor nurses with COVID-19 nurse discounts and freebies.
COVID-19 Nurse Freebies
There's nothing more frustrating that having to cull through a list of tons of resources to find just the freebies. We've got you. We're outline the true nurse freebies first!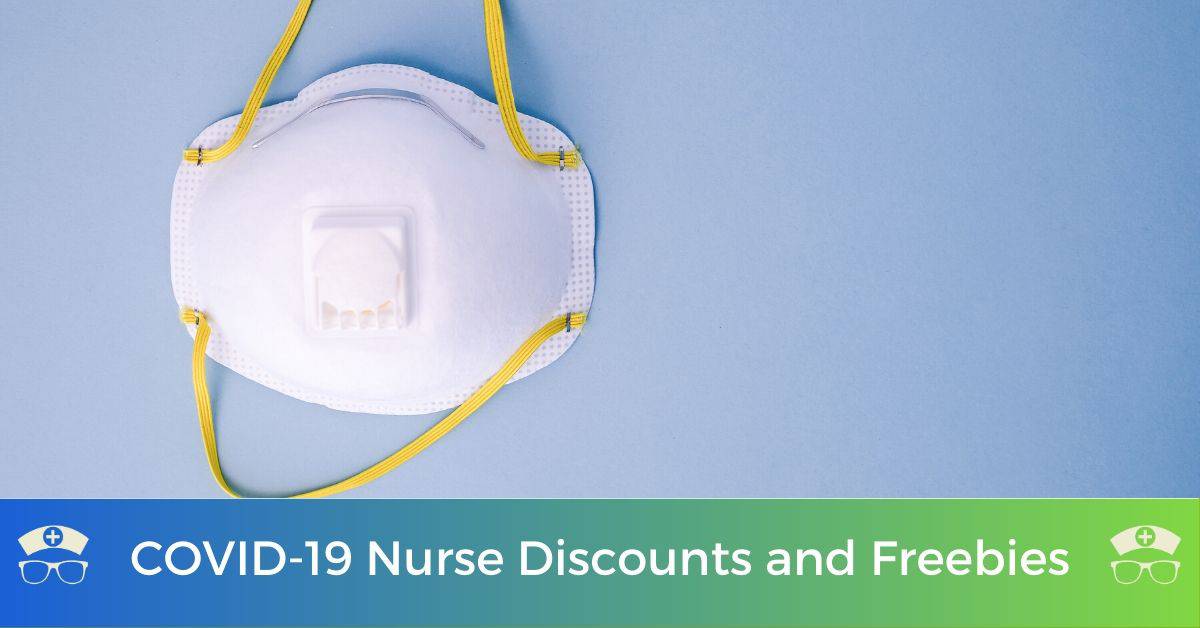 Free Food for Nurses (Drinks and too!)
National
Starbucks – free tall brewed (hot or iced) coffee to first responders and front-line healthcare workers through the end of May. Just show verify you're a nurse.
Circle K – Awesome things are afoot at the Circle K. Show your employee badge to get a free beverage. Options include fountain drinks, coffee, and tea!
Krispy Kreme – To share joy among the millions in the medical community, and to show gratitude for all they are doing, beginning Monday, March 30 – National Doctors' Day – and on every subsequent Monday through National Nurses Week (May 6-12), Krispy Kreme will provide all healthcare workers free dozens of our iconic Original Glazed® Doughnuts. Just go to a Krispy Kreme drive-thru, tell them what you need, and show your employer badge. That's it. Pick up some free dozens on the way to work for you and your colleagues, or maybe a free dozen on your way home to family after a long shift.
Fitcrunch Care Package – You can nominate a nurse to receive a fun and uplighting care package. The care package will include anitbacterial wipes, a Fitcrunch bar and an uplifting note.
Little Caesars Pizza – You can log into the Little Ceasars app to donate a pizza to nurses! They have committed to domaining a million pizzas to healthcare workers (nurses) and first responders. You can help with additional pizza and "Pie it towards." Just add it to your current or new order. These pies can be sent to your local hospital or police station.
Pizza vs. Pandemic is donating pizzas to clinics, hospitals, homeless shelters, and others adversely affected. You can help by suggesting a location on their website.
Realgood Foods – Know a nurse that deserves a healthy snack? You can nominate them for a care package of food from Realgood Foods. If your entry is accepted they will get a care package full of healthy foods.
Saffron Road – Looking for something a little more worldly? Email [email protected] with the subject line "coupons". Describe your favorite community hero you will get a coupon a free meal or snack. (This offer also applies to other community heroes working on the frontlines.)
Snickers – You're not you when you're hungry. So Snickers has your back. Nurses can request a free Snickers bar by filling out the form. You will receive an e-gift card for a Snickers at Walmart. (This offer also applies to other essential workers such as delivery drivers, cashiers, etc.)
Regional
Cumberland Farms – Nurses can get a free iced coffee. You can get a hot coffee too if that's your thing. is giving away free hot or iced coffee (any size!) to nurses, doctors, paramedics, hospital and medical staff, medical researchers, police officers, firefighters, and active military.
Rally's & Checkers – This regional fast-food chain will spot nurses a free meal. Show in your unified for a free small combo. Locations may be excluded, as this appears to only be universal at corporate-owned restaurants. If you haven't tried this place, now is the time. They have AMAZING fries.
&pizza – This freebie is for hospital works in Maryland, Washington D.C., Virginia, New York, Pennsylvania, and Massachusetts. Flash your badge/ID at the store or #HERO to 200-03 for delivery.
Bojangles' – A favorite southern staple, Bojangles' is giving away their world-famous Ice Team to nurses and other healthcare professionals. This deal is only on June 10th, which is kind of a bummer, but still a nice freebie. Show up with your badge.
Wawa – Wawa Convenience Stores are giving away a free cup of coffee to all healthcare workers. Just show your badge.
McDonald's – free Thank You Meals for First Responders and Healthcare Workers. Stop by a participating McDonald's from 4/22 – 5/5 and they will take care of the rest. Pick from several breakfast combos or lunch/dinner combos. Show your credentials or be in uniform for this deal.
Nando's Peri Peri Chicken – is giving free meals to workers with a valid hospital ID through May 3. The free meal includes a 1/4 chicken with chips. Offer must be redeemed by phone order and is not valid for delivery or online ordering. Limit one meal per day while supplies last.
Steak N Shake – Get free fries with their "We are All Essential" promotion. No purchase necessary.
SweetGreen – In the midst of the current crisis, the restaurant is donating all Outpost operations and teams to support those on the front lines by delivering free, fresh sg salads + bowls to hospitals in the cities we serve. Follow the link for more details.
Thorntons – Nurses can get a free 16 oz. cappuccino, 166 oz. coffee, or 20 oz. fountain drinks with a valid ID. (This offer also applies to first responders and other medical personnel)
Tropical Smoothie – The smoothie chain has promised to give away 1 million smoothies. The chain has also pledged $100,000 to the American Nurses Foundation's COVID-19 Response Fund for National Nurses Appreciation Month in May when they reach the goal of 1 million smoothies. Just follow the link to request your free smoothie.
White Castle – Nurses can get a free breakfast combo or Castle Combo until May. Just show your ID in the drive through. (This offer also applies other healthcare workers and EMTs)
Zoup! Eatery – Nurses can get a free cup of soup and a hunk of bread every Monday in April. Use promo code MEDMON and be prepared to show your badge upon pickup or delivery. (This offer also applies to other frontline medical workers.)
Free Health and Wellness Offers for Nurses
Coaches4Good – Nurses can get free life coaching! A free 30-minute life coaching sessions is up for grabs. (This offer also includes all small business, education, healthcare, and nonprofit leaders, and workers.)
COVID Calm – Is offering free stress management and mindfulness platforms for healthcare workers. This organization offers healthcare workers free stress management clinics through the Zoom video conferencing platform every day.
Down Dog – Nurses can get some workout apps for free! Yoga for Beginners, Get Down Dog, 7 Minute Workout, HIIT, and Barre apps will be free for nurses through July 1. (This offer also applies to doctors, and other healthcare professionals.)
TB12 – Get a free Virtual Performance and Recovery Coaching Session with a TB12 Body Coach to any healthcare member currently working to fight the COVID-19 pandemic.
Francie Perkins Coaching – Frontline nurses can get a 30-minute life coaching session.= Just email [email protected] and include a photo of your medical badge or ID. (This offer also applies to radiology techs, and respiratory therapists)
Headspace – Nurse can get a free meditation app. Mental health is so important right now and this app can help you take care of it. (This offer also applies if you are working in another role in public health.)
Neurocore Counseling – Nures can receive free telehealth counseling through May 1. All sessions are confidential. The May 1st date may be extended. This one is an offer definitely worth taking advantage of. (This offer also includes medical personnel and first responders.)
Nurses House – If you've missed work due to contracting COVID-19, employer-manded quarantine, or caring for a loved one that has, there is a special rant for you. U.S. based RNs and LPNs with an active and valid nursing license can apply through July 31, 2020.
Speeko – Need to improve your communication skills during this difficult time? Nurses can get free access to the app through 2020.
Spirit Ride – is giving nurses a little time to relax and clear your mind. Lay down or sit, and be guided through a gentle meditation. All you have to do is show up! Sign up at the link, and you will get a link for zoom class one hour beforehand. This class is being offered through Nirvana Yoga and Wellness, weekly Tuesday nights at 8:30 pm EST. Guided by Tiffany Curren.
Supporti – Need some accountability? This app is offering nurses 1 month of free access. It pairs you with an accountability partner, which I highly recommend. Email [email protected] for a special code. You can use this app to stay accountable for anything. Examples include exercise, hydration, food goals, career progress, and so much more! (This offer also applies to other healthcare workers.)
Thrive Yoga – Based out of Chattanooga, Tennesseee, Thrive Yoga is currently streaming their entire schedule and they are offering an online yoga membership completely free for our frontlines/essential workers. Sign up at the link.
Free Clothing and Apparel
Fjolk Shoes – Fjolk Shoes is giving away a free pair of their shoes to healthcare workers. They are sending shoes to anyone who works in healthcare and is on the front lines fighting COVID-19. Just email [email protected] for any pair of shoes.
Glowforge – Glowforge is giving away their EarSavers to ease the discomfort from wearing a mask. Go to the website to request your free pair.
Crocs – Crocs is giving away free pairs of their shoes to healthcare workers. Just head to their site on every day at 12pm et and enter your email address and you will be placed in line to receive your free pair. Get there on time. They run out every day!
Barco – FREE Scrubs alert! This scrubs manufacture is giving out 10,000 pairs of scrubs each month. If you're a healthcare professional on the front lines you can request a donation for your facility or center. The minimum donation request is 50 sets. This promotion will continue for the remainder of this pandemic.
Bearpaw – To thank healthcare workers, this company is giving away 1,000 pairs of slippers. That sounds nice and cozy.
Careismatic Brands – This scrub supplier is donating $1 million in Dickies scrubs and Cherokee scrubs to hospitals. Hospital executives can email [email protected] to request between 12-120 sets of scrubs from frontline healthcare workers. They will need to include the facility name, contact person's name, and a cell phone number, the delivery address of the facility, and the amount requested. They will also need to specify types; tops or bottoms, sizes; regular, petite, tall in XXS/S/M/L/XL/2X/3X/4X/5X, as well as the fit; women's, men's, Unisex.
JINS Eyewear – is giving healthcare workers a chance at a free pair of glasses by entering their details at the link provided. JINS will now choose 5 people per day for this freebie.
Other Free Products and Services
AAA – Want some free Roadside Assistance? Medical personnel and first responders are eligible to get help with flat tires, battery problems, or car breakdowns by calling 1-800-400-4222. Availability of this service may vary by state.
ChiliPAD – Kryo Care's one-for-one program will support healthcare professionals working on the front lines of our nation's COVID-19 response. Simply apply to our program and we'll send a brand new or a certified refurbished chiliPAD if matched with a donor.
AT&T – This wireless carrier will give nurses and physicians 3 months of FirstNet mobile service for free. This is for their responder plan. IF you're already on this service, you can get a service credit for 3 months. This offer starts on April 13th. If you're a new nurse or provider, you can get a $200 activation credit!
Samsung – This mobile provider is offering free repairs on Samsung phones, including cracked screens and battery replacements, to frontline healthcare workers with verifiable identification. Offer is good through June 30 or until they run out.
Sprint – is offering free expedited shipping, waived activation fees on Sprint.com, and Sprint Perks to healthcare workers on the front lines.
uBreakiFix – Samsung and Google have partnered with this company to offer free phone repairs to healthcare workers on the frontlines in the ongoing fight against COVID-19. The program runs through June 30, or while supplies last. See the link for more details on getting your phone repaired.
Verizon – Nurses can enjoy up to $40 off when combining Verizon unlimited wireless and Fios internet plans.
Dr. Scholl's – Hospitals can email [email protected] to request FREE insoles for their staff. 100k pairs of insoles are available for healthcare workers.
Care.com – Frontline healthcare workers get a free month of premium access to services to locate assistance in caring for older parents, pets, and their children, elderly parents, and pets.
Sittercity – Essential front-line healthcare workers can receive a free 3-month subscription to Sittercity Premium. Sittercity provides tools to help build a child care support network, including detailed sitter profiles, interview scheduling, background check options, and more.
RexPay – has partnered with The Wellnus Company to donate sanitizing hand wipes to healthcare providers. They also can help procure other necessary PPE for providers in need. Complete the form on their webpage to get started.
Mask Match – Aims to connect healthcare workers who need a mask to someone who is donating masks. You'll need to complete the "I need masks" form.
Preppi – Complete the donation form to request N96 masks for healthcare workers. This emergency preparedness company is donating them!
DHVANI – This clothing company wants to make sure that everyone has a mask! If you're a frontline healthcare worker, they really want to give one to you. Make sure to indicate you are an essential worker or healthcare professional when completing the form.
Donate Beauty – If you are a frontline healthcare worker, you can request some beauty products for your unit. They appear to be paused at the moment, but will hopefully be back online soon.
Tide – Through May 9th, nurses can get free laundry services and dry cleaning. Cities eligible for this offer may vary. (Frontline responders such as including hospital/medical staff, doctors, medical researchers, paramedics, firefighters, and police officers, those in the same household are also eligible for this offer.)
Trust & Will – Nurses can get a free individual or couple's will (up to $129 value). You should do this. Everyone needs a will. (This offer is valid for other frontline healthcare workers)
HIKI – The personal care product company is giving nurses 2 free personal care products (including deodorant, body powder, body wipes, antiperspirant). Just put in your work email at check out, and pay a $2.50 shipping fee, which supports shipping partners and postal workers.
NurseLuxe – This subscription box service is holding a Great Nurse Thank You: a free giveaway for nurses around the country. They are giving away gift bags to 3000 nurses, including items like tea and healthy snacks, gadgets and swag for nurses. Nurse teams can enter to win gift bags by following and tagging @nurseluxe and sharing the giveaway (#greatnursethankyou), or by filling out the form at the link. The giveaway ends on May 31st.
Free Courses and Online Training
HealthStream – The industry's leading provider of healthcare workforce development and online learning is offering over 40 free courses to healthcare workers. If your employer users HealthStream, you can also log in and access many more free courses.
Nursing.com – Nursing students that have missed their clinical rotations due to COVID-19 can get FREE access to the Nursing Clinical 360 and IV Insertion courses through May 15.
IntelyCare – Get a free online COVID-19 training platform for nurses. IntelyCare's COVID-19 Nurse Training Certification covers the top safety practices for caring for patients with COVID-19. Upon completion, each person will receive one free contact hour, along with a personalized COVID-19 certification. It is available in multiple languages.
Nurse​.com – They are providing a Free COVID-19 course (typically $29)
Free Travel for Nurses – COVID-19 Frontline Only
Citi Bike – Is offering free 30-day membership to those who are working the frontlines in NYC. This offer includes unlimited 45-minute trips on their classic bikes and e-bikes for 30 days.
Delta Airlines – Medical volunteers can get a round-trip for free to Georgia, Louisiana, and Michigan. Flights will be offered through June 30. More destinations are added weekly.
Lyft – Get a free 30-minute scooter rides through the end of April. This offer is good in the following cities: Austin, Denver, Los Angeles, Metro DC, San Diego, and Santa Monica.
Uber – Is offering free transportation for healthcare workers between patient's homes (for homecare nurses) and healthcare facilities. They are also offering free rides for patients with Uber Health and free food with Uber Eats!
COVID-19 Nurse Discounts
We LOVE nurse freebies, but a nurse discount is nice too.
Nurse Food and Drink Discounts
National
Hooter's – Hospital Workers, First Responders, and Military get 20% off. Show your work ID for pickup orders, or for online orders just choose the "Pay at Store" option.
IHOP – For those who are medical staff, law enforcement, military, and firefighters, IHOP is currently offering 20% off orders. Just show a valid work ID when you go to pickup your meal to get your discount.
DoorDash – In the U.S. and Canada get access to 60 days of free Corporate DashPass to nurses, doctors, and hospital employees. DashPass includes $0 delivery and reduced service fees from participating restaurants. It also features a safe delivery route and food drop off to the participating hospital. Use your work email address when signing up and a representative will get back to you.
Genghis Grill – Is giving all healthcare workers and first responders 20% off carryout orders anytime at Genghis Grill locations. Just present your medical badge or ID.
Huel – This meal to go company is offering 10% off their ready-to-drink, nutritionally complete products.
Progressive Insurance – The insurance company is offering up to $50 off Uber Eats. Offer must be used by May 15th and can take up to 72 hours to be processed.
Regional
Long John Silver's – Featuring Wellness Wednesday. Get 10 percent off their order every day of the week and 20 percent off orders on Wednesdays when they show a valid ID/employer badge to redeem the offer.
Home Chef – a meal delivery company that ships you all the fresh, pre-portioned ingredients needed to make great recipes at home, is offering a special discount for nurses, doctors, hospital employees, first responders, military, and teachers. Get 50% off first purchase and 10% off subsequent purchases. This deal is good for new customers only. Verify with ID.me at checkout to get started.
King's Hawaiian Restaurant & Bakery – The restaurant in the Los Angeles area is offering 50% their food for healthcare workers. Must show valid work ID. This offer is good through April 30th.
Thistle – Ready-to-eat food delivery company Thistle is offering 10% off all deliveries to healthcare workers for the next 8 weeks. Use code HOSPITALHEROES at checkout.
Mighty Quinn's Barbecue – Nurses, show your ID and get a free sandwich of your choice.
Teriyaki Maddness – Customers can pay for half of an order of Teriyaki Bowls or a Teriyaki Bar and the restaurant will cover the over half and then deliver to the location of your choice. Get all the details at the link.
Nurse Clothing and Apparel Discounts
Allbirds – Allbirds has hit the nursing shoe scene and made a huge impression. Nurses rave about their comfort, and they are giving back. Nurses can get a deep discount on Allbirds shoes.
Medelita – Nures can get 30% off on scrubs by using code FRONTLINES. (This offer is valid for other medical workers.)
Ably Apparel – The eco-friendly clothing brand is offering 25% off sitewide, and with every purchase, they're donating an item from their website to first responders on the front lines.
Bazzle Baby – The baby fashionwear brand will donate 30% of proceeds from every purchase directly to NoKidHungry.com along with an option for direct donation without purchase.
Dooney & Bourke – This fashion company is offering a special 15% discount on their designer bags and fashion accessories.
Enso Rings – The brand specializing in silicone rings is donating 100% of the proceeds from uniquely engraved rings to the COVID-19 Solidarity Response Fund for the World Health Organization (WHO).
Asics – Nurses can 60% off full-priced products in the Asics online store. A registration process involving verifying your staff with a photo ID is required. (This offer is valid for all medical professionals and first responders.)
Adidas – Nurses, medical professionals, first responders, and the military can receive a 40% discount. Verify with ID.me to receive your discount.
Clarks – Nurses can get 50% off from this well-respected nursing shoe brand. You'll need to verify with ID.me to receive your discount. (This offer is valid for all medical professionals.)
Danform Shoes – Nurses can get 20% off footwear on online purchases while retail locations are closed. Use code SUPERHERO20 at checkout. (This offer applies to other healthcare professionals and medical workers.)
JanSport: For medical personnel, first responders, and the military, JanSport is offering these groups 50% off. Just follow the link and supply verification through SheerID. Expires June 30th.
Nike – Nurses can get 20% off! Verification is required for this offer. (This offer also applies to first responder and medical professional discount.)
Reebok – Nurses can get 50% oof! You'll verify with ID.me for this. (This offer also applies to teachers, first responders, military personnel, and government employees.)
Rothy's – You can get 50% off! This is a one-time use code and is valid on select staples. This Offer valid through May 31st. (This is also valid for first responders and other medical workers including doctors and other hospital staff.)
Clove – Free compression socks! You know we love compression socks, so it's awesome to see that they are giving a free pair of compression socks with ever purchase of nursing shoes. Make sure you add the socks you want in your cart before checkout and use code WITHLOVE to make them free!
Dagne Dover – Nurses can get can 20% off at this bag and purse shop. (This offer also applies to Healthcare workers, military, and teachers.)
Eagle Creek – Save 50% off any non sale items at Eagle Creek. You can even use the promo code more than once in a 30 day window. Verification through SheerID. Expires July 7th.
Enell – 50% Off for Healthcare Workers, First Responders, and Teachers. Between now and May 30th they are offering healthcare workers, first responders, and teachers 50% off any bras they carry.
The North Face – Nurses in the U.S. can a 50% discount off non-sale items through December 31, 2020. This offer applies for online and at retail locations. If you're an outlet shopper, you can get 10% non-clearance items at outlet stores as well. Verification is required. (This offer also applied to other healthcare workers.)
Timberland – Nurses and other front line workers can get 50% off their purchase at Timberland. Expires June 30th.
Tommy John – Nurses can save 30% off undergarments site wide. Verification through SheerID.
Saxx Underwear – Frontline workers including medical staff, grocers, sanitation workers, transport crews, police, and more are eligible for a 30% discount.
Under Armour – Nurses can get 40% off! You'll verify your eligibility with ID.me and select the Military and First Responder Discount at checkout. (This offer is also valid for doctors, other medical staff, and first responders ( police, firefighters, and EMTs)).
Vineyard Vines – Nurses can get 15% off everything at this clothing company. Verification is required. (This offer is also valid for doctors and other healthcare professionals.)
Discounts on Courses and Online Training
Nursing.com – If you're a nursing student, you can get 36% off discount and s 7-day free trial to their Nursing Student Academy. You already know that we love Nursing.com and were thrilled when they announce this offer. The academy includes video and audio lessons along with tons of cheatsheets and NCLEX prep questions. This offer will continue until May 15th.
FreshRN – Kati Kleber is offering 20% off any course through Teachable. Pick from courses such at the New Nurse Masterclass, Breakthrough ICU and more. Just add to the cart, then pick the Special Limited COVID-19 Pricing for your discount.
LNCSTAT – LNC STAT offers Legal Nurse Consulting Certification programs that train and certify Nurses to utilize their medical expertise in legal cases. They are offering 20% off any of their certification programs for front line Nurses and nurses who have been negatively affected by the pandemic. Just use promo code FrontLineHero. This discount is valid until May 31st.
The IV Guy – The IV Video course is over 30% off during the pandemic. I highly recommend this course!
P.volve – has a mission to make exercise fit into everyone's schedule. Healthcare workers can stream P.volve workouts for $4.99/month and enjoy 30% off all equipment. The membership comes with their full library of tutorials, premium workouts, and 3 to 30-day structured programs.
Discounts and Special Offers on Other Products and Services
Deezer – This online subscription service is offering US-based doctors, nurses, and other healthcare workers a 3-month free trial followed by continued, unlimited music streaming for half off for the following year.
Vohra Wound Care Certification – Nurses on the front lines of COVID-19 can get 13 totally free education modules. These education modules were curated by wound care physicians and the content will be free until May 14, 2020. You can use the promo code "COVIDNURSE50" for a $50 discount on any other education.
Dollar General – Dollar General is offering a 10% discount to medical workers and first responders. Just show your credentials. Good till April 30th but may be extended longer.
ProTeethGuard.com – This company makes four different types of custom teeth guards for individuals who grind and/or clench their teeth due to bruxism. They are currently offering a $100 dollar credit off the guard of your choice. The credit is generated on a first-come, first-serve basis every week on Wednesday at noon PST. Follow the link for all the details.
Publix – This grocery store (and pharmacy) has designated Thursday evenings, from 8 pm – 9 pm, and Friday mornings, from 7 am – 8 am, as special shopping hours for hospital staff and first responders.
Walgreens – Nurses can get 30% off at Walgreens. This offers is in appreciation and recognition of and the critical role nurses play during COVID-19 pandemic. On April 25, 'Frontline Heroes Discount Day,' stop in Walgreens to get 30% off the regularly price of Walgreens brands and 20% off the regular price of other/national brand products. Show your badge or appropriate identification to receive the discount. Restrictions may apply. This includes current quantity limits on certain high demand products. (This offer also applies to all medical personnel, first responders and police.)
Costco – The bulk goods warehouse store is temporarily offering priority access to members who are healthcare workers and first responders. Just present your Costco membership card and official identification of your role to move to the front of the line anyday, anytime.
Sam's Club – Stop by your local Sam's Club on Sundays from 8 am to 10 am for Hero Hours. These Hero Hours will kick off Sunday, April 19 and continue until further notice. All shoppers entering clubs will be provided with a mask for safety.
BJ's Wholesale Club – BJ's has an 'Appreciation Hour' from 8:00 a.m. to 9:00 a.m. on Sundays for healthcare workers. During this designated time period, healthcare workers can shop in all of BJ's locations without a membership. BJ's is also offering a free, four-month Inner Circle membership to all healthcare workers.

You can sign up for the complimentary BJ's membership by visiting the member services desk at their local club. With this membership, first responders and healthcare workers will be able to shop the club during the designated shopping hour and during standard hours of operation at all locations.
Health Warehouse – This online pharmacy is offering a 25% discount for nurses on all generic prescription medications. The discount is valid through 7/31/2020 and is good for use on your first order.
BigDog Mowers – The residential turf equipment company announced the expansion of its longstanding "Heroes" program, which provides first responders and active/retired military with a pricing discount. As the country battles COVID-19 pandemic, BigDog is proud to expand the program to include the front-line healthcare professionals who are risking their lives every day to treat patients and keep us safe.
The expanded "Heroes" program enables qualifying individuals to receive 10% off the current retail price of all eligible BigDog mowers.
Who qualifies:
• Healthcare professionals and clinical staff, including: nurse practitioners, certified nurse specialists, certified nurse midwives, certified registered nurse anesthetists, licensed practical nurses, and registered nurses
• Members and veterans of each branch of the U.S. Armed Forces
• All active and retired firefighters, law enforcement, paramedics and EMTs
Copper H2O – The Copper water bottle company is giving a 15% discount to nurses and doctors on the front lines. Send them a message via their contact page and they will send you a discount code!
BlanQuil – Weighted blankets is a great nursing intervention for anxiety, even if it's on yourself! This company will give you 50% off! if you're a healthcare worker (first responders and military service members quality too). Complete the verification on their webpage to receive your discount.
Ebay – Shoppers can buy from the site's Gifts That Gives Back page, benefiting charities helping with relief efforts such as Feeding America and The Salvation Army. If you pay via PayPal you can choose to donate between $1 and $25 during checkout.
Emma Mattress – Want an extra 10% off? Healthcare workers can email [email protected] and simply attach proof of employment such as a work badge, ID or paycheck stub.
Purple – Nurses can get 10% off from this viral mattress company. You'll need to verify your eligibility for this offer. (This offer applies to other healthcare workers.)
Tuft & Needle – Save 15% off your purchase of a mattress, bedding or more. Verification through SheerID.
KARIBO and mintedLeaf – makers of CBD beauty products and hemp oil is offering 70% off with promo code HEROES.
Love Sac – This furniture company is offering 40% off Sacs and Sectionals to nurses, doctors, first responders, military, and teachers.
HELM Audio – Need some new headphones? Nurses can save 50% off the HELM True Wireless 5 Headphones. You'll need to verify you're a nurse through ID.me. You can also enter a giveaway for free headphones on their Facebook page. (This offer also applies to U.S. stationed armed service members, medical staff, and first responders.)
OtterBox – These ultradurable cases are exactly what nurses need in tough hospital environments. Nurses (and other frontline workers) can get 40% off by emailing [email protected] use the subject line "OtterBox Front-liners." Be sure to include your full name, job industry, country, company name, job title, and photo of your work badge, ID, or other proof of employment.
HSN – Nurses can save 15% off one item at Home Shopping Network. Some restrictions apply, verification through SheerID.
Tech21 – Nurses can get get 60% off antimicrobial phone cases, laptop cases, and tablet cases. Email [email protected] with your a photo of work ID to get a discount code. (This offer applies to "all healthcare heroes.")
Owala – Nurses can get 50% off water bottles! You'll be asked verify your status on their webpage to receive your discount code. (This offer is also available for first responders, physicians, public service/government, or retirees from these industries.)
SmartCells – Makers of anti-fatigue mats, insoles, and stools is offering 25% off with promo code painrelief.
Theragun – Nurses can receive a discount code up to $250 off a Theragun massage device. For this offer, email [email protected] using the subject line "Frontline Discount" with proper verification such as official ID or badge. (This offer is also valid for healthcare works, first responders, and military members.)
Trusst – The mental health counseling app is offering 50% off a month of mental health counseling on the Trusst app. Any nurse can access messaging-based therapy Monday through Friday, 24 hours a day from a licensed clinician. Just download the Trusst app, select their clinician, and enter code NURSES as check-out.
Nurse Travel and Gas Discounts
Yoshi – This company offers gas, oil changes, checking tires, and car washes all by delivery. They come to you and do all the work while the app lets you know when they were there and what services were performed. They are taking it a step further and have created a Go Fund Me to help provide gas for frontline healthcare workers. Donators can give any dollar amount and it goes towards buying a tank of gas for nurses and other healthcare workers. Yoshi will then deliver the gas and fill up their car for free. Follow the link to donate. Nurses who'd like a free tank of gas can email [email protected] to request one.
BP and Amoco – Get a 50 cent per gallon discount for nurses, first responders, doctors, and hospital workers. Verify your community status via ID.me to get a discount code to use at the pump. Hurry you only have until April 30 to claim your code, but codes can be used after that date.
Airbnb – Healthcare workers can "stay close to their patients and safely distanced from their own families." They will waive all fees on a frontline stay for the first 100,000 responders. This offer is valid for bookings until May 31, 2020.
Choice Hotels – Choice Cares is a special rate for nurses, doctors, paramedics, firefighters, food/agriculture workers, transit employees, and others outlined by CISA guidelines. Up to 9 nights can be booked with the special rate.
Hilton Hotels – Need a place to stay when working on the frontlines? Through a partnership with American Express, they are donating hotel rooms (up to 1 million nights) nurses. This is for those who may need to isolate themselves from during this pandemic. This offer is valid through May. (This offer also applies to other medical workers including doctors, EMTs, paramedics, and other frontline healthcare staff.)
Marriott Hotels – In a partnership with JPMorgan Chase and American Express, the Rooms for Responders programs is providing $10 million in hotel stays for nurses.These rooms are avialbe in areas most impacted by COVID-19. Helping this program match rooms to those in need are the The American College of Emergency Physicians and the Emergency Nurses Association. (This program is also available for doctors.)Marriott has also started the Community Caregiver Program that seeks to provide highly discounted hotel rates to nurses that need to book hotel says close to the hospitals they work in. This could really be helpful for travel nurses. (This program is also available for first responders and other healthcare professionals.)
Motel 6 – Save 20% off rooms until May 31st for nurses and other healthcare professionals. You will need to show your ID at check in to get the discount.
OYO Hotels and Homes – Nurses fighting against the COVID-19 pandemic in the US can get free hotel room stays. A valid and active medical ID is required. You can call (+1) 628-213-7020 and provide code OYO4FIRSTRESPONDERS for a reservation. (This offer also includes doctors and other medical first responders.)
Radisson Hotels – to recognize the emergency and medical personnel and your tremendous sacrifices during this time, the hotel group is offering a 20% discount off your stay and an upgrade to the best available room at check-in. Use for travel while working or just a time to get away and recharge.
Red Roof Inn – Is offering a limited number of rooms free to first responders including nurses, Call a participating hotel directly to book. Red Roof Inn also always offers a 20% discount to first responders. (This offer also includes emergency medical providers, doctors, police, and firefighters.
Wyndham Rewards – Nurses can sign up for a free Wyndham Rewards account and get a free upgrade for a GOLD membership. Existing members are also eligible. (This offer also applies to all essential workers.)
Mazda – As of April 16, the car dealer has implemented the Essential Car Care Program, providing free standard oil changes and enhanced cleaning services for U.S. healthcare workers at participating dealers nationwide. Note that the deal is NOT limited to Mazda owners and makes and models from many other manufacturers are included. This offer is good through May 4. Find more details at the link.
National Tire & Battery – This national chain is offering discounts to nurses and other essential workers. Save on oil changes, services, and tires. Visit the link for all the details and to book your appointment.
Caliber Collision – Sometimes accidents happen. This company is offering contact-less pickup and delivery as well as up to $500 deductible assistance to medical professionals and first responders. They will also arrange for a free rental car through Enterprise Rental while your car is being repaired if you don't have rental coverage. This program is available for the length of the shelter-in-place orders.
Tire Kingdom – The Florida retailer is providing various discounts for services. Save 20% off services, 10% off tires and more. See the link for all the discounts and to book your appointment.
CheapCaribbean – This travel company is offering $150 off your next vacation. Sign up and verify credentials through SheerID.
Nurse Freebies, Giveaways, Discounts, and More
Nurses Week Freebies and Giveaway
Don't forget to check out our Nurses Week Freebies and Giveaway post. We list more nurses week freebies and discounts there and you can enter to win many great prizes including an Eko CORE Digital Stethoscope.
Did We Miss Something?
See something we missed? Send us a message so we can get it added. Be sure to select the "COVID-19 Nurse Discount or Freebie" option.
More Nurse Discounts and Freebies for COVID-19
Thank you to many social media posts, emails, and RegisteredNursing.org for helping up round up this COVID-19 nurse discounts and freebies list.
Healthcare Heros and Essential Workers
Many of the above nurse discounts and freebies are applicable for all healthcare workers and first responders. Some of them may even include all essential workers. However, this blog focuses on nurses, so we're focusing on those specific to this audience. There are MANY more discounts that first responders frequently get and nurses are excluded from. So this post is intended to ensure that nurses know the things they are eligible for. We're all in this together, so please don't feel offended that if we didn't call out other professions or essential workers in this article.
Download Nurse Bingo Today!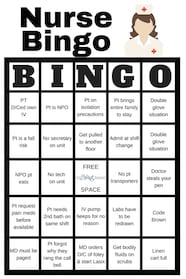 Liven up any shift with a fun game of bingo. See who can fill a row first!
Fill a whole card and lose grip with reality.
Your privacy is protected. We will never spam you.