*articles contain affiliate links*
Over at
Nursetopia
, there is discussion about implementation of a new dress code policy that the nurses aren't too keen on.
Keep the People Impacted by the Plan Working on the Plan « Nursetopia
The Ottowa nurses that are impacted by this change are upset because of the new uniform policy which was enacted by administration as part of a "service excellence" initiative.
Nursetopia
says that you have to include nurses in these decisions if you want them to be successful, and I AGREE 100%.
I am of the opinion that everyone is entitled to an opinion. In fact, I think we should voice our opinions frequently and make it known if we agree or disagree. Because quite honestly, we owe it to ourselves to let our voice be heard. Hospital administration needs to take note of the fact that if they do not value our opinions and ideas we feel they do not value us. And honestly, if they are not taking the time to ask us how we feel about a change, they likely do not value us.
In fact, we are currently undergoing the very same change at my facility.
Every department is going to one color so as to make it easily identifiable to the patients who is taking care of them. However, there were only a few nurses that were actually involved in this decision. And the ability for nurses to wear white, the traditional color associated with nurses of course, was stripped from nurses. I think this is important to mention, as there are many nurses who wear white daily, and nothing else. While I am all about innovation and embracing change, I am also a fan of honoring tradition and wearing white is BIG thing to take away from nurses.
I agree with Nursetopia when they state that no change made will make everyone happy. Change always upsets people. However, the more opinions that are at least heart and acknowledged in the change process, the more easily these changes will be accepted, and perhaps even embraced by the nurses they impact.
If  "service excellence" is the goal, I would think that the attitude and overall demeanor of your staff would have a greater impact on the level of service your customers/patients receive. I mean, call me crazy, but a pissed off nurse isn't exactly going to shout your praises from the rooftops. In fact, they are probably going to do the bare minimum required of them. And if they are spiteful, as many humans tend to be, they may actually do things that are contrary to your plan. I am not saying it is right or noble. I am not even saying that it is behavior nurses should embody. What I am saying is that nurses are humans too and sometimes humans behave badly… especially when we are disrespected and not valued.
When you implement changes that effect us in a HUGE way, and don't involve us in the process, we get a little bit annoyed with you. As nurses we must embrace change, however, as nurses we must also advocate for ourselves and our profession. Get involved in the decision making processes. If there is a committee you can be involved in: be a part of it! If there is a change in the works: make your opinions known about it to right people!
Don't just take it lying down and bitch amongst yourselves. If you want to be happy, you are going to have to speak up, and I commend the Ottawa nurses for doing so!
Download Nurse Bingo Today!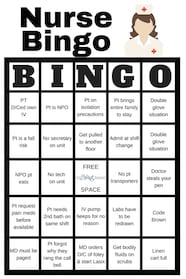 Liven up any shift with a fun game of bingo. See who can fill a row first!
Fill a whole card and lose grip with reality.
Your privacy is protected. We will never spam you.