*articles contain affiliate links*
California nurses really have it going on.
I'm at a crossroads currently in my career.
While I greatly enjoy bedside care, and my current job pays the bills, I feel very limited in my potential for growth as a nurse. I am very thankful to have the job that I do, but I know I am capable of so much more. And unfortunately, it seems that the only opportunities at my current place of employment for advancement is to be a nurse manager, and in order to do that, well one of them has to die.
Seriously.
They don't let go of that gravy boat.
And honestly, I have no real desire to be a department manager at this state in my life and career. At least, not where I am.
What I do have the desire to be is a leader and innovator in healthcare. I have the desire to be a part of something bigger than just me. I have a desire to practice safely and effectively as a nurse and hopefully, eventually, help to revolutionize healthcare through the use of technology.
But what about today? What about right now?
What is the next step I should take to further my dreams as a healthcare professional?
I've recently had some very interesting opportunities and job possibilities present themselves to me. They have opened my eyes to the world of social media and it's role in healthcare. I have become fascinated by the huge potential for the impact it has the potential to make. I am excited about where it will go next.
I really would be fantastic working with a healthcare organization in that aspect. Public relations? Nurse Informaticists? Nurse consultant for a biomedical company? Any of these sounds exciting to me, and I would excel at them for myself and the company.
While it would be amazing for someone to send and email right over and proclaim:
"Brittney,

Your Blog is amazing!

Your passion for innovation in healthcare through technology is both inspiring and magnetic. You are everything we want in a nurse, in an employee, and a friend.

We would really love for to come be a part of our team.

Love,

A Highly Respected Healthcare Organization"
These emails must be getting caught in the spam filters or something. I'll have to check with Google about that. I'd be lying if I didn't admit I have had a few opportunities and even interviews brought to me by this very blog, but so far there hasn't been that one golden opportunity that has seen itself to fruition.
My golden ticket has yet to reveal itself under any bars of chocolate.
But what if my golden ticket couldn't fit neatly in a candy wrapper. What if my golden ticket is an entire state?
California Nurses Seem So Happy
After a good twitter chat tonight with some excellent nurses, I am seriously considering the possibility of practicing nursing in California. Some fantastic Twitter nurses: @asthehosptuRNs, @dynamicduomama, @NurseAgita and @heatherkinnard certainly have gotten the old gears a turning in this head of mine. It's hard to argue with state-mandated 4 to 1 patient ratios. Never before have heard so many nurses be so incredibly pleased with their jobs and feeling completely safe with the care they are able to provide. Never before have I heard so many people encourage me to come work with them.
It was refreshing, to say the very least.
I have a lot to think about.
Could I really move away from Georgia? I don't have any overwhelming reason to stay. I have family here, but they wouldn't want me to forgo any opportunities for happiness and career fulfillment.
I already know that I have to get out of this small town to do anything more than bedside care. I am limited here. I know I am going to have to move or commute to at least Atlanta to have any real career fulfillment. So what would the difference in moving across state versus across the states? Dare I say, not much. I think I would see my family about as much if I lived an hour away from them, then across the country from them. Busy lives…
Any words of wisdom, advice, or experiences of California nurses would be much appreciated. You could help to change my life for the better. You could help to put this nurse on the path to make the impact on healthcare that I know that I can.
Download Nurse Bingo Today!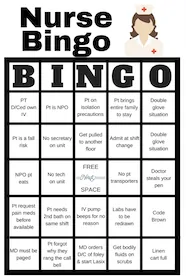 Liven up any shift with a fun game of bingo. See who can fill a row first!
Fill a whole card and lose grip with reality.
Your privacy is protected. We will never spam you.