*articles contain affiliate links*
This Canon PowerShot SX260 HS Review will outline the features and benefits of this small and mighty digital camera.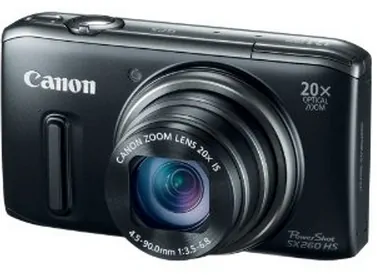 The Canon PowerShot SX260 HS is a digital camera that has 20x zoom, a twenty-five-millimeter wide lens and the capacity to hold 1080p Full-HD Video. It is a fantastic piece of imaging technology. It supports a wide variety of memory cards, such as SDHC Memory Card, SDXC Memory Card, and SD Memory Card. The battery life (with taking photos and photo review) is approximately five hours. Also, the camera contains stereo sound for video playback, as well as a designated button for recording movies. There are fifty-eight predefined shooting situations in the Canon PowerShot as well as a built-in GPS that tracks exactly where each photo was taken. It contains a DIGIC 5 Image Processor. The draw of this camera is its ultrathin size and powerful zoom. Weighing at only 8.3 ounces and measuring three inches in length, the Canon PowerShot SX260 is very portable and easy to carry around. Since it does not weigh much and is rather small, it can easily be slipped into a pocket or purse.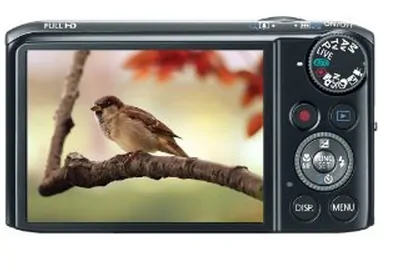 Canon PowerShot SX260 HS Features
12.1 MP High-Sensitivity CMOS sensor, DIGIC 5 Image Processor,Battery Life: Photo shooting,Playback – 5 hour(s)
20x Optical Zoom, 25mm Wide-Angle lens, and Optical Image Stabilization,Supported Memory Cards: SDHC Memory Card, SD Memory Card and SDXC Memory Card
1080 Full HD video in stereo sound with a dedicated movie button
Smart AUTO with 58 predefined shooting situations with new FACE ID, High-Speed Burst HQ for continuous capture at a maximum of 10 frames
GPS tracker to record image locations on a map via Canon's software
12.1 effective megapixel, 1/2.3-inch high-sensitivity CMOS sensor
3-inch TFT color LCD with wide viewing angle
DIGIC 5 Image Processor
Full 1080p HD video with stereo sound
25mm wide-angle lens (20x optical zoom, 4x digital zoom and 80x combined zoom) with optical image stabilizer
Canon Powershot sx260 HS Zoom
Writing a Canon Powershot sx260 HS review is a breeze since this is the camera that I personally own and have been very impressed by the vividness of the colors and crispness of the image. Even though I often rely on an iPhone to take photos, when I want a great shot quickly, the smartphone just won't do. We took this camera to Disney World and it takes fantastic long range and up close shots allowing you to capture all those precious family memories.. It's an excellent small camera with zoom.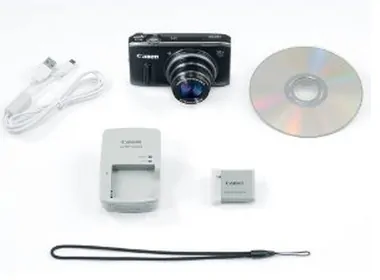 This camera has over 400 5 star reviews and customers have really good things to say about this digital camera. Here are some customer comments:
I wanted a camera that was lighter and easier to carry than my Canon EOS Rebel. While I love my Rebel, I wanted something small to carry for a trip to Disney World. This PowerShot is the BOMB! Easy to use, and the the 20x zoom was amazing.
takes GREAT shots, many settings, nice big screen, easy to use…i just wish i would remember to keep my finger off of the flash that pops up when it needs to. have a little trouble uploading my photos from the computer to facebook though. not sure if i'm doing something wrong or if it is the software. i would definitely recommend this camera to anyone that asks.
This camera has a great zoom, it's easy to carry around everywhere, and has no drawbacks that I've seen. I'm definitely glad I bought it.
Customers never cease to be impressed by the incredible zoom and the quality images that the Canon PowerShot SX260 contains. It is capable of capturing remarkable details in images, as well as making sure the vivid colors of the subject of the photo make it into the camera. The built-in image stabilizer prevents photos from coming out blurry, making every photo extremely detailed. The movie button included on the camera makes it easier than ever to capture videos in quickly, without any hassle trying to figure out how to switch to recording. The button allows the customer to start recording instantly, and stop just as quickly. Also, unlike many competing cameras, the Canon PowerShot SX260 allows the user to zoom in and out while recording the video, which makes it simpler to capture the full extent of the subject being recorded. While the regular retail price for this camera is anywhere between $250 to $300, you can buy it now on Amazon for much less! This product comes in black, red, or green.
]
Canon PowerShot SX260 HS 12.1 MP CMOS Digital Camera with 20x Image Stabilized Zoom 25mm Wide-Angle Lens and 1080p Full-HD Video