*articles contain affiliate links*

Working as a clinical informatics specialist in a growing health system affords me plenty of opportunities to troubleshoot technical issues with many nurses and other clinical staff. One solution I have had the opportunity to use to remotely access computers to assit with troubleshooting problems is a product called Bomgar.

With Bomgar remote support you can easily troubleshoot the technical issues that nurses, doctors, and other members of the healthcare team may be experiencing. If you've ever tried to help somebody over the phone with their IT issue, you know it's almost impossible to do so without being able to see the screen and "drive." With Bomgar, you can drive, but still allow your customer to be close to wheel. This allows users to feel a greater trust and comfort when you take over their mouse to solve their problem.

One of the biggest concerns that many in HIT have when trying to find a solution for remote desktop access is finding one that they can ensure will be complaint with HIPAA standards and protective of PHI. As an informatics nurse, I am constantly walking a tightrope to help ensure these standards for myself and the healthcare organization I support. Having the tools I need in order to do this as efficiently as possible is vital.
Solutions for Improved IT Experiences
Bomgar has many solutions for your healthcare organization which will help to improve workflow and improve your customer service and support analyst experiences.
Bomgar can help your organization do the following:

Protect PHI and fulfill regulatory compliance requirements
Support remote locations securely and cost-effectively
Deploy specialists where they're needed quickly
Prevent internal and external information security breaches
Find a single solution that works with all systems
It's not just a one-trick pony
Bomgar works with multiple operating systems. The remote desktop software also has the ability to allow support staff to involve others to assist in troubleshooting customers issues. You can pull in senior support staff or even vendors to assist with computer errors and any other issues that may require technical support. And through all this, it keeps a secure and accurate audit trail of the whole process.
Secure, Simple, and Reliable
Bomgar uses firewalls to protect your patient's and user's information. Bomgar keeps a meticulous audit trail for regulatory compliance and accountability. If your HIT department uses multiple solutions for remote desktop access, this may be something you are struggling to stay on top off. With Bomgar you can simplify your process and have a single solution to handle all your remote desktop needs.
In addition to using Bomgar to remotely access computers with people in front of them, you can also use it to access unattended devices like server and perhaps a lonely computer in a back office somewhere.
A Great HIPAA Complaint Tool to for HIT
In terms of remote support for healthcare, Bomgar is an exceptional tool for those in HIT. Having a HIPAA complaint remote desktop support solution for your healthcare organization is key to future success. The audit trail will surely make any HIMS director happy. Your end users will appreciate having their issues solve more quickly and efficiently and reducing the need for onsite visits by as much as 90%! Your COO will be thrilled with the time and cost savings associated with improve productivity of your IT staff. And  you will love having the tools to solve the problems and meet the needs of your customers.
So what are you waiting for?

For more information about Bomgar, please visit: http://www.bomgar.com/
If you're interested in seeing a 20 minute on-demand demo, visit: http://www.bomgar.com/virtualsupportsolutions/evaluate.htm
Want to know more about what people think of Bomgar? Check out the video testimonials from satisfied customers.
disclosure: This is a sponsored post. Opinions stated are my own.
Download Nurse Bingo Today!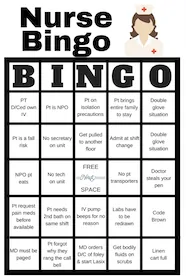 Liven up any shift with a fun game of bingo. See who can fill a row first!
Fill a whole card and lose grip with reality.
Your privacy is protected. We will never spam you.