*articles contain affiliate links*
Being a nurse involved with social media certainly has its challenges. Once you get over the fear of losing your job for your blog or twitter account, there is a honeymoon period. During this time you feel empowered and exhilarated by your ability to have a voice and make an impact online. You use this voice to make an impact on the issues that matter to you and your profession.
True advocacy means making a difference
I've blogged about nursing students who are kicked out of the nursing programs for posting images of a placenta on facebook. They were expelled after first asking their instructor for permission and then removing the images promptly when asked. I've written about a learning opportunity was turned into a fiasco and how things could have been done differently. I've blogged about the importance of having social media policies, especially in healthcare organizations because good policies make all the difference.
Then, I blogged about the need for nurses to not be afraid to advocate for their patients; Nurses like Amanda Trujillo strike a personal and deep chord on my heartstrings. I felt the need to share her story with the world. We are all equal team players in healthcare. When we don't stand up for one nurse, we break an unspoken partnership.
I've had such a positive experience in being a nurse blogger. I've had the ability to educate many about social media in healthcare and how it is a useful tool that we should not fear. I've tried to use my nursing blog for good and promote positive causes.
Unfortunately, this does sometimes point the finger at organizations and ask them to be accountable for their actions. I've done this in the name of nurse advocacy, because, that's what I believe in. If you haven't already noticed, I am a patient, nurse, and technology advocate. I'm here to speak out for others.
Being an advocate has made me a target
When you speak out for or against anything it leaves you vulnerable for attack. It's one of the many reasons that some choose to be silent. I live my life with a motto that doesn't allow me to be silent or hide behind society's 'norms.' The signature of my emails includes the following:
"Our lives begin to end the day we become silent about things that matter."

– Martin Luther King Jr.
Being Personally Attacked via Social Media

You can see that I retweeted this originally.
I thought it was a tweet of support. Then the tweets started to increase in their negatively and started blatantly attacking me. Upon deeper reflection with the nagging feeling inside my gut, they felt like harassment. Then this person started tweeting my professional contacts. I felt as though he crossed the line.
It is one thing to have a conversation with someone that you disagree with, but remain respectful. I enjoy a lively debate. It's quite another to attempt to destroy an individual's reputation and I could hardly believe I was the individual being attacked.
Why the Attack?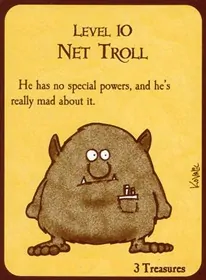 Everyone is entitled to their opinions. We all know that not everyone is going to agree with my opinion. Some people feel the need to react negatively and with insults, profanity, and personal attacks. The fact is, I know that being an advocate makes me a target. It doesn't make the verbal assaults hurt any less.
One can only assume that passion got the best of this individual and he responded in the heat of the moment and felt that personally attacking me and attempting to take away from my credibility boosted his own self-confidence for a moment or two. I can't pretend to know why, and we all know what we become when we assume things.
You Cannot Silence a True Advocate
I've been fortunate to have very few experiences with internet trolls. While I don't expect for everyone to agree with me or my stance on nursing and social issues, I do think that the issues should be the focus, not the individual.
As nurses we have a duty to advocate for our patients.
There is something that exists deep inside that makes me naturally passionate and an advocate for the issues and people I care about. It's these values that make me a good nurse and a lover of social media.
Using Your Voice Online For Good
Social media gives you a voice. It gives you the ability to have influence and reach an audience much larger than you might have otherwise. So I encourage you to be thoughtful with your use of social media. Be aware that your words have reach and influence. Be passionate and be and advocate. Attack issues and not individuals. Find a way to make your message a positive one, even if a negative message or issue is being addressed.
Please, use social media for good and not evil.
images: Defending your digital workplace and io9
Download Nurse Bingo Today!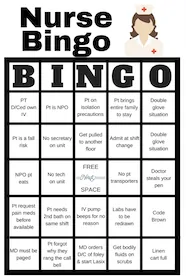 Liven up any shift with a fun game of bingo. See who can fill a row first!
Fill a whole card and lose grip with reality.
Your privacy is protected. We will never spam you.