*articles contain affiliate links*
Nudity is a tricky subject. On the one hand you want people to be comfortable with their bodies and feel comfortable to express themselves. On the other hand, not everyone is comfortable with just how comfortable some are with their bodies. And I'm pretty sure that most would agree that sanitation in public places and restaurants is more important than anyone's desire to be naked.
Georgia Davis is one of several "Naked Guys" in San Francisco, a group of people who are nearly as notable as the rainbow flags in Castro, are at the center of a proposed new law that highlights some sanitary issues. Basically, Supervisor Scott Wiener has the legitimate concern of certain body parts touching chairs and other public surfaces. His proposes they they put a towel or something down before touch their posterior to those surfaces.
Supervisor Scott Wiener has introduced new legislation sending a clear message to the disrobed denizens of the famously gay neighborhood: Go ahead and be naked in public, but keep it clean.
Apparently the issues for Wiener, and many area residents, is not the nakedness, but particular parts of their nakedness interacting with their environment. Specifically want some sort of "barrier" to be used before they place their bums directly on surfaces. And if they want to go in a restaurant, their "genitals, buttocks" and "anal region" must be covered. For sanitation reasons only. Because apparently the whole naked in public debate is a fight for a different day.
I do find it interesting to learn that California law allows anyone in California that is offended by nudity to make a citizen's arrest. I'm not sure which would be more offensive to the citizen… the nudity of attempting to arrest them. Something tells me that those offended by the nudity probably find it much easier to turn around and walk the other way. But it is nice to hear Davis confirm that butt-barriers are general nudist etiquette. Glad to know they have guidelines and standards. Wouldn't want an uncivilized nudist in our midst, now would we.
If the law passes, here are the proposed fine amounts:
Nudity fines

If a new local nudist law passes, it will regulate sitting naked on public seats or entering restaurants unclothed:

$100 First offense
$200 Second offense within 12 months
$1,000 Fine, and up to a year in jail, for third offense
Though I don't what sort of fine they will charge them when they ask a nudist to retrieve their cash. I mean… they don't have any pockets. One can only imagine…
Read more from the San Francisco Examiner: Nudist left cold by San Francisco supervisor's proposal
p.s. I had a whole different angle I could have take with the Supervisor… Scott Weiner… nudist… well I'll be a grown up for now, but seriously, there's a lot to work with here…
Download Nurse Bingo Today!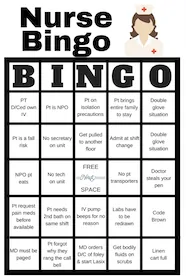 Liven up any shift with a fun game of bingo. See who can fill a row first!
Fill a whole card and lose grip with reality.
Your privacy is protected. We will never spam you.