*articles contain affiliate links*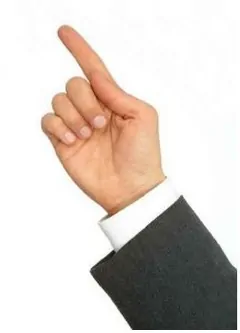 One of my favorite things about nursing is the autonomy we have in our care. It can be scary and overwhelming, especially as a new grad, but it is also extremely rewarding when  a decision you make facilitates the betterment of a patient.
Nursing is the first job I have ever had where a "boss" was not constantly breathing down my neck. I get to plan my day and do things as I see fit. I have the ability to use clinical judgment skills to decide to give and hold medications. I have the right, ability, and duty to question inaccuracies in care. I also have the right to be able to practice as a nurse without being placed under a microscope by others.
—Yes, another post about bullying, mobbing, horizontal violence, lateral violence,how nurses eat their young, or whatever term you want to phrase when a nurse is constantly targeted.
I've already talked about the lists they make. I'm sure they have one on me a mile long, quite honestly. In fact my boss, who mostly seems to ignore things people tell her, has actually approached me on a couple of occasions about some really absurd "opportunities" they have no doubt made lists about. You see, they literally comb the charts, the eMARs, the nurse's notes, the kardexes, and even probe the patients to find faults in their fellow nurses. It's not just me, unfortunately, but I fear I've likely given them a greater desire to find my faults. I have seen them gasp in disgust about a miniscule detail being over-looked on an order and proceeding to call said nurse any number of derogatory terms such as stupid, incompetent, lazy, ext.
But seriously guys, even though we hold peoples lives in our hands everyday, not everything is the end of the world. I thought I had left the drama club behind after high school. But alas, we have an independent group of crap-stirrers who are apparently planning a hospital showcase. These nurses are gonna prove to the world that the walls of this place would surely crumble if they weren't there to let everyone else know how stupid, incompetent, or unwanted you are. That means you: nurses, doctors, techs, CNAs, secretaries, house supervisors, managers, housekeeping, dietary respiratory, lab, and especially pharmacy, because according to them, you guys are the president of the idiot club… but you may have to fight for that title with dietary, depending on their mood.
Who does this?
I personally don't have the time to go through every ounce of a patients medical information in an effort to get dirt on another nurse. I also have never had the desire. I believe what goes around comes around, and while I fully participate incident reports, and discussing errors that effect or have the potential to effect the patient, as a rule, if I find an error, I do my very best to know broadcast it in a derogatory fashion. I have never laughed about it. I have never called another nurse stupid, not to their face, not to a co-worker…. maybe to my husband…. but I gotta let it out somewhere.
Who has such audacity to do this? I mean truthfully, we work in the same hospital, on the same floor. How are you that much "better" that me, or anyone else you work with? If you are the nurse that invented nursing would you kindly find a better way to share your magnificent skills with the world. Because you are obviously so much better than everyone else that touches a chart. You obviously have all the answers and never make any mistakes. And I have never had to unclamp an antibiotic for you, clean up a Foley you left open, or insert an NG tube you choose not to. Nah… never.
The unfortunate circumstance that spawned this unneeded question of my judgment and competency involved home medication. If a patient is admitted at night, and they have pm medications that take routinely that they have not had, I do my best to give them to them. If you take a clonazepam everyday for sleep, and its 1am and you haven't had it, you'd want it, right? You wouldn't want me to hold it because the oncoming nurse might be annoyed by it. I mean surely, you want to sleep, and its hard enough to sleep inside hospital walls even with high doses of sedatives.
What annoys me the most is I was there late, off the clock, doing homework with a co-worker, also off the clock and I am interrupted because I happen to be there so she can question my judgment. What does it matter really what answer I give? They result is the same, they got the meds. What satisfaction is gained when I tell you that they needed it to help them rest? None, because you rolled your eyes, flipped your hair, huffed, and abruptly shut the door while I was in mid-sentence.
Seriously if there is a duty to act as a nurse, by all means question my judgment. If a patient could be injured, has the potential, or there is a better way to do something, an easier way, or just a way I've never thought of, please tell me. But please, in matters of pure clinical judgment, my ability to act and make decisions, unless it has cause someone harm, is obviously wrong, or has caused you a great inconvenience could you kindly just suck it up and be pissed off on your own accord. I understand you may not agree with me, but that doesn't mean I am wrong, and I am really getting tired of you telling me what is the appropriate thing to do. You are no better than me. Once again, we work in the same hospital, on the same floor, and we wipe the same asses.
Grow up. Show up. Take care your patients. And leave me alone!
Download Nurse Bingo Today!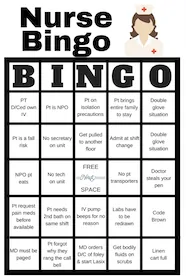 Liven up any shift with a fun game of bingo. See who can fill a row first!
Fill a whole card and lose grip with reality.
Your privacy is protected. We will never spam you.