*articles contain affiliate links*
Unfortunately, Amanda Trujillo cannot get back to doing what she loves yet.
She just wants to take care of patients.
The Arizona State Board of Nursing has delayed her case for 2 months in order to get a  full psychiatric evaluation.
When I heard this, I totally thought:
"For the Doctor, right?"
But alas, it is unfortunately for Ms. Trujillo, who has no doubts about her competence and abilities to pass the exam with flying colors. I don't doubt her abilities either.
I know we're not supposed to use the c-word, when it comes to psychiatric disorders, but this entire incident is straight up CRAZY. There is a need for some psych evals, in my humble opinion, but they don't need to be directed at her.
I'm empowered by her battled and hope that our emails to the Arizona State Board of Nursing do not go unheard. (if you haven't already informed them that you are following this case, I suggest you do so: [email protected]) 
Two MORE Months? Seriously?
2 more months, they are making her wait. It just seems like cruel and unusual punishment.
How do they expect her to feed her family while she waits two more months for her hearing?
If I am not mistaken this puts this lengthy ordeal to 12 months A full year of torment and waiting game because an angry doc threw a hissy fit.
I can only hope that my loved ones have a nurse that advocates for patient's rights and provides education for all their option in the way Amanda has in this case. As, Beth Boynton (nurse leader and author) stated in a comment on the previous post, and letter to the Arizona BON:
"Although I cannot pretend to know all details from online news and nurse colleague's sharing, it seems to me that Nurse Trujillo was doing everything within her power and scope to help this patient make an informed decision. THIS IS nursing at it's best."
Trust Fund For Legal Fees
It was mentioned in the comments on the previous post about Ms.Trujillo that we should could set up a trust fund for legal fees for Ms. Amanda Trujillo, MSN, RN, DNSc-NP(s), but I honestly have no idea how to go about doing that. If anyone would like to help facilitate that, I am sure it would be much appreciated.
Show Your Support
You can reach out and show your support for this case for Amanda Trujillo on Twitter: @NurseInterupted. 
Again, contacting the Arizona State Board of Nursing to let them know you are following her case will also he helpful. [email protected]
View the Original blog post with full details on this story:
Download Nurse Bingo Today!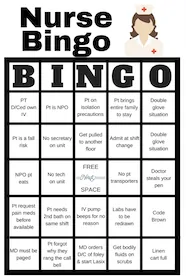 Liven up any shift with a fun game of bingo. See who can fill a row first!
Fill a whole card and lose grip with reality.
Your privacy is protected. We will never spam you.