*articles contain affiliate links*
A new man-made virus has been created that is actually killing cancer. This lab created virus apparently makes a bee-line straight for the cancer-cells in your body and destroys them. Interestingly enough, this was not the original intention of the virus. The hope was that the virus would seek out the cancer cells and act as a transport system to get cancer killing medication to the targeted cells.
Apparently the virus figured out what it's ultimate goal would be and just decided to forgo the middle-man role in exchange for full cancer-destroying-glory. I don't blame the virus. If I could cure cancer without any drugs involved, I'd do it too.
In 23 patients, the virus was successful in attacking cancer-toxic cells and leaving healthy tissue alone. This is a HUGE improvement over traditional medications, chemotherapy and such that pretty much destroy everything in your body and leaving you wiped out and wasted. This would mean great improvements in the quality of life for many cancer patients.
Prof John Bell, lead researcher and from the University of Ottawa, told the BBC:
"We are very excited because this is the first time in medical history that a viral therapy has been shown to consistently and selectively replicate in cancer tissue after intravenous infusion in humans.

"Intravenous delivery is crucial for cancer treatment because it allows us to target tumours throughout the body as opposed to just those that we can directly inject."
Confirmed to Actually Cure Cancer?
Apparently the virus didn't actually cure the cancer in any of the patients. However, it did slow the growth, and the patients were only given one dose on this clinical trial. So it's not be confirmed to cure cancer, but it's not been proven it cannot either. It's been proven that the virus seeks out cancer, replicates, and goes to battle.
So what would happened if we send in a second wave of of the cancer-fighting virus army?
An Uneasy Feeling
I can't help but shake the feeling that that I've heard this scenario before. Virus miraculously cures cancer. World unites in harmony. All is right and things are going smoothly and then… bam.
Zombie Apocalypse.
OH yea…
Because I have!
I am Legend!
But I Don't Want Any Zombies!
I've already openly confessed my irrational fear of zombies. And I totally want to cure the crap out of some cancer, and all. But I get a little queasy when I think of viruses being injected into humans that can then walk around and interact with anyone and everyone all hunky dory like nothing's going out, while a cancer killing virus is just bouncing around their blood stream. Because think about it for a second. If this virus is powerful and magnificent enough to cure cancer, what else is it capable of? Yep. Zombies.
No Cancer, Just Vampire-Zombies
Sure we'll get rid of all the cancer in the world, but then we'll have the bigger problem of flesh-eating, light-hating, super-fast, Will Smith harassing, Vampires-Zombies… or Vombies, if you'd like to simplify it. And won' that be great. Just when I start getting my nerdy nurse one, the zombie apocalypse will hit full force and I'll have to go back to the floor because it will be a national disaster and all.
This makes me very upset for a few reasons:
I have not yet developed my zombie survival strategy for this hospital. In fact, I'm not even in the main building, I'm across the street. I know the exits, but not the good hiding spots, and I'm pretty sure I don't have a key the be survival locations.
I just started my awesome new nursing informatics job, and it would certainly suck to not be able to do it because I'm having to help in the zombie effort.
I'm still currently community over 50 miles one way, and I think that zombie infestations would add time to that commute. I'm just going to tell you right now, if the zombie apocalypse hits before I've moved, I'm not commuting over an hour to treat zombies. Just can't do it. Morals and principles and all.
I'll go ahead and say it right now. The Nerdy Nurse DOES NOT DO ZOMBIES!
Ok… So If There Aren't Any Zombies
With all seriousness, and potential zombie apocalypses aside, the possibilities that innovations in healthcare and medicine like this present are exciting. Cancer sucks. We are on the edge of some amazing things with healthcare and technology and I am eager to see where we go next. We have come so far in such a short time. But the best, oh it's only yet it come!
Download Nurse Bingo Today!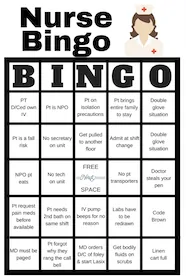 Liven up any shift with a fun game of bingo. See who can fill a row first!
Fill a whole card and lose grip with reality.
Your privacy is protected. We will never spam you.