*articles contain affiliate links*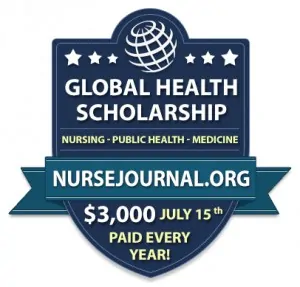 NurseJournal.org wants to help current and future healthcare professionals solve the global health issues of today and tomorrow. In order to encourage more students to pursue degrees for their educations by providing an annual $3,000 merit-based scholarship for students pursuing degrees in nursing, medicine, or public health.
Nursing school is expensive. This scholarship can be used to pay for tuition, fees, and other expenses associated with obtaining a degree in an online or campus based program. This scholarship can be used for students at any degree level as long as they meet they outline requirements.
All military are welcome to apply. International students are welcome and encouraged to apply provided they are currently enrolled in a qualified program.
Scholarship Details
Amount: $3000
Type of Scholarship: Merit-based
Deadline: July 15th Annually
Requirements:

Students must be participating in a type of global health program including: nursing, public health, or medicine.
GPA (min 3.2 on a 4.0 scale)
Extra-curricular activities
Employment history
Must complete 800-1000 word essay answering the following question:

There is an urgent need for global health professionals to address delivery strategies for the provision of critical health services both domestic and abroad. What kind of skills do you think are necessary to be an effective global health professional in the face of a pandemic?

Selection Criteria:

Winning applicantswill be selected based upon overall merit and quality of the scholarship essay and other requirements listed above as well as:

Extra-curricular activities
Employment history

Registration is weighted 25%, Essay 50%, and Work History and Activities at 25%.
"The criteria considered in the written essay is your ability to write a strong answer that directly answers the global health question that is presented. You will also need to provide insights based upon facts to support any claims you make."
Financial need is not a consideration for this scholarship

Scholarship Recipient Notification

The winner o the NurseJournal.org Glogabl Health Scholarship will be notified by email and postal mail within 30 days of the July 15th application deadline
Candidate will be required to provide transcripts from their most recent college or university to verfiy GPA
Failure to provide transcripts or an inaccurate GPA may result in revocation of the scholarship

Fulfillment of Scholarship

Scholarship will be paid in full directly to a qualifying program as specified by the requirements of the scholarship
Award must be paid within 3 months of notification of the winner

Announcing the Winner
Official Rules
Global Health candidates who are interested must submit the formal application and essay. The essay is 800-1000 words, submitted through the form above. Essay must be formatted properly.

If you are not currently enrolled in a nursing or global health related program, you will need to be enrolled before you apply. Letters of recommendation are neither required nor accepted.

Any applications that have false information or plagiarized essays are disqualified immediately. All essays have to be entirely original, and must be the sole work of the applicant. All of the application essays and their rights to publishing are the intellectual and real property of NurseJournal.org.
Submit Your Essay Today!
For more information and to enter your essay, go to NurseJournal.Org.
Motivation to Continue Your Education
Interested in going back to school, but need to school recommendations or motivation? Check out these great articles from NurseJourna.orgl:
Download Nurse Bingo Today!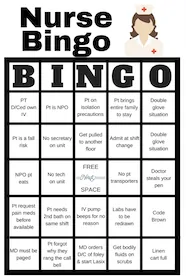 Liven up any shift with a fun game of bingo. See who can fill a row first!
Fill a whole card and lose grip with reality.
Your privacy is protected. We will never spam you.