*articles contain affiliate links*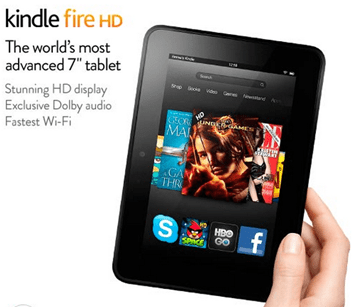 It seems that the Apple iPad may actually have itself a formidable competitor in the Amazon Kindle Fire HD.
One might argue that Amazon is simply picking up on the coat tails of what Apple has already pioneered. But it seems as though Amazon is delivering a comparable product at a fraction of the price.
The one detractor from the Kindle Fire HD is it's limited Apps marketplace. However, one might be able to overlook that short coming when they learn about all fantastic offerings of Amazon prime. I also am personally attracted to the smaller, more portable, size.
The front page of Amazon has this charismatic letter presented to it's customers:
Dear Customers,

Today we're excited to introduce the all-new Kindle Fire HD.

Kindle Fire HD 8.9″ 4G isn't just the best tablet for the price, it's the best tablet. $499 now gets you a large-screen HD tablet with a stunning 8.9″ display, exclusive Dolby audio, dual stereo speakers, the fastest Wi-Fi, ultra-fast 4G LTE wireless, plus our new unprecedented $49.99 one-year 4G data package. Customers save hundreds of dollars in the first year compared to other 4G tablets. Kindle Fire HD 8.9″ is also available in a Wi-Fi only model for $299.

Kindle Fire HD is the world's most-advanced 7″ tablet, with a stunning HD display, plus the same exclusive Dolby audio, dual stereo speakers, the fastest Wi-Fi, and 16 GB of storage. Kindle Fire HD is just $199.

We are also introducing the world's most advanced e-readers,Kindle Paperwhite and Kindle Paperwhite 3G.

You'll do a double take when you see Kindle Paperwhite—we've added 62% more pixels and increased contrast by 25%, so whites are whiter, and blacks are blacker. We've also added a revolutionary built-in front light for the perfect reading experience whether you're out at the beach or at home in bed.Kindle Paperwhite starts from just $119. Kindle Paperwhite 3Gis available for $179 with free 3G wireless—never pay for or hunt for a Wi-Fi hotspot. We've also updated our smallest, lightest Kindle with improved fonts and 15% faster page turns—it now starts at just $69.

Kindle Fire HD and Kindle Paperwhite are each in a class by themselves when it comes to hardware—there's nothing better. But the real magic is that they are also a service. When combined with our enormous content ecosystem, unmatched cross-platform interoperability and standard-setting customer service, we hope people will agree these are the best tablets and e-readers anywhere, at any price.

Thank you for being a customer,

Jeff Bezos
Founder & CEO
When I looked over the Kindle Fire HD's specification page on Amazon.com, I have to admit that it felt eerily similar to the iPad's product page from Apple.com. But, the elegance of the description and arrangement of the images does make pre-ordering the Kindle Fire HD difficult to pass up.
Here are the quick specs of the Kindle Fire HD:
World's most advanced 7″ tablet

1280×800 HD display with polarizing filter and anti-glare technology for rich color and deep contrast from any viewing angle
Exclusive Dolby audio and dual-driver stereo speakers for immersive, virtual surround sound
World's first tablet with dual-band, dual-antenna Wi-Fi for 40% faster downloads and streaming (compared to iPad 3)
High performance 1.2 Ghz dual-core processor with Imagination PowerVR 3D graphics core for fast and fluid performance
Over 22 million movies, TV shows, songs, magazines, books, audiobooks, and popular apps and games such as Facebook,Netflix, Twitter, HBO GO, Pandora, and Angry Birds Space
Integrated support for Facebook, Twitter, Gmail, Hotmail, Yahoo! and more, as well as Exchange calendar, contacts, and email
Free Skype video calls with front-facing HD camera
Free unlimited cloud storage for all your Amazon content
Includes special offers and sponsored screensavers.
Kindle FreeTime – a personalized tablet experience just for kids. Set daily screen limits, and give access to appropriate content for each child. Free on every Kindle Fire HD. Coming next month
Prime Instant Video – unlimited, instant streaming of thousands of popular movies and TV shows
Kindle Owners' Lending Library – Kindle owners can choose from more than 180,000 books to borrow for free with no due dates, including over 100 current and former New York Timesbest sellers and all 7 Harry Potter books.
I do wonder what type of stock they already have prepared. Apple devices always always sell out without a pre-order. Will Amazon kindles start to fall in the same category?
They are certainly heating up the tablet market. And if the name doesn't already imply it, the Kindle Fire HD is HOT!
The Kindle Fire HD is also a great choice for students who are looking for a tablet to augment their studies. With the rise of ebooks and textbook rentals, especially, owning a tablet can greatly enhance your educational experience. Not to mention you will always be able to catch up on much needed relaxation should you ever experience any free-time. And should you not have any free time, you can always procrastinate on what you should really be doing, and play some games on our new Kindle Fire HD. You work better under pressure, anyways.
The Kindle Fire HD official release date is September 14, 2012. You can pre-order yours now!
Do you already own a Kindle Fire? What has been your experience so far?
Do you plan on getting the newest version?