*articles contain affiliate links*
Aside from perhaps Beats by Dr Dre, who by our investigation is not a real doctor, there haven't been

any earthquakes in the headphone industry for quite sometime. That is until Aftershokz Bluez dropped it like its hot. And we do mean hot. Despite the these headphones being cleverly referred to as Bluez, we think these things are on fire!
Of course, we already knew how awesome the Aftershokz line is. We reviewed the wired bone conduction headphones last year and concluded that this new technology should be must more healthy for your ears than any other headphones. We also think we are much more comfortable, specially if you have tiny ears.
There are many things about the AfterShokz headphones that are a complete upgrade from many other headphones that I've used before. Many of these features existed in the wired model as well, but there upgrades noted in the wireless model, namely the bluetooth functionality. We also can tell a difference in the audio quality and comfort.
Key Specs
Wireless Range: 10 m / 33 ft
Battery: Rechargeable 250 mAh Lithium Ion battery
Playback time: Up to 6 hours at low volume*
Charging time: 3 hours (using included micro USB to USB cable)
Full Review
The absense of wires is certainly an added convenience. The headphones run on Bluetooth 2.1 quality and paired quickly and easily with all my devices. This is a nice conveinence, considering I've had trouble with iPhones and many bluetooth devices in the past. I do wish, however, that they were Bluetooth so as to use less energy.
Bone Conduction Technology
These headphones function due a technique called bone conduction, they rest over the top of your ears to the front rather then inside or covering them. That may sound weird (no pun intended) but not if you stop to think about how you hear sound in the first place. What happens inside your ears when sound penetrates them is vibration in tiny bones, your brain then translates into sound. So, how the sound reaches those bones isn't a major factor. This video gives a little more detail on bone conduction.
Compatible with smartphones and most other devices supporting Bluetooth they provided you loud crisp sound without the discomfort of ear buds. They will hold a charge for about 6 hours of continuous playtime and up to 10 days of standby time. When paired with a smartphone the built in mic gives you the ability to answer calls with a button located on the left side. And despite some other reviews I've read that state the audio quality is poor, I haven't had any problems with it.
The right side of the headphones has a play/pause button for quickly turning off the music should you need to. They have a range of about 33 feet, far more then most of us should even need. I mean who ever gets more then an arms length away from their device anyway.
The thing that sets these headphones apart from the sea of other headphones is their bone conduction technology. One of the major benefits of the bone conduction technology is that is transmit into your ears loud and clear while still allowing you to hear outside noise also. So just in case you may have decided to go out for a jog in the zombie apocalypse you wont be the last to know.
Great for Exercise
My husband has really loved the Bluez from Aftershokz for exercising. He's routinely the monitor of our small child and these allow him to blast motivational music while still keeping an ear out for our little one. He also mentioned something about "staying on my sweaty head" while he was sprinting. It sounds pretty gross to me, but apparently that's a sticking point for runners. Ear buds just don't cut it when you're moving at high velocities and heavily perspiring. As an added bonus, these headphones are also water resistant, which is a good think when your husband gets and sweat as mine when he's going for his daily jog.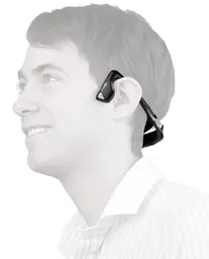 Wrapping it Up
We've really had a great experience with these wireless bone conduction headphones and sometimes my husband and I actually fight over who gets to use them that day. If you're looking for headphones that deliver a great experience, impressive audio, no discomfort for those with tiny ear holes, and the bliss of being free of wires then AfterShokz Bluez might just be right for you!
Find out more details on the official AfterShokz Bluez page. Pick up your own set for a significant discount on Amazon.com.
Download Nurse Bingo Today!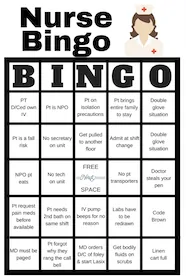 Liven up any shift with a fun game of bingo. See who can fill a row first!
Fill a whole card and lose grip with reality.
Your privacy is protected. We will never spam you.