*articles contain affiliate links*
Guest Blogger: Jenna
It's fall, which means that high school seniors can no longer put off the decision about where to go to college and what to study in school. Savvy high school students are probably already aware that most four-year degree programs generate thousands of dollars of student loan debt per graduating student, and that many college graduates are having trouble finding work in their fields.
However, the health care field is booming. The Center for Health Workforce Studies states that the health care industry is projected to add 4.2 million jobs between 2010 and 2020 – just in time for this year's class of graduating seniors.
If you're looking for a career with plenty of opportunity, consider joining the healthcare field. There are many opportunities in nursing, physical therapy, pediatrics, oncology, and hospice care, as well as sectors like finance, data management, and IT. Hospitals, nursing homes and other health care organizations also need marketing teams, public relations staff, and even executive chefs. All of these jobs promise opportunity to talented young people willing to put in the work. As a high school senior, here's what you need to do to get started.
SAT and ACT Scores
If you're a high school senior, you're probably already familiar with the SAT, and probably took the PSAT in your junior year. However, it's also worth your while to take the ACT, a different type of long-form standardized test that requires different study strategies and a few ACT prep sessions.
According to the official ACT website, the ACT is an achievement test while the SAT is an aptitude test. This essentially means that the ACT tests you on subjects you have already learned, such as algebra and reading comprehension, while the SAT tests you on your learning ability, with logical reasoning questions and penalties for guessing wrong. (If you can't tell, I'm a huge ACT fan.)
All colleges and universities in the United States accept both the SAT and the ACT, so make sure you take both tests to determine which one gives you the higher score. Because the two tests are so different, and are tailored to different types of learning styles, you may be a much better ACT test-taker than you ever are at the SAT. Take ACT prep classes at your local Huntington center, then sign up for an ACT test in your area.
Work at a Hospital
Sometime during your freshman or sophomore year, make sure you actually work at a hospital. Look for volunteer candy striper positions; these unglamorous jobs are classic ways to teach young people what a hospital career is all about. Before you decide to devote your life to the health care industry, make sure you can handle the fast pace and the emotional stressors that a hospital brings.
Specialize Within Your Major
Once you've decided you want to work in the health care field, stand out from other candidates by picking up a specialty while in college. Many human resources professionals complain that recent college graduates' skills are too general; they send in resumes stating they have a degree in marketing, but have no idea about the specific needs of a hospital marketing team.
No matter what your major, specialize. If you want to become a RN, take the extra courses and specialize in a few additional certifications, such as nutrition. The more skills you have on your plate, the more of a valuable candidate you are to potential employers.
If, for example, you want to enter the health care field through an unusual route – like by becoming an executive chef – start planning this career in college. Job-shadow a hospital chef, or spend a summer working in a nursing home cafeteria. The more health care-specific experience you have, the better your job prospects become.
Build Your Network
It may feel strange to start building a network as a college student, but the fact of the matter is: getting jobs often depends on who you know. Don't lose track of the contacts you made during your volunteer work or your specialization courses; look for mentors, keep them appraised of your progress, and ask them for recommendations during your college senior year. Many college students don't realize the importance of building a professional network, and miss out on potential career opportunities.
What else should current high school seniors know about the health care field? Recent graduates working in health care: what would you have done differently in college to prepare for your current jobs? Let us know in the comments.
Download Nurse Bingo Today!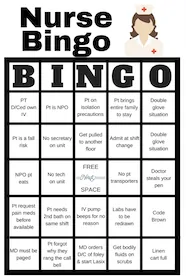 Liven up any shift with a fun game of bingo. See who can fill a row first!
Fill a whole card and lose grip with reality.
Your privacy is protected. We will never spam you.