*articles contain affiliate links*
It seems almost impossible to imagine, but your data may not be 100% in healthcare systems. In fact, 94% of hospitals had leaked data with an average number of stolen records at 2,769. That's a lot of data containing all sorts of private information. And even though almost all organizations are working to protect and secure their information (and in some cases your information)  more than half of organizations report that they have no confidence that they can detect all data loss activities.
Security and network breaches are a serious issue. Not only is it potentially detrimental to the patients we server, but it can also carry hefty fines. Whether the data was gained through malware, stolen computers, or a software malfunction it is still considered a HIPAA violation and is unacceptable in the healthcare industry.
The following infographic displays statistics and other data related to data loss.

Data Breach Stats infographic developed by LifeLock.com
So what can you do to protect yourself?
Change your password frequently.
Enroll in identity theft services.
Limit sharing of personal information.
Follow news on data breaches.
Are you sure that your healthcare providers are protecting your private health information (PHI)
Download Nurse Bingo Today!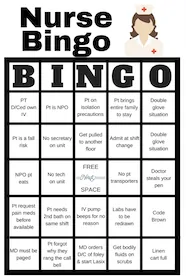 Liven up any shift with a fun game of bingo. See who can fill a row first!
Fill a whole card and lose grip with reality.
Your privacy is protected. We will never spam you.