*articles contain affiliate links*

Every year the stores open up earlier and earlier to entice the crowds of holiday deal-searches. Although you may be able to score a few items at a discounted rate, the deals do not come without other sacrifices. The mobs of people chasing after discounted flat screens to put under their Christmas trees might be enough to scare off some shoppers, but there are other annoyances to consider.
The following lists is a reference tool for holiday shoppers highlighting the 9 things that suck about shopping on Black Friday.
1.Holiday Must Haves Have Little to No Deals
The hot ticket items like iPads, iPods, or maybe the new Microsoft Surface are slim in the deals department. You might be able to find a $20 iTunes cards or an occasional $50 an ipad, but the deep discounts you see on many items are nonexistent. The items you really want for your shopping list are probably on the list of others and the retailers know this. They don't need to take huge price cuts on these items because they know they are going to sell out even without discount.
2.They Only Have 2
There is almost always one item that every store has and everyone in line wants it. Whether it's a $150 lcd or a $200 laptop, chances are that if you're in line for it, so is everyone else in front of you. The stores are require to have at least of the of the advertised items in stock, but because they are usually selling these products at a loss they don' much more than that. Since you're 50th in line you're probably not going to get one and you will have waited all that time for nothing.
3.No Where to Park
If half the town is in the Wal-Mart, there are pretty slim chances they many of them car-pooled. Your chances of finding a spot anywhere near the entrance are tiny. After you walk a few miles to the door, you're probably going to forget where you parked your car. You might end up having to take the bus home and then you'll get mugged for your Nintendo Wii U.
4.Cramped and Crowded Stores
They aisle of most department store electronics retailers are barely wide enough for two people to pass by each other on a typical day. If you pile a rock concert's worth of patrons into a single location, then the aisles become nearly impossible. It's like being in the mosh pit of your favorite performer, and the only thing that's crowd surfing is discounted products.
5.Online Deals Aren't Valid
Many retailers have separate deals for their online stores and their brick and mortar locations. Often times they will refuse to match their own prices in store. You may find that you go to the store in an attempt to get an online deal and they refused. By the time you get home and try to order online they are out of stock.
6.The Elderly Get Gruff
Black Friday can bring out the nasty in people. Even a grandma can get gruff with you when you're eyeing the same waffle maker they are. She needs all 20 that she's attempting to pile into her motorized cart. You best better step off unless you want her to use that cane on you.
7.No One to Help You
If you're going to brave shopping on Black Friday then you need to be sure of what you're going to buy. Trying to do a comparison of digital cameras in the black Friday rush can be nearly impossible. Your chances of finding a sales associate that will have the time or patience to answer your questions about products is going to be slim to none.
8.Some of the Deals Suck
Many of the stores will attempt to trick you into buying items that really aren't that great of a deal. They pile massive amounts of items on pallets and stick and giant price tag on them that is only slightly smaller (if at all) than the standard price.
9.Black Friday sales now start on Thanksgiving night.
If it weren't annoying enough to do shopping at 4am while you're still on a Turkey hangover, now you have to attempt to shop while you still are drunk on tryptophan. Tell your NaNa and your Aunt Jo that you're sorry you won't be able to stay for desert because you've got to save a few bucks on some Egyptian cotton sheets.
If you think these 9 reasons aren't enough deterrent to get you to say home on black Friday, I wish you the best of luck on your consumer's journey.
Download Nurse Bingo Today!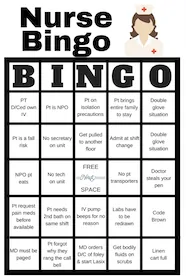 Liven up any shift with a fun game of bingo. See who can fill a row first!
Fill a whole card and lose grip with reality.
Your privacy is protected. We will never spam you.