*articles contain affiliate links*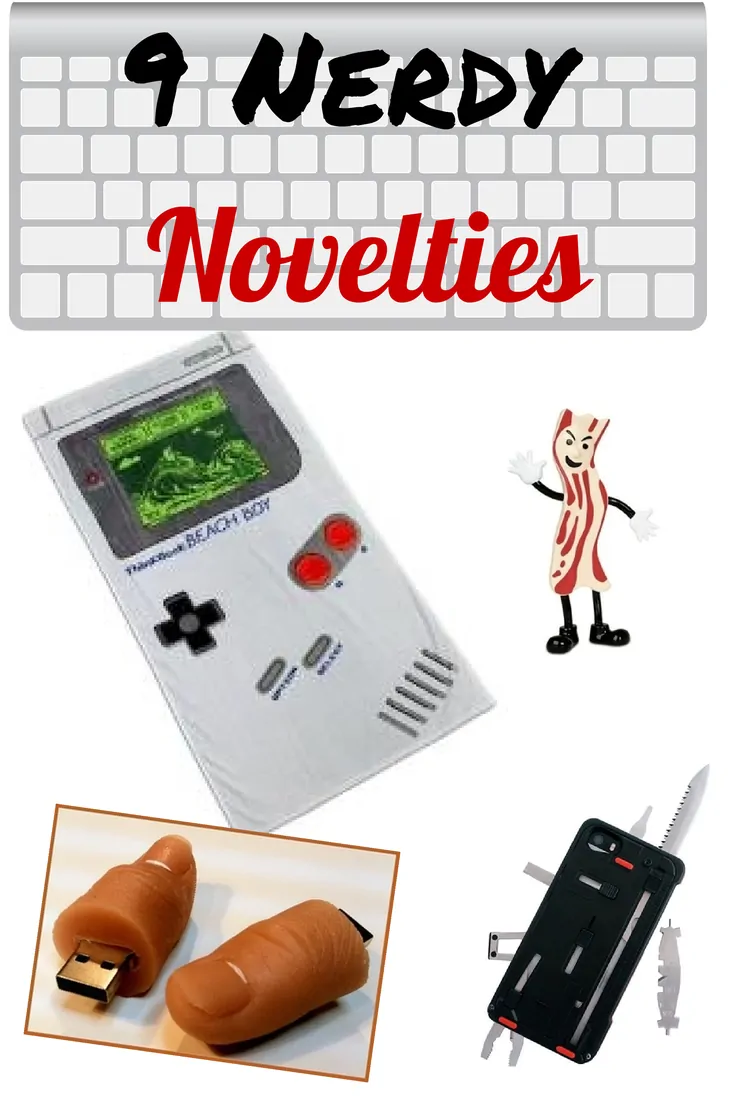 These nerdy gift ideas and novelties will get a chuckle from even the coolest guys and gals.
There are some pretty awesome things about being a nerd, and a few not-so-awesome things. The wedgies and bathroom confrontations in middle school are certainly not the high point of any nerds life. But later in life, when we're our former bullies boss it can put the awkward teenage years into perspective. Because nerds are often ahead of their time. In high school, nerds are obsessing over their hobbies, writing code, reading, and doing other things that will often make them wealthy adults.
Fortunately, that disposable income in adulthood can come with some perks. One of my personal favorites is all the nerdy novelties that once can acquire. Some of our favorites are listed below.
9 Nerdy Gift Ideas and Novelties



1.

No longer shall we have to pretend our bacon has arms and legs snag up this little guy. Now you'll finally be allowed to play with your food.




2.

Just make sure after you build your time machine that you wear a bullet-proof vest so the terrorists think your dead after gunning you down.

3.

Don't be alarmed. This isn't a real thumb. But it is a pretty nerdy, and maybe even a little on the weird side, novelty that any nerd would be glad to call their own. It is only 4gb, and in a day an age where you can get  128 GB USB Drive for around $40, $7.50 for this thing does seem a little steep.

4.

This pillow will remain by your side always and won't complain when you want to watch romantic films starting Matthew McConaughey. You can even imagine it is Matthew McConaughey, you know if you're into that sort of thing.

5.

When the aliens come to remove all evidence of their crash landing, they will most certainly have to come by your place if you own some of this soil from the crash.

6.

Just use this box to pack up any one of the other items on this list for a double whammy!

7.

Because we know you're not going to go into the water when you're at the beach, you might as well lounge and play your video games in nerdy style. We know you're going to want to avoid touching the sand as much as possible, so you'll want this awesome Game Boy style beach towel so you can play on your device and pretend you are inside in the comfort of AC.

8.

With this case you can literally say that your phone can do everything. Although, we do have to warn you. We're pretty sure that this thing is not making it past airport security. So if you're a nerd that travels you should probably consider leaving this at home and going for an airport approved alternative.

Take Charge of Your Nursing Career

Your first year as a nurse is daunting. You need someone in your corner telling you what your managers really need from you, helping you learn to interact with your preceptor, and really just manage your life. Find all that an more with the FreshRN VIP - Membership.

I'm Ready to Thrive

9.

Not only does this transform into a pen it can also transform you boring work day something more fun.
Do you have any recommendations for nerdy gift ideas? Well… besides pocket protectors. I have enough of those.