*articles contain affiliate links*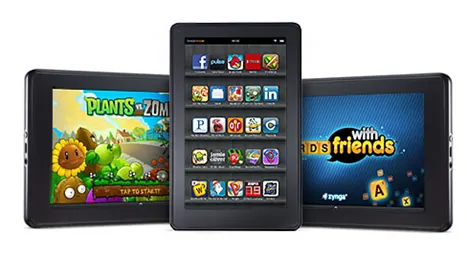 Tablets have become an exciting game changer in technology and healthcare. Nurses can benefit from owning tablets and the Amazon Kindle Fire, Apple iPad 2, and Nook Tablet are all worth taking a look at. It is no secret that this nerdy nurse is a fan of tablet computers. I still swoon over my iPad and have the HP Touchpad as well. I've been eyeing Android tablets ( and also thinking about putting Android on my HP touchpad) but I haven't found one that's made me want to hand over the cash, yet.
Benefit of Tablets for Nurses?

The benefits of tablet computers for nurses are plentiful. They are great from poking around and sharing cool apps and content with your friends, but there are very real and practical applications for the nursing workforce as well. And although I feel the ability to veg-out and play a challenging round of Angry Birds has great value, I also know that tablets can have a place in the nursing workforce, if we let them.
7 Reasons Why Nurses and Nursing Students Need a Tablet
Get rid of the clutter. Carry your drug guide, nursing school books, and your pleasure reads in one compact little outfit.
Entertain yourself during downtime. During your lunch hour you can catch up on your shows with Netflix or Amazon prime. You can also read books, listen to music, or play a game or two.
Easy access to information. With a tablet device, and internet access, the world is your oyster. If you need additional information, want to read a nursing journal, or check your email, it's much easier to just pull out your tablet than get the PC involved.
It's bigger than a smartphone. While your iPhone or Android will likely handle most of the demands you throw at it, let's just be honest here: it's small. That's great for portability, but makes it less than ideal for long-term viewing of movies or any extended reading periods.
Nurses need to stay connected. This little piece of technology will give you the ability to stay connected to your world. If will also be a useful tool that you can use to share information with your patients. Hospital policies will differ, but eventually they will all have to come on board with seeing how beneficial these tools can be for you and your patients.
Nurses and other healthcare providers need to constantly seek additional education. A nurse who knows everything is a very scary nurse. A tablet device makes information more readily available and increases a nurses ability to acquire new information.
You'll feel like the coolest nurse on the block. Although the rise in popularity of e-readers and tablets has made more and more people adopt them, there are still many who are hesitating. When you be-bop in with your full color Kindle Fire, you're going to have people asking lots of questions. Use this as an opportunity to share the importance of knowledge distribution and continuing education for nurses.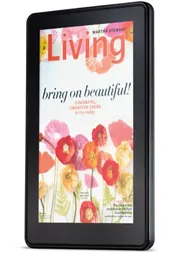 At $199 the Kindle Fire is a fairly price tablet that offers all the consumption needs almost any user could want. Books, movies, music, internet, and of course Apps! I wouldn't be sold on any tablet device that didn't have a robust App market. It's one of the primary reasons why my HP Touchpad doesn't see as much facetime as my iPad.
Kindle Fire is rolling in awesome and functional Apps. They have a marketplace of thousands already with these juicy little pixels just waiting for you to dive in and let your fingers go to work: Netflix, Hulu Plus, Pandora, ESPN ScoreCenter, Comics by comiXology . There are also great games like: Words with Friends, Angry Birds, Plants vs. Zombies and more. Every day there are more apps showing up from top developers like Zynga, EA, Gameloft, PopCap, Rovio and more. You even get a free paid App everyday. Not sure how they pull that one off, but I'm the last to argue with free.
The Amazon Kindle Fire is a great tool for anyone, but I do think that nurses and nursing students could have great benefit from it. The price point and features set this tablet apart from most others and make it a practical and desirable piece of technology that every nurse should want to own.
Of Course an iPad2 Will also do the trick.
I don't' think I even need to begin to tell you the glories of the Apple iPad 2. Unless you've been living under a rock, you know about all the amazing, dare I say – magical – things it can do. It blows the Amazon Kindle Fire out of the water in terms of what it can do, but it also blows it out of the water in terms of price. Starting at $499, it just isn't an investment that everyone can make.
I totally a fan of all things Apple, but I know that realistically not everyone can afford an iPad, especially an already financially-strapped nursing student.
Nook Color Tablet a Viable Option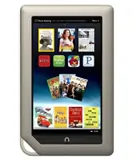 At $249, and pre-loaded with Netflix and Hulu, the Nook Color Tablet certainly does look appealing. Of course you can get movies, music, and yet BOOKS on the thing and there is an app store. Something they also feature (in comparison to say, an iPad) is "always free in store support." While I don't know if they realize the ramifications yet of saying always to savvy consumers, it is nice to know that after a year you won't be left to your own resources if your tablet starts doing something wonky.
The Nook Tablet interests me, but doesn't excite me.
Which Tablet is Right for you?
That's of course a personal question. Tablets are very personal items and you really want one that is going to meet all your needs but not break the bank. In a perfect world, everyone would have an iPad2, but not everyone can afford or justify the cost of the $499 dream-machine. So when looking at the other tablet options on the market, and weighing the benefits against the cost, the $199 Amazon Kindle Fire wins.
Be sure to check out each to tablet to determine what is right for you. But you simply must get a tablet. Your life will never be the same after owning one.
Download Nurse Bingo Today!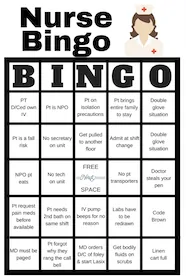 Liven up any shift with a fun game of bingo. See who can fill a row first!
Fill a whole card and lose grip with reality.
Your privacy is protected. We will never spam you.