*articles contain affiliate links*
Guest Blogger: Melissa Steele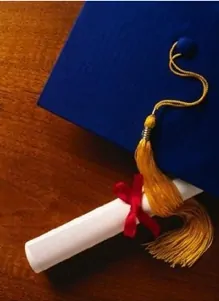 Earning a graduate degree in nursing, such as a Master of Science in Nursing (MSN) is an excellent decision for your career. Having a nursing graduate degree allows you to advance in the rapidly growing field of advanced practice nursing. How fast is nursing growing? According to a recent Georgetown University study, the unemployment rate in nursing overall is just 4.8%. And, according to the Bureau of Labor Statistics, the job growth for nursing will be a huge 26% by 2020.
The fast-growing advanced practice nursing field includes the high growth professions of:
Nurse practitioners
Clinical nurse specialists
Nurse anesthetists
Nurse midwives
Of course, earning your nursing graduate degree has financial considerations, but with the demand in the field is increasing so rapidly, there are many excellent scholarships from which you can choose. This can really help to reduce your out of pocket costs as you earn your graduate nursing degree.
If you are looking for good ways to help to pay for your graduate nursing degree, you should consider these super new scholarships for graduate level nurses:
#1 Scholarship: American Association of Critical Care Nurses Scholarship

Description: The purpose of this scholarship program is to promote life long learning in nursing, personal reflection and professional growth. The scholarship can be used for a master's program, or for for other academic activities. It also can be used to fund a course or courses that does not necessarily lead to a degree in nursing, but the use of the money must be directly related to nursing education.
Amount: Up to $3000 per year.
Length: One time payment.
Deadline: 4-6 months before the beginning of your proposed education activity
Eligibility: Must be a current active member of AACN
Source: www.aacn.org
Application: http://www.aacn.org/wd/memberships/content/bsngradschship.content?menu=membership
Contact: (800) 899-2226
#2 Scholarship: Distance Learner MPH Scholarship
Description: This public health scholarship is ideal for Nurses, Physicians, Social Workers, Community Leaders and more! Nurses interested in public health can earn an accredited MPH degree anywhere online to qualify. Your study focus can be in any aspect of public health: general, epidemiology, biostatistics, nursing, social and behavioral sciences, environmental health, or health policy and management.
Amount: $1000
Length: One time payment, awarded twice annually.
Deadline: December 15 and July 15 each year
GPA: 2.75 minimum
Source: http://onlinemphdegree.net/
Application: http://onlinemphdegree.net/distance-learner-mph-scholarship/
Contact: [email protected]
#3 Scholarship: AfterCollege/AACN $10,000 Scholarship Fund
Description: This scholarship supports students who are seeking a bachelor's, master's or doctoral degree in nursing. Special consideration is given to students in graduate school who want to become a nurse educator, and also those who are completing an RN-to-MSN program.
Amount: $2500
Length: One payment
Deadline: March 31, June 30, September 30, December 31
Eligibility: Must be pursuing a degree in nursing, with special consideration for graduate students.
Source: www.aftercollege.com
Application: http://www.aftercollege.com/content/article/aftercollege_aacn_scholarship/
Contact: (877) 725-7721 x281
#4 Scholarship: Nurse Corps Scholarship Program
Description: This scholarship program, funded by the Health Resources and Services Administration, provides bachelor's and master's degree in nursing students with funding for tuition, fees and educational costs, in exchange for working at a critical shortage facility after you graduate. Half of the award funds are reserved for those studying to become a nurse practitioner.
Amount: Two year service commitment, with payments made for tuition, fees, reasonable costs, and a monthly stipend of $1289 is provided.
Length: Two years
Deadline: May 7
Source: www.hrsa.gov
Application: http://www.hrsa.gov/loanscholarships/scholarships/Nursing/2013apg.pdf
Contact: (877) 897-9910
Scholarship: Graduate Scholarship in Cancer Nursing Practice
Description: This annual award by the American Cancer Society supports graduate students who are working towards a master's degree in cancer nursing, or a doctorate of nursing practice (DNP).
Amount: $10,000 per year
Length: Up to two years.
Deadline: Feb. 1
Eligibility: Must be earning a master's in cancer nursing, or a DNP.
Source: www.cancer.org
Application: http://www.cancer.org/acs/groups/content/@researchadministration/documents/document/acspc-025401.pdf
Contact: (404) 329-7558
Whatever your interest in graduate nursing, there are a variety of excellent ways to help to reduce your out of pocket costs. Be sure to apply for these graduate nursing scholarships early, because competition is strong.
Download Nurse Bingo Today!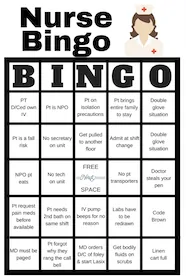 Liven up any shift with a fun game of bingo. See who can fill a row first!
Fill a whole card and lose grip with reality.
Your privacy is protected. We will never spam you.