*articles contain affiliate links*
Guest Blogger: Alicia-joy
Did you know that there is a growing segment of the nursing population who are self-employed? There are way more entrepreneurial opportunities nowadays than most people are aware of. This is not surprising to me. Nursing is an amazingly diverse profession. Also, I think that we already have some excellent entrepreneurial skills.
You may not realize it, but there are 5 reasons why nurses often make excellent entrepreneurs:
1. Taking risks
Going into business takes risk. Willingness to take calculated risks is inherent in building a business.
Nurses put ourselves on the line each and every day. I have worked a shift or two taking care of a patient who was not on any precautions (beyond standard), to return the next day and the same patient is now in "isolation". Every patient we care for puts us in harm's way (in terms of microbes, but also in terms of possible abuse). That's just a risk we take. Of course we use precautions (similar to how entrepreneurs make smart decisions), but the risk is still there.
2. Prioritizing
Entrepreneurs must develop the ability to prioritize short term and long term tasks.
If you were not adept at prioritizing before nursing, you developed that skill when working on the floor. You either get super good at prioritizing what needs to be done, or you drown. Shift after shift. It can make the difference between feeling competent and confident, and feeling overwhelmed and incapable.
3. Staying calm and carrying on
Every entrepreneur must have leadership skills. Leadership includes exemplifying a calm disposition even amongst chaos and uncertainty.
Keeping our cool despite alarms, announcements, calls, lights, guests, family members, and demands left and right is essential to getting our work done. If we immediately reacted to every stimulus around us, nothing would be accomplished. Staying calm is also one of the skills that carries us through those harrowing moments (codes/system crashes/violent encounters, etc.)
4. Being resilient
Resilience is arguably THE most important skill for entrepreneurs. If an entrepreneur can't bounce back from obstacles and set-backs, they might as well close up shop.
Had a bad shift? Most times you've got less than 12 hours to get over it. Sometimes even less. How about the patient (or family member) who is talented at insults and complaints? We still go to the next patient's bedside, home, or room and strive to always leave that last encounter behind. We have to move on. In order to stay awake, alert, and not ticked off.
5. Putting in the work
Don't believe anyone who says that owning a business is easy. It takes work. A lot of work.
Likewise, I give you permission to do harm to the person who says that nursing work is easy (okay, not physical harm). We care for people who need us. And there is no way to really give our patients the care they need, without working our butts off. It's what we do.
Of course not every nurse exemplifies every one of these skills. Nevertheless, they are common nursing skills that crossover to business and can help a nurse entrepreneur to start and build a thriving business.
About the Author:
Alicia-joy is a writer, speaker, career and business coach. She loves being involved in multiple projects she is passionate about, including helping nurses to start and grow nursing businesses that support their desired lifestyle. She is the creator of the Nursing Business Mastermind; an online training, support, and accountability resource. Find out more here: http://www.nursingbusinessaccelerator.com/. Or connect with Alicia-joy on her website: http://www.mynursingbusiness.com/.
Download Nurse Bingo Today!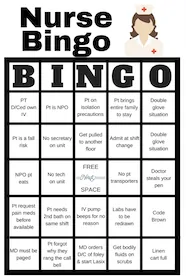 Liven up any shift with a fun game of bingo. See who can fill a row first!
Fill a whole card and lose grip with reality.
Your privacy is protected. We will never spam you.