*articles contain affiliate links*
If you're interested in getting into the field of nursing informatics getting a master in nursing  or health informatics can give you a competitive edge. It doesn't guarantee you a position, but it certainly can help you edge out other hopefuls who are BSN (or less) prepared.
While I myself am not MSN prepared, I certainly see the value. I also know that one of the primary reasons that many nurses avoid getting their MSN is due to high tuition costs. This is especially true in an unsteady economy in a position were a masters does not necessarily mean a bigger paycheck or a secure job.
So what if you could get a Master of Health Informatics for free? You'd be interested, right?
Thought so.
American Sentinel University Announces Five Full-Tuition Scholarships for its Master of Health Informatics Program
American Sentinel University understands the numerous issues confronting health care organizations. As a leader in online health care education, the university is proud to offer qualified individuals currently employed by a health system or health system support provider located in the United States the opportunity to apply for one of five full-tuition scholarships in its Master of Health Care Informatics (MHCI) program.

Role of Informatics in Changing Health Care Environment
"We recognize the importance of informatics in health care, not only in the practice of nursing, but in the realm of big data," said Richard Oliver, Ph.D., and CEO of American Sentinel University. "Employers are looking for skilled individuals who are 'job ready' for the predicted 160,000-190,000 health care informatics jobs coming available over the next few years."
American Sentinel University's Master of Health Care Informatics online degree is designed to develop skills in gathering, analyzing and presenting health care data to support clinical, administrative or quality decision-making needs that meet operational, legislative and regulatory requirements to reduce costs, improve workflows, impact quality and safety initiatives and more.
"Awarding these scholarships reflects the university's commitment to the health care profession," adds Dr. Oliver.

Apply for American Sentinel's MHCI Scholarship
To be eligible for the scholarship, applicants must currently be employed by a U.S. health system or an organization supplying services to a U.S. health system. They must complete the application process, which includes submitting a resume and an essay describing their personal commitment to improving health systems and how American Sentinel's MHCI degree will enhance their effectiveness in their roles and organizations. Applicants must also hold a minimum of a bachelor's degree and be available to start class on April 15, 2013. The deadline for entries is March 11, 2013.
This scholarship provides an annual (12 calendar months) academic year tuition remission (based on the student's class start date) for the total tuition cost covering 36 credit hours in the university's MHCI program and is renewable annually for three years as long as all university eligibility requirements continue to be met. Books, materials, and other fees are not included and these costs are the responsibility of the student.

You can learn more about the American Sentinel University's MHCI scholarship at https://forms.americansentinel.edu/enter/.
Are you a masters-prepared informatics professional? Do you feel that it has better prepared you for your role in informatics?
Download Nurse Bingo Today!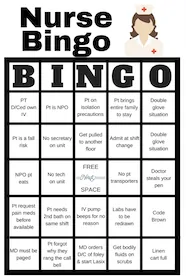 Liven up any shift with a fun game of bingo. See who can fill a row first!
Fill a whole card and lose grip with reality.
Your privacy is protected. We will never spam you.