*articles contain affiliate links*
Guest Blogger: Eric Ethington
According to a national survey conducted by Wakefield Research, almost one in four physicians are currently working or have worked as a locum tenens provider, taking advantage of the various benefits the practice alternative provides. What's more, the findings indicate three out of four physicians are considering taking a locum tenens assignment in the future. Sponsored by CHG Healthcare Services, the study polled 1,000 providers from around the country.
A loose translation of "one holding a place," locum tenens is a Latin phrase that can be used to describe a provider who temporarily fills an open position for a specific period of time. Facilities that use locum tenens professionals may need to fill a vacancy until a permanent staff member is hired or simply require seasonal or vacation coverage.
Why locum tenens?
The reasons physicians and non-physician providers accept locum tenens engagements are as varied as the professionals themselves. A practitioner fresh out of residency may enter into the practice alternative to travel and serve diverse patient populations. The desire for new experiences could inspire a mid-career clinician to explore opportunities at facilities in nearby communities. An older provider interested in part-time hours might choose to transition from full-time, permanent practice to a handful of locum tenens assignments a year.
While the personal incentives for doing locum tenens may differ, the distinct rewards of the "locum lifestyle" are advantages every independent contractor can enjoy. Consistent with the Wakefield survey results, read on to learn about three great benefits of this career game-changer.
Flexibility/control over schedule. Countless providers favor 12-hour shifts. Some request "7 on, 7off." Many practitioners will gladly accept a 24-hour call position, while others will only consider temporary placements with no call required.
Of course, your needs may extend beyond a proclivity for certain hours and days. For instance, you may want to do medical relief work in Africa for 6 months this year. Or perhaps you would like to spend November and December with loved ones in Florida. Whatever your individual parameters, through locum tenens opportunities, you're in charge of when you practice.
Supplement income. Whether your goal is paying off student loans, saving for your children's college education, building a nest egg or putting money away for something fun, practicing locum tenens can help you achieve it. In fact, many clinicians have permanent positions but accept engagements during their time off, leveraging PTO or vacation to more quickly reach their objectives.
Try before you buy. A number of physicians, nurse practitioners and physician assistants seeking a permanent position take locum tenens assignments at different facilities as a way to "test drive" settings before making a determination. Similarly, this strategy is often employed by both young and semi-retired providers who want to experience an array of communities before committing to a new location.
A world of options. The locum tenens practice alternative presents a range of advantages. And a reputable locum tenens staffing company will provide you with superior customer service and an experienced consultant to match you with the best opportunities based on your training, experience and desires.
About the Author: Eric Ethington is the Content Manager for Weatherby Healthcare, a locum tenens physician staffing company. He has previously worked as a policy and communication expert for elected officials, and his writing has been featured throughout the national media. He is also the recipient of several national blogging awards, as well as best of states.
Download Nurse Bingo Today!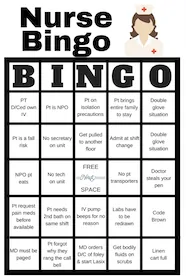 Liven up any shift with a fun game of bingo. See who can fill a row first!
Fill a whole card and lose grip with reality.
Your privacy is protected. We will never spam you.