*articles contain affiliate links*


The new 3M Kind Removal Silicone Tape is a product that really has the patient at it's center of attention. It is the easiest to remove tape I have ever had the pleasure of using. It also has a soft feeling to the touch, and presumably would be much more comfortable to keep on for longer periods of time.
A great advancement in wound care, I look to many clinicians to eagerly embrace this great new tape.
A video to demonstrate functionality:
The tape is gentle, reliable, and versatile and in my humble opinion, a huge improvement over the tapes we currently use. Older patients, with their frail, paper-thin skin, would benefit from the gentle technology. Nurses would appreciate the ability to quickly and easily tear pieces off for quick application to dressings.
This tape is free from he pinching and uncomfortable nature of most tapes, and patients will likely be begging you to use this and nothing else in the near future.
Personally, since I have tried it, I would prefer it over any other tape for almost any application.
From 3M:
3M™ Kind Removal Silicone Tape provides:

SECURITY. Offers reliable yet pliable fixation, remains in place until you decide otherwise.

COMFORT. Removes cleanly, without disrupting fragile skin layers or causing patients any undue pain.

EASE OF USE. Can be repositioned and neatly torn by hand.

You spoke. We listened.

When you shared your key priorities for medical tape, 3M responded by engineering kind technology. Over 450 nurses in the U.S., Europe and Asia were surveyed.

Download PDF to learn more

One of a kind.

+Softer and more conformable than traditional adhesives, works differently with skin and hair.

+Can be removed with minimal stripping of skin cells or pulling of hair.

+Constant adhesive strength for as long as it's left in place, unlike traditional tape that increases adhesion over time.

Download our flyer to learn more
Be sure to check out more information on this innovation in healthcare: 3M Kind Removal Silicone Tape
Download Nurse Bingo Today!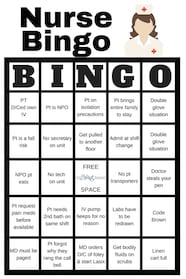 Liven up any shift with a fun game of bingo. See who can fill a row first!
Fill a whole card and lose grip with reality.
Your privacy is protected. We will never spam you.