*articles contain affiliate links*
2nd.MD is a revolutionary new service that is breaking down barriers in terms of access to healthcare. If you or a loved one has ever face a challenging medical diagnosis and wanted an second opinion from a specialist, then you know what a challenge it can be to find experts nearby. I've known parents who had to fly their sick children across the country to consult with a specialist about their diagnosis. It's bad enough to have a disease process that is inconveniencing your life, but having to scramble to get the an expert opinion from a qualified medical provider in addition is enough to make you scream.
The 2nd.MD Story
The video below gives a little insight in the inspiration behind 2nd.MD. It's inspiring to know that it's roots are based upon a parent's love for their child. They want to ensure access to doctors that care and that is an incredible responsibility they have placed upon themselves.
2ndMD – Our Story from 2ndMD on Vimeo.
Technology is Breaking Down Barriers in Access to Healthcare
I was able to use my laptop computer to have a video conversation that was more productive and informative than any medical consultation I've ever had before. The process was easy. The support was exceptional, The concept is phenomenal and groundbreaking.
2nd.MD offers the ability to set up a test call prior to your appointment with your specialist and I highly recommend you take advantage of it. You don't want to be tweaking your webcam or audio settings when your speaking with your expert. You want to utilize every moment of that time to focus on the medical issue you wish to discuss.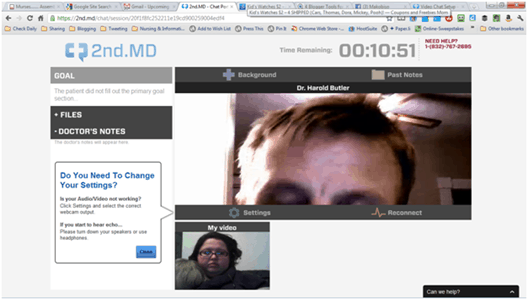 A Pleasure to Speak with an Expert Endocrinologist
I had the pleasure of speaking with Dr. Geffner who is a endocrinologist who specializes in endocrinology in pediatric and adult patients. His resume was impressive and readily available for me right on the website. Although his busy, he worked to arrange time to speak with me specifically.
Dr. Geffner reviewed the information I submitted prior the case was was incredibly thorough and considerate in making recommendations and giving me advice about concerns I had over a potential thyroid issue. You see, I was never able to product any breast milk with my son. They tested by thyroid, but did not test it completely and at the time there were more important things to focus my attention on, like the new baby boy I had just birthed. He gave me the information I needed to have further tests and even offered to locate endocrinologist in the area that I could further consult with.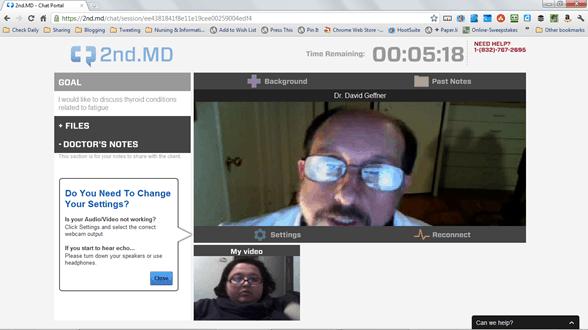 A Great Value in Healthcare
The service is incredibly reasonable. For 20 minutes of one on one time with a specialist the cost was only $200. That is a STEAL in the world of healthcare where a visit to a family practice doctor, and typically less than 5 minutes of their time will run you $300.
We have so much technology and impressive gadgets and gizmo in our everyday lives we aren't utilizing to their fullest extent in the areas where they will truly shine. 2nd.MD saw a need for increased access to healthcare and saw the internet and the utilization of new media and technology as a way to break that barrier down and offer patients more access to specialist who are award winners in their field.
An Inspiring Innovation in Healthcare Technology
As a nurse, and a social media advocate, I have been involved in many conversations about how we can use technology and social media to break down barriers in access to medical care. How can we use technology to actually improve our lives? Sure it's cool to have your smartphone look like a glass of cola and entertain your friends with your crazy eyes, but healthcare is where technology really can benefit mankind.
I am inspired by the concept of 2nd.MD and feel that this is the future of healthcare. While telemedicine like this will never replace the need for face to face healthcare from doctors and nurses it is a valuable resource that can help to reduce healthcare costs and provide more patients with much needed healthcare.
In my humble opinion, healthcare is where technology and social media can really shine. 2nd.MD gets that and I was thrilled to be able to participate in what may be the next big innovation for access to healthcare.
You can find out more about 2nd.MD by going to their website or connecting with them on Facebook or Twitter.
Thank you again to 2nd.MD for sponsoring this blog post. Please click here to learn more about 2nd.MD. I was selected for this sponsorship by the Clever Girls Collective. All opinions are my own. #Clever2ndMD #spon
Download Nurse Bingo Today!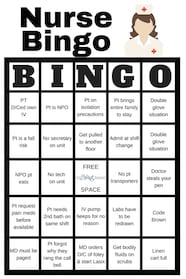 Liven up any shift with a fun game of bingo. See who can fill a row first!
Fill a whole card and lose grip with reality.
Your privacy is protected. We will never spam you.