*articles contain affiliate links*

Finding nurses to follow on twitter can be a challenge. While a simple search may reveal tweeters who have "nurse", "RN", "BSN", or another term associated with nursing, it can be difficult to tell if that person actually tweets about nursing. And even more frustrating is to actually find tweeters that tweet routinely and about nursing related topics.
It's a good thing then when you can find a list that has been researched and vetted and tells you exactly which nurses and nursing organizations are worth following on twitter.
Online Nurse Practitioner Programs has created a comprehensive guide of nurses on twitter in it's post 100 Twitter Feeds Every Nurse Should Follow. They have organized the nurses into category which include: Nurse Education & Academics, Nursing & Health,Nursing Professionals, and Nursing Employment.
I've been honored with the opportunity to be included on this list in the category of Nursing Professionals. Many of the other names are recognizable tweeters and it appears that they are all worthy of following.
A few of my nursing friends who made the list:
Who do you know that made the cut? Who do you think should be included? Sound off in the comments below!
Download Nurse Bingo Today!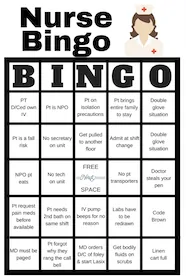 Liven up any shift with a fun game of bingo. See who can fill a row first!
Fill a whole card and lose grip with reality.
Your privacy is protected. We will never spam you.