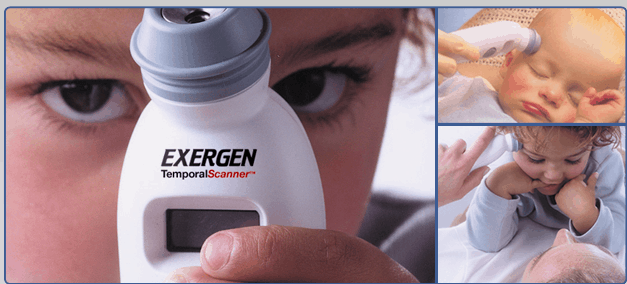 One thing that always annoyed me in working in bedside care was attempting to get the temperature of a patient. An oral thermometer just seemed to take forever and was just incredibly annoying to a patient at that 4am check. Recently, many facilities have began to invest in Temporal Artery Scanning technology to improve patient experience. Thank goodness it also improves nursing care experience, in my opinion.
Recently I received an Exergen TemporalScanner Thermometer  to review and was pleasantly surprised with just how simple and efficient it is. It's so easy to use that even my toddler had it mastered in a matter of seconds and was going around the house attempting to get the temperature of everyone in sight. 
In my opinion temporal artery scanning is the most efficient and therefore the best way to take the temperature of your child. In my experiences both as a nurse and a patient, temporal artery scanning caused the least discomfort and inconvenience for both the healthcare provider and the patient as well as providing and accurate temperature.
Exergen is becoming very popular and part of this is because they cater to both consumers and medical facilities. In fact the Exergen Temporal Thermometer was named of the smartest products of the decade!
"Exergen markets two models of the TemporalScanner thermometer: a professional 

model for doctors' offices and hospitals, and a consumer model sold in major retailers
including Wal-Mart, Target, Walgreen's, Costco, Sam's Club, Babies "R" Us, Toys "R" Us, and
BJ's. More than 600 million temperatures are taken each year with the TemporalScanner.
Used in two-thirds of hospitals and half of pediatricians' offices in the country as well as in
millions of homes, it is also the only thermometer manufactured in the United States."
Exergen "Queen for a Day" Mother's Day Giveaway
They are also running a great contest right now in celebration of Mother's Day. The "Queen for a Day" Mother's Day Giveaway is sponsored by Exergen Corporation and features some fantastic prizes.  The grand prize in this sweepstakes is worth over $25,000. Other prizes include Exergen TemporalScanner, and a $500 AMEX gift card.
 To enter:
–          Visit www.exergen.com

–          Complete entry form and play instant win game for the opportunity to win an Exergen TemporalScanner and the chance to win a $500 AMEX gift card.

–          The lucky winner of the AMEX gift card is then eligible to win a grand prize of a $25,000 shopping spree if their selected baseball team hits a Grand Slam on Mother's Day, May 13.
Another Chance to Win an Exergen TemporalScanner Thermometer
Never fear, however, you have another chance to win right here on this very blog! 
We're giving away an 
Exergen Temporal Artery Thermometer
 to one lucky reader. And let me tell you, if you have a squirmy baby or finicky toddler, this is one item you can't be without. Actually, if you have a husband who becomes incapacitated when he is sick, you'll want this too.. And I must admit, I'm a terrible patient, and I much appreciate this technology over any other method of temperature taking. 
Entry is below via rafflecopter. Plenty of chances for entries. Please share this giveaway via social media (you get extra entries!).
please note:
EXERGEN TemporalScanner™ Temporal Artery Thermometer is available at:
Walmart, Rite Aid, Costco, Sams Club, BJs, Toy R Us, Babies R Us, Walgreens, Drugstore.com, and other major retailers.