With the current state of the economy, homes are more affordable now than ever. Houses that less than 5 years ago were selling for $100,000 are now less than half that. I am blessed to be looking for a home in a buyer's market, but is bittersweet because the only reason I am getting such a great deal is because someone else lost their dream. Foreclosure is one of those nasty words that I wish never existed. I am so thankful to have a job and the ability to buy a home for my family, but I am deeply remorseful for all those who have lost theirs in the recent years.
So what do home do you get for the money in Georgia?
Well, right now,  a lot.
For some odd reason my financer won't even allow me to borrow less than $40,000 (which sounds absurd to me, but apparently that's a rule of her investors) so I am actually going to have to spend more on a home that I would like. I'm being forced to upgrade, but considering my mortgage will be less than 1/2 the price of what rent on a crappy apartment would be, I really shouldn't complain.
I want to show you just a few of the homes we are looking at because I am just floored with how affordable they are. I need to check to see if I can tack on the cost of furniture because it sure would be nice to have a matching set of bedroom furniture for once. 
I want to show you just a glimpse of the offerings I have seen in the area. All of these homes are within 15 minutes of the hospital I will be working at, and I believe most of them are HUD homes, all of them are foreclosures.
For $24,000, 3 Bed, 2 Bath, Corner Lot, Built in 1990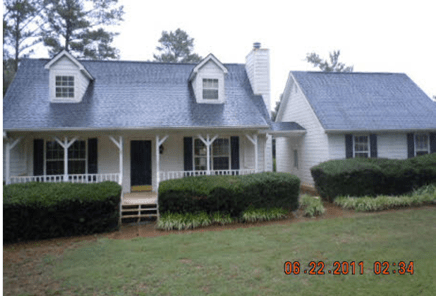 Isn't that the sweetest little doll house home you;ve ever seen? It has a 2 car garage with a covered connecting path. It's on an acre, so Ty would have plenty of yard to play in. The 2 windows up top are the upstairs bedrooms.
For $34,000, 3 Bed, 2 Bath, Cul-de-sac, Built in 2004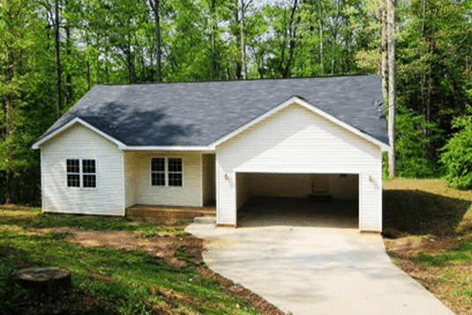 For $52,000 3 Bed, 2.5 in a Gated Golf coarse community, Built in 1997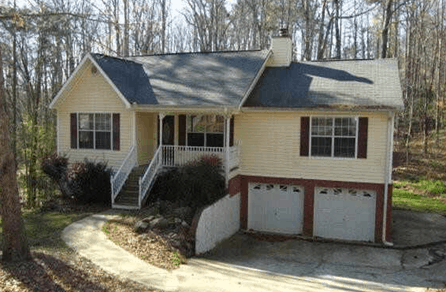 Amenities include pool, clubhouse, beach, 2 restaurants, tennis court, 2 lakes (one over 100 acres!), park, sidewalks, streetlamps, and security patrol. HOA fees are $1200 a year, but for all that, I think it would be worth it!
Never in my life did I ever dream I would be able to even think of living in such an area, much less potentially at 25. Even though it's twice the cost of the first one, I really am having trouble pulling myself away from the security and instant friends that this area could potentially created for Ty. The nice thing about this community is that there are homes ranging from $50,000 up to $700,000, so your culture and neighbors are varied. Basically you're paying for proximity to the lake, but I think I'll survive if I can have the same luxuries at a fraction of the cost. I'll just drive or walk the 1/2 mile to the beach if I have a lake craving.
Researching Buying a Home and Any Breaks for Nurses
I should probably devour The MILLIONAIRE NURSE BLOG because not only is he an awesomely nice fellow, but I really think he genuine wants to make nurses wealthy. He loves that nurse wife of his so much, I think he wants everyone who is like her to prosper. Of course, he could have entirely different motives, but I think they are noble and I like the guy. I should really just break down and buy his book. I'm sure there are loads more resources in there. With my new job and related raise, I'll need to be taking the Dr. Dean Burke and Clark Howard's advice and any other financial gurus in order to get myself debt free and be able to retire before I'm 100.
Georgia Dream Homeownership Program
If you do live in Georgia, are a healthcare provider or one of many other service professions, and are looking into buying your first home, you may be able to qualify for the Georgia Dream Homeownership Program. This program also offers down payment assistance and makes owning a home more accessible than ever!
30 Year Fixed Rate

First Mortgage Loans

For credit eligible first time home buyers, or buyers who have not owned a home in the past 3 years, or those who purchase in a targeted area

Buyers in the Atlanta MSA must have a total annual household
income less than:
1 to 2 persons $71,000
3 or more persons $82,000
And purchase a home with a sales price of no more than $250,000
************************
Buyers in the remainder of the state must have a total annual household
income less than:
1 to 2 persons $61,000
3 or more persons $70,000
And purchase a home with a sales price of no more than $200,000
See our Brochure for complete program guidelines
A flyer with additional details is available in pdf format here.
Georgia Dream Standard Down Payment Program
$5,000 Down Payment Assistance
For credit and income eligible borrowers purchasing a home anywhere
In Georgia.
* Income and sales price limits apply *
See our brochure at www.dcaloans.com
Down payment funds are provided as a Second Mortgage Loan for the purpose of principal reduction and the payment of pre-paid items and closing costs.
The Down Payment Loan may only be used in conjunction with a Georgia Dream First Mortgage Loan.
* No Monthly Payments
* No Interest
* Loan must be repaid when home is sold or refinanced or no longer used as the borrowers personal residence.
Borrower contributes a minimum of $1,000 to the purchase transaction and must complete Home Buyer Education provided by a DCA or HUD
Additional details about the down payment assistance may be viewed on this pdf.
Real Estate Just Can't Wait
Going out with the real-estate agent tomorrow. Keep your fingers crossed that we'll find something wonderful, affordable, and available! I'm so very excited with all the news opportunities that life has dealt me lately. Thank God for all these blessings.