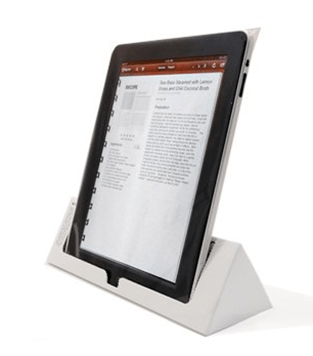 The Chef Sleeve is a protective plastic sleeve for the iPad that was originally designed to be used with the iPad while cooking. There are several videos online where they are used to demonstrate cracking an egg. I'm sure it works great in the kitchen, but I'm no interested in the sleeves for that.
I wanted to test the functionality for a healthcare provider in the healthcare setting to see if you could these to use the iPad (or iPad 2) with gloves. I wanted to see if it would offer good protection to be able to utilize the iPad for patient care and education but also keep it clean and effect in infection control and prevention. It seems like the would do a fantastic job. However, I cannot speak 100% what the ratings maybe for the plastic and preventing transfer of germs, but I can just tell from practical function that works well and it does a good job of making sure the device is functional.
Healthcare Providers Hate Technology?
It's unfortunate that many healthcare providers make excuses for why they can't use technology. This review is actually in response to a post on linkedin where somebody specifically was asking about how do we get over using tablet devices at the bedside with infection control. The question was posed: "share opinions / personal preference regarding where documentation occurs when utilizing EMR? In the patient room at the bedside vs. outside" via The Medical Informatics Nurse user group.
Bernadette O'Halloran questions:Has anyone thought about how to deal with these gadgets when used for patients who are in contact, airborne, droplet precautions? How do you deal with minimizing the spread of pathogens using these devices
There is always going to be a naysayer or somebody corresponding a problem technology does so much for us in patient care. Not that I think that this was Bernadette's intention, but this seems to be the rule rather than the exception. As healthcare providers we tend to look at the technology glass as half-empty rather than half-full. 
But just think of all technology has done for us in terms of patient care. 
Innovating and Simplifying Lives
Just in terms of  IV pumps the vital signs machines. How much time would be wasted if he had to manually calculate and then set drip rates for every infusion we had to hand? think of where we would be if we didn't have IV pumps. Think of how much time and effort would be wasted on that!
There's a reason why we came out of the caves. There's a reason why we mastered the control of fire and  someone decided having a wheel to hall things around might be nice. And all these other innovations in technology and healthcare that ultimately do help us to provide better care, despite the occasional quirk. I really would like nurses, doctors, and other healthcare providers to embrace technology for all the wonderful things it does and give it a break for the 2 seconds of a headache it might give us every now and then.

So take a deep breath quit banging on the keyboard. Stop and look at the screen.  Read what the screen is telling you and then just do what it asks. 9 times out of 10 technology will help you fix it, even when it breaks.
I think you find a technology is your friend and it can do wonderful things for you and your patient care. The iPad specifically can do excellent things in terms of education and documentation. The Chef Sleeve is a wonderful step in that direction to promoting embracing technology for clinicians.
More Details on Chef Sleeve from ChefSleeve.com:
Is Chef Sleeve right for me?

I find myself washing my hands every 10 seconds to protect my expensive gadget from getting ruined!
Save yourself trips to the sink with these moisture and grease resistant sleeves. You can use your greasy and dirty hands on it and keep your iPad safe.

I go through a whole roll of paper towels!
Not only will Chef Sleeve minimize the number of times you need to wash and dry your hands, it is also 100% recyclable, which makes the environment happy.

There are great cooking apps but I need to protect my expensive gadget from getting ruined.
Chef Sleeve will protect your gadget and its crystal clear, touch responsive, material will keep it 100% usable. So you can enjoy your favorite apps worry free. You won't even notice the sleeve!

Using a case or a protective film is not practical; I still need to clean the film once I am done. Plus, it doesn't protect the input/output ports.
Once you are done cooking, just remove the sleeve and toss it! No mess, no cleaning required. The sleeves are designed to fit the iPad and cover its ports, you won't need to worry about that. Also, Chef Sleeves are FDA approved and safe around food.

I tried using other plastic bags to protect the iPad, but they are either too big, or too small. They are also not very responsive to touch.
Chef Sleeves are designed to fit your iPad perfectly. So it prevents you from dropping the device or opening it by mistake. They are also made with an ultra-clear, touch responsive material that protects your iPad while keeping it 100% usable.
Giveaway, please use Rafflecopter widget below (click more) to record entries!
Visit ChefSleeve.com for more or Amazon.com details or to pick up your own set!