This is the nerd in me speaking. If you're looking for something healthcare or nursing related, click any of the other links, it will likely land you on something more appropriate. This little rant is all about Adult Swim, Cartoon Network, and the suckiness of their weekend lineup.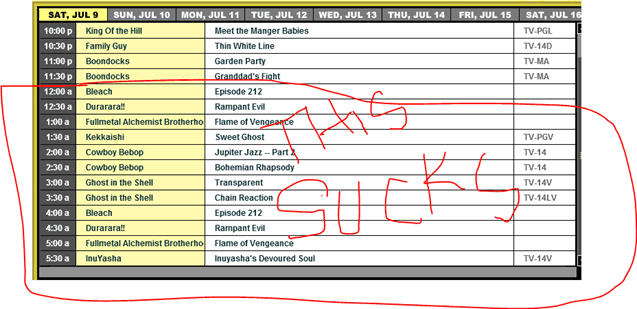 Although I have a great affection the for the Japanese, and their animation, I personally have no desire to watch hours and hours of them every weekend. It shouldn't matter. If I were a normal human being on a normal schedule then I wouldn't be up at 3am on a Saturday, and it wouldn't matter that Ghost in the Shell is on rather than something worth watching like Robot Chicken, King of the Hill, or American Dad. Or heck, I've even come to love the oddities and eccentricities of the likes of The Mighty Boosh and Squidbillies. But because  I have to a be 3rd shift freak, I find myself up at 3am on Saturday and when I turn to me reliable Adult Swim for the warm glow of background comedic TV entertainment, I am faced with some dramatic, over-the-top drama about demons, or some other crazy Anime obsession.
It sucks. I don't like it. And surely I am not alone in this.
Do I think you (the powers that be at Adult Swim) are just going to up and change your whole lineup for me… not hardly. Although, how cool would that be. I could totally be blogosphere famous and you might even do one of those black and white cuts that says something like:
"The Nerdy Nurse – we heard you. Here's some King of the Hill. Now stop whining"
And then of course you'd play the regular line-up because that's what the cool-kids do, and 6 days out of the week, you're totally a cool kid.
Just Not on Saturday
But Saturday… on Saturday, Adult Swim becomes the geekiest loser on the planet. Oh geez, I bet you guy totally embrace furries and everything…. weirdos.
I bet you even bought this book: How To Be An Anime Character
– admit it. The hilarious reviews alone almost make me want to spring the $25.
In case you were wondering about my general opinions of the Adult swim programming, I'll sum it up for you below.
Awesome: Robot Chicken, King of the Hill, Family Guy, Squidbillies, The Mighty Boosh, American Dad, Home Movies, Aqua Teen Hunger Force,
Weirded out by, but not sure if I love or hate them: Metalocalypse, Assy McGee, Eagleheart, Superjail, Mango Wrestling Alliance, Look Around You, Tom & Eric Awesome Show: Great Job, Tom Goes to the Mayor,
Suck: Children's Hospital, Delocated, Bleach, Ghost in the Shell, Cowboy Bebop, Durarara!!, Fullmetal Alchemist Brotherhood, InuYasha, Kekkaishi,
And seriously, Adult Swim, when on earth are you going to get your own channel? Waking up to Garfield and Scooby Doo is seriously weirding me out.